etc.
3790 Bedford Avenue Nashville, TN 37215
http://etc.restaurant/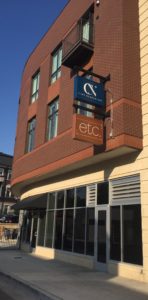 Deb Paquette has built quite the fanbase over the past thirty years. When she and her husband, Ernie, closed Zola in 2010, Nashville grieved the loss of an extraordinary restaurant. Imagine the excitement throughout the city when Deb emerged back on the food scene in 2012 with Etch. Nashvillians began to hear rumblings that Paquette was embarking on a new project, Truss. This concept was slated for the Sylvan Park community until Paquette and her business partners decided to walk away in September 2015 after a development dispute. Selfishly, I feel like the universe did me a "solid" after the announcement that Paquette's project, etc., would land in my neighborhood, Green Hills. Seriously, less than 2 miles from my house.  I already knew this would be a problem.
etc. is a quaint, chic space tucked in the Bedford Commons area. As you enter,you notice lovely exposed wooden walls combined with the sophisticated yet simple table settings. While the space seats 68, I would recommend that you call in advance and make reservations. It's a hot spot!
Let's get to the juicy details- the food! Paquette holds true to her style with the creative yet unconventional offerings on her menu. Diners can nosh on anything from fried duck gizzards and Vietnamese short rib to the fowl trio (which yes, is topped with grasshoppers) and the big night pie. Simply put, you cannot go wrong.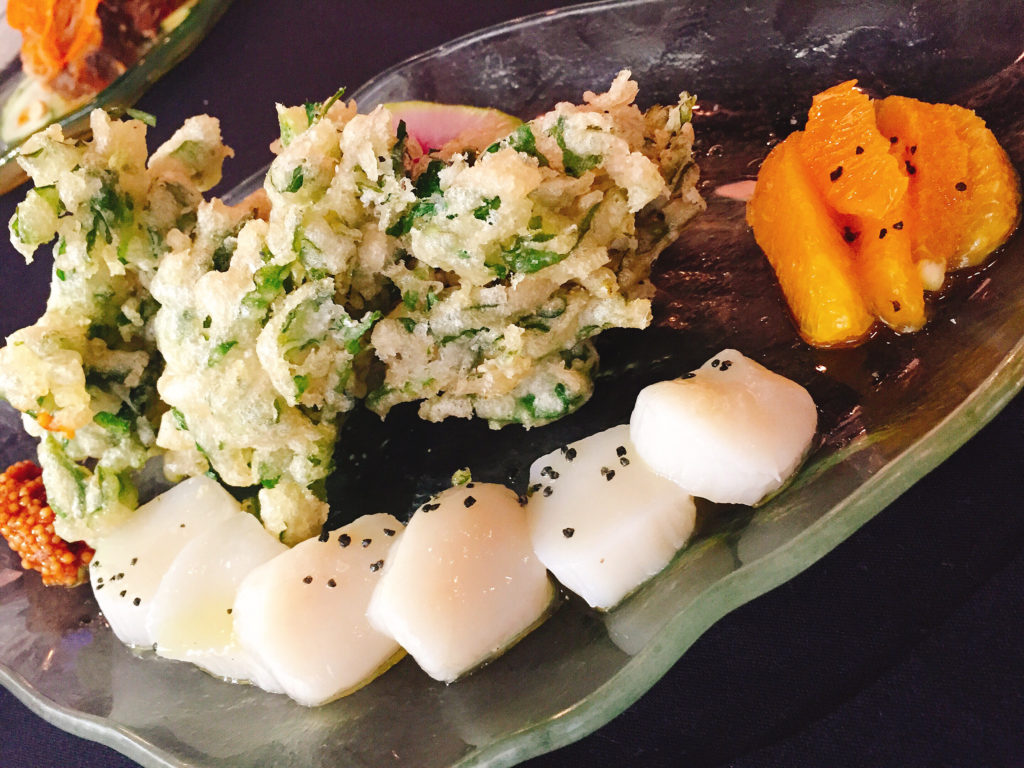 Our table started with the Scallop Crudo and Vietnamese nuoc cham short rib, both of which were very healthy portions.
The Scallop Crudo was served with roasted poblano pepper orange oil, black lava salt, orange segments, watermelon radish, red curry mustard seeds and watercress tempura. The crispy texture of the watercress balanced out the delicate nature of the scallop. Striving for that perfect bite?  Grab a bit of citrus, add a few mustard seeds and pair that with the scallop and watercress…you have died and gone to heaven.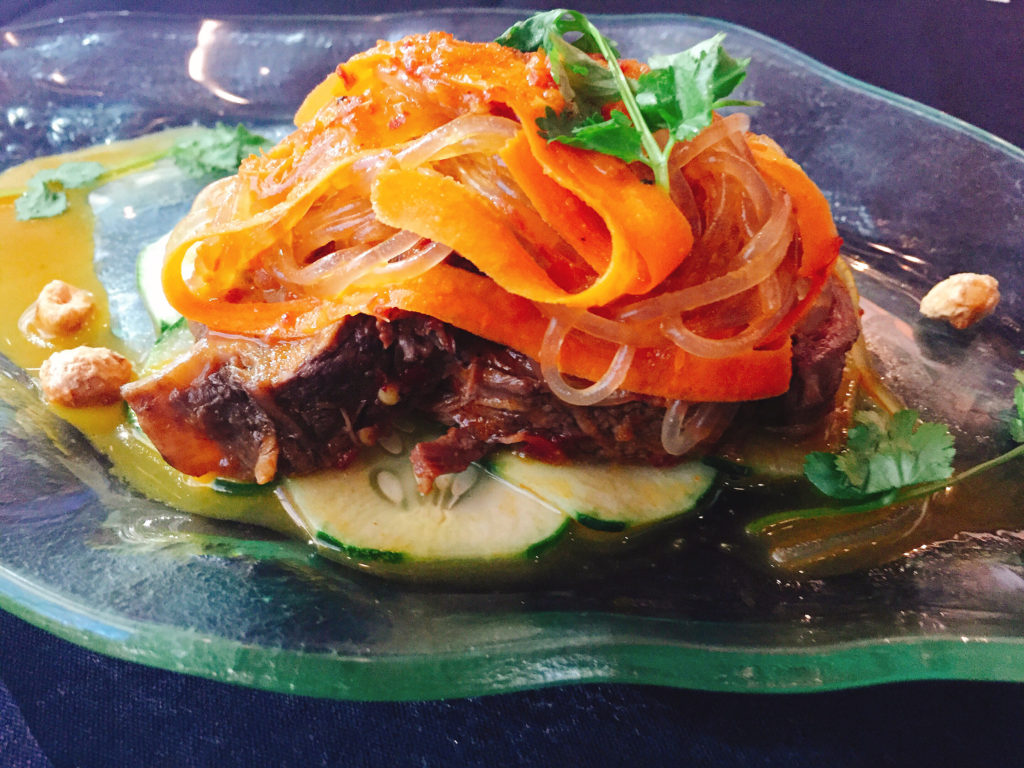 The Vietnamese nuoc cham short rib was the crowd favorite in my group. Served with spun lemongrass noodles, bean sprouts, cucumber, Thai basil and candied peanuts, we couldn't get enough. Literally, fighting over the last bite!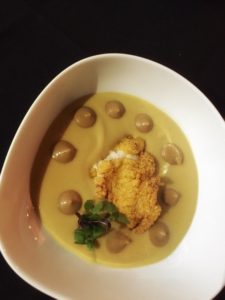 Chef Paquette was so kind and sent us over a tasting of her soup of the day: Beet and Yellow Squash soup  served with caramelized onions and catfish battered in cornmeal. Game over. This may have been one of my favorite soups, ever!  The soup was hearty and complex in flavor and the catfish was the perfect accessory; warm, light and crispy.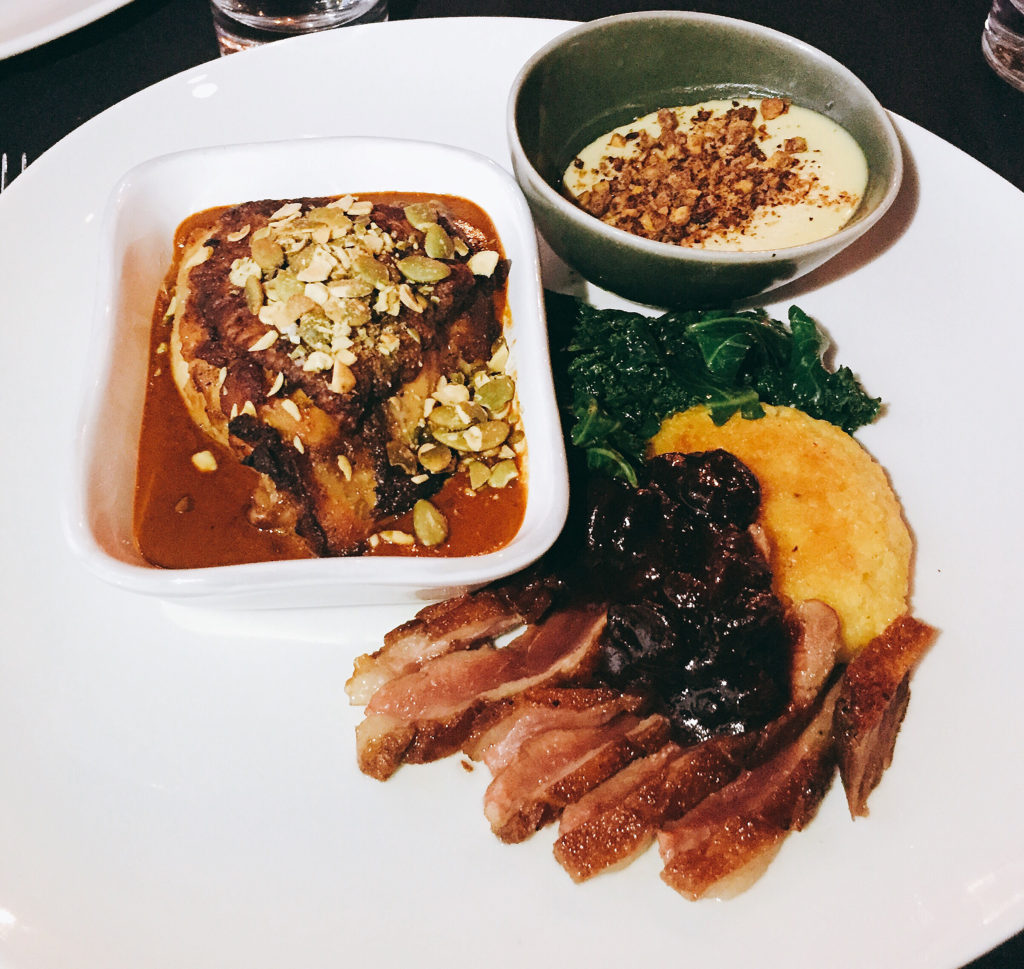 Next up, the mains.  I went through a 10-minute struggle and two servers before I could make a decision. Everything sounded scrumptious. I landed on the fowl trio as it was one of the more unusual dishes on the menu and why order something that I could get anywhere? The fowl trio was comprised of cinnamon sesame duck breast with ancho cherry jam, confit chicken with chili aderezo and date foie gras brûlée, grasshopper crumble pumpkin seed masa grits, kale and okra. Seriously, enough food for three meals… Not kidding! There were so many textures and flavors, my palate couldn't keep up. The cinnamon sesame duck paired perfectly with the pumpkin seed grits with the ancho cherry jam sealing the sweet and savory flavors together. While everything on the trio entree was delicious, my favorite part of the trio was the date foie gras brûlée topped with the grasshopper crumble. The juxtaposition of textures and flavors made this stand out. Highly recommend ordering this dish.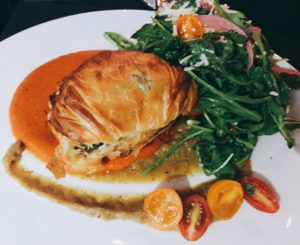 My friend was looking for something more on the vegetarian side and opted for the big night pie. I had passed over this on the menu because the server wasn't as passionate about this dish as he was others, which I totally understand. It's like choosing your favorite child. This is a can't miss dish and I will certainly order it during my next visit. The big night pie is a four cheese filo pie served with zucchini, black olive quinoa caviar, eggplant raisin sauce, smoked red bell tomato sauce, arugula and caper garlic vinaigrette. While I was only able to steal a few bites from my friend, I savored every moment. The fresh vegetables were wrapped in this crisp, rich filo and were complimented by the lightly covered arugula, creating the perfect bite.
For those of you who aren't able to secure a dinner reservation, etc. is open for lunch Monday- Friday from 11:00am-2:00pm. If you are looking to sneak in a great glass of wine and a bite, they also host  happy hour from 4:00-6:00pm daily serving $5.00 draft beers and $6.00 wines. I'm sure you will see me there quite often, feel free to stop by and say hello!