A couple of days ago, my friend and co-worker, Quinn and I had a great idea to indulge in our pun obsessions and decided to try a little piece of the Middle East (Get it?  Piece?  Middle East?).  Essentially doing a food crawl and sampling everything at a local Middle Eastern restaurant and its vegetarian sister restaurant next door.
Mamnoon Street
2020 6th Ave Seattle, WA 98121
http://www.mamnoonstreet.com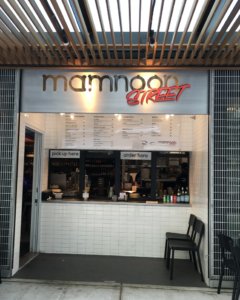 The same people own both Mamnoon Street and Anar, Racha and Wassef Haroun.  They also own another restaurant in the Capitol Hill neighborhood, also called Mamnoon, but there you can sit down and enjoy cocktails with your food.
The Haroun's came to the Pacific Northwest to work in the tech industry.  They decided to plant roots here and brought a bit of their Syrian/Lebanese heritage with them into the restaurant scene.  They have found their place amongst the foodies and have expanded their availability and visibility by opening up two more locations in the Amazon campus in downtown Seattle.
Our first stop during our food crawl was Mammon Street.  We opted to sit outside in the wind, as opposed to dining inside like a rational people would.  However, sitting outside when it's NOT raining in Seattle is a treat one can enjoy when the opportunity arises.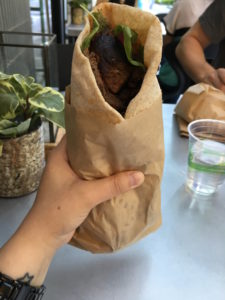 I ordered both the lamb and chicken shawarma.  I had every intention of eating just a little bit of both to give a fair review, but as soon as I started to bite down into the lamb, I couldn't stop.  I began to feel full right away, and I wasn't even a 1/4 of the way finished with it.  So I knew that trying the chicken shawarma would have to wait until later, but it eventually went into the eager hands of my Uber driver later that afternoon.
Quinn wasn't as ambitious as I was (since I suffer from eyes bigger than stomach syndrome), so he ordered a kefta arayess aka sandwich with a side of halloumi cheese.
Of course, there was no waiting to take a pic for this guy.  He's all about business and just started noshing.  I was able to snag a little bite of the kefta arayess and was struck by the perfect balance of seasoning in the ground beef and the saltiness of the halloumi.
Eventually, Quinn gave up and decided he was full while I still wanted to go to Anar.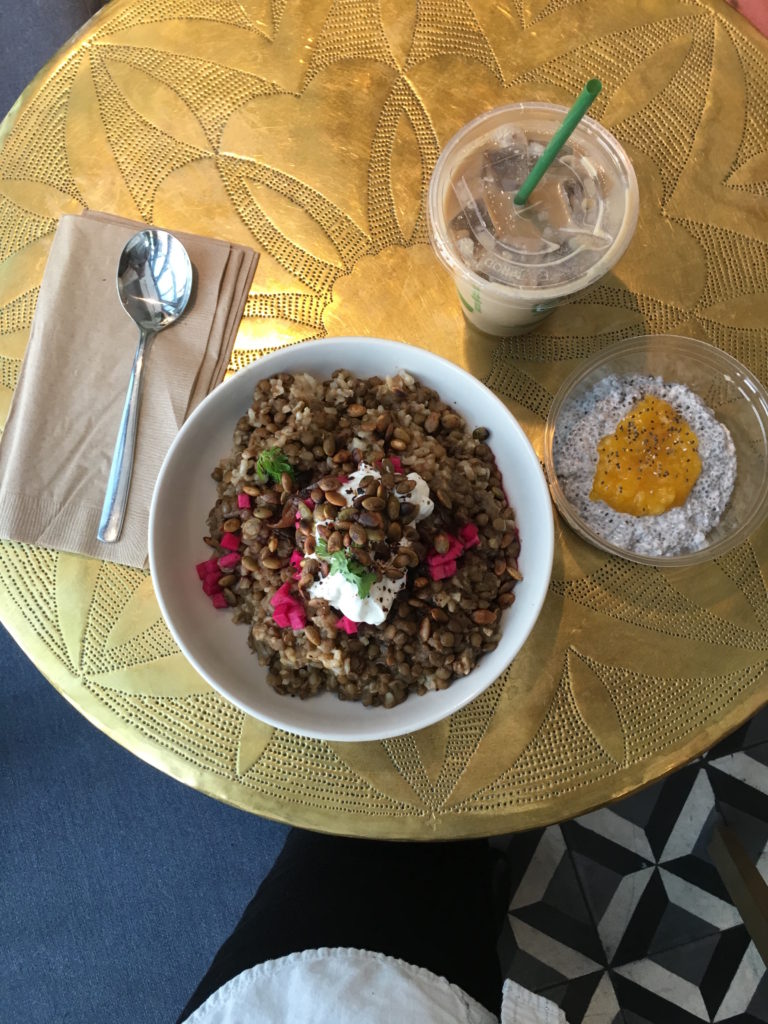 Anar
2040 6th Ave, Seattle, WA 98121
http://anar.life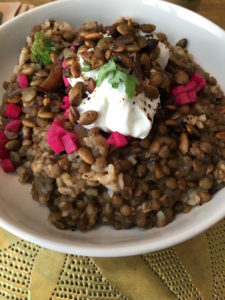 Anar is right around the corner from Mamnoon Street.  The vibe inside looks like a typical juice bar with the display of fresh veggies.  I've been there before, and I die for their iced Turkish coffees.  But what I'm really all about is their lentil and brown rice dish called Mujadara.
Topped with pickled turnips and Greek yogurt, this dish is also extra filling.  I knew that I would be eating this for leftovers during the week because it might not look like a lot of food, but it's a lot of food.  I did manage to take a few bites, but honestly I could have exploded at that point.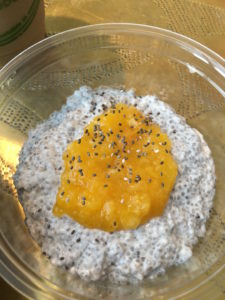 Also, I couldn't leave without getting the chia seed pudding topped with apricot jam for the road.  Again, this is something to be enjoyed when you have room in your stomach.
The price points for both Mamnoon Street and Anar are relatively reasonable, and you get a huge bang for your buck.  I don't recommend driving to their location because parking is awful in this part of downtown Seattle. If you are in the area and are looking for a better option than Thai food or a sub sandwich, either one of these fantastic places will be a welcome change for your taste buds!