I had the pleasure of spending Christmas in Florence, Italy. There is truly no place else in the world like it. The sights, the people, and THE FOOD. When I sat down to write this article, I said to myself, "Boy, you are in trouble!" To whittle down all those wonderful bites to five almost became a mission impossible. In my many trips to Florence, I can honestly say I've only had three subpar meals. On the other hand, I have had many, many meals that are imprinted on my taste buds as if branded. BUT I am tenacious and accepted the challenge…so here are my top five bites. Enjoy!
Numero Cinque:
Arà: è Sud
Via della Vigna Vecchia 4r,
Florence, Italy 50122
http://www.araristorante.it/home/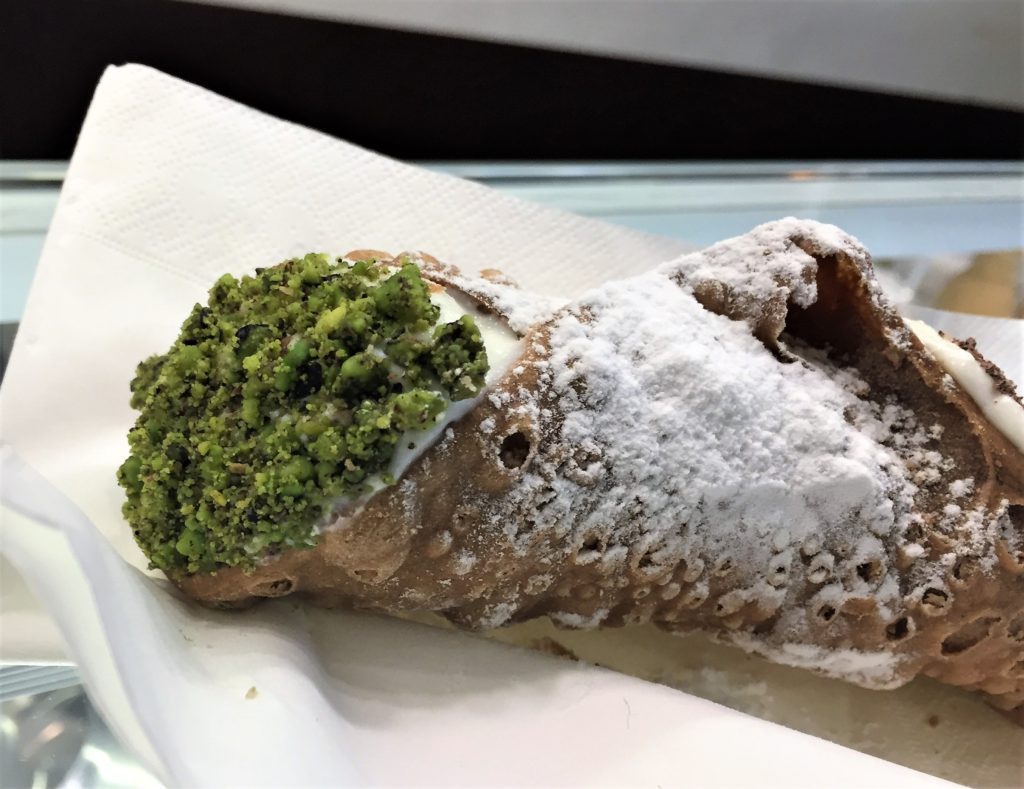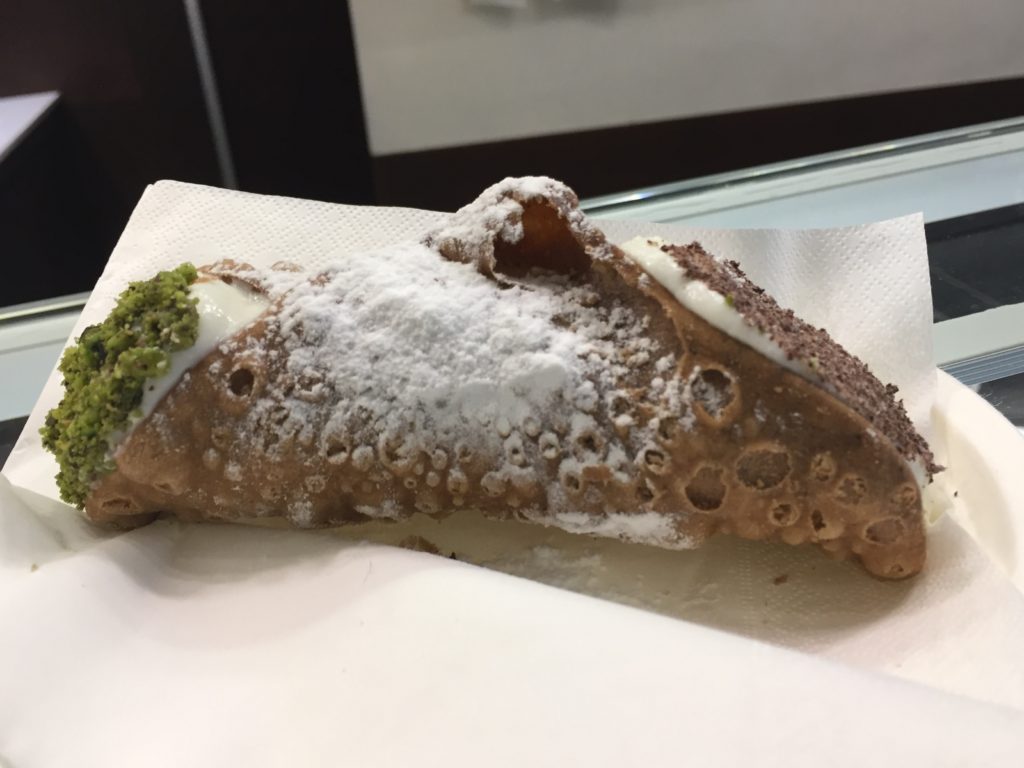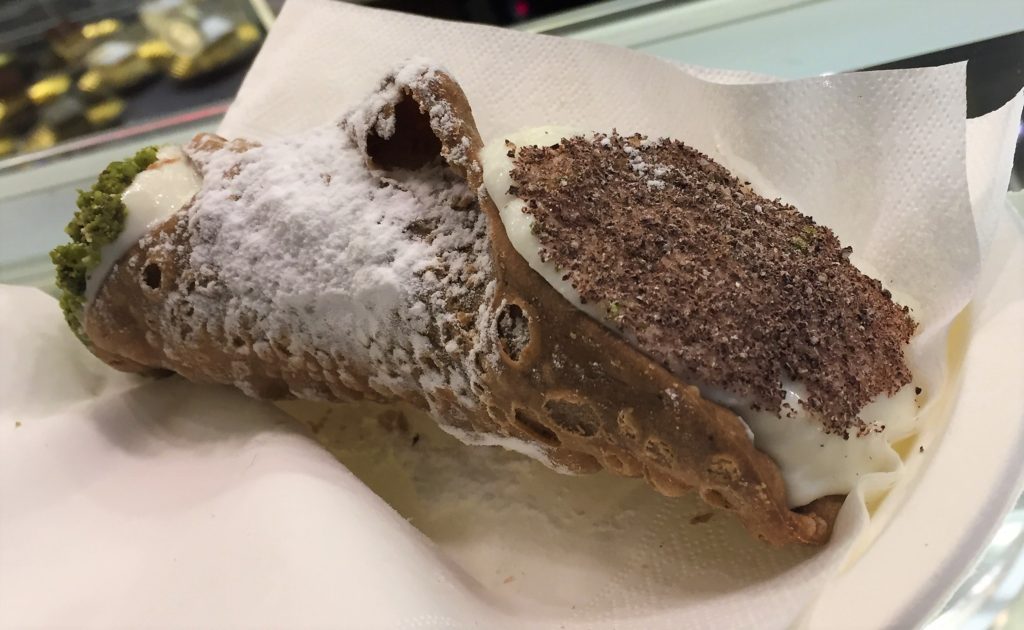 A genuine sign of authentic cannoli is that they are NOT prefilled. Cannoli should be filled on the spot. We stopped at Arà on a walking tour of Florence. We were seeking a quick cappuccino and a bite. It was so much more than that! The perfectly, crispy shells were stacked in the case just waiting for their filling. We ordered and the handsome gentlemen filled each precious, delicate shell with the ricotta cream. Then one end was coated with pistachios and the other with cocoa. The melt-in-your-mouth cinnamony shell and the sweet, creamy filling with a hint of orange were a wondrous combination.
Numero Quattro:
Catinetta Antinori
Piazza Antinori 3
Florence, Italy 50123
http://www.cantinetta-antinori.com/it/firenze/cantinetta-antinori-di-firenze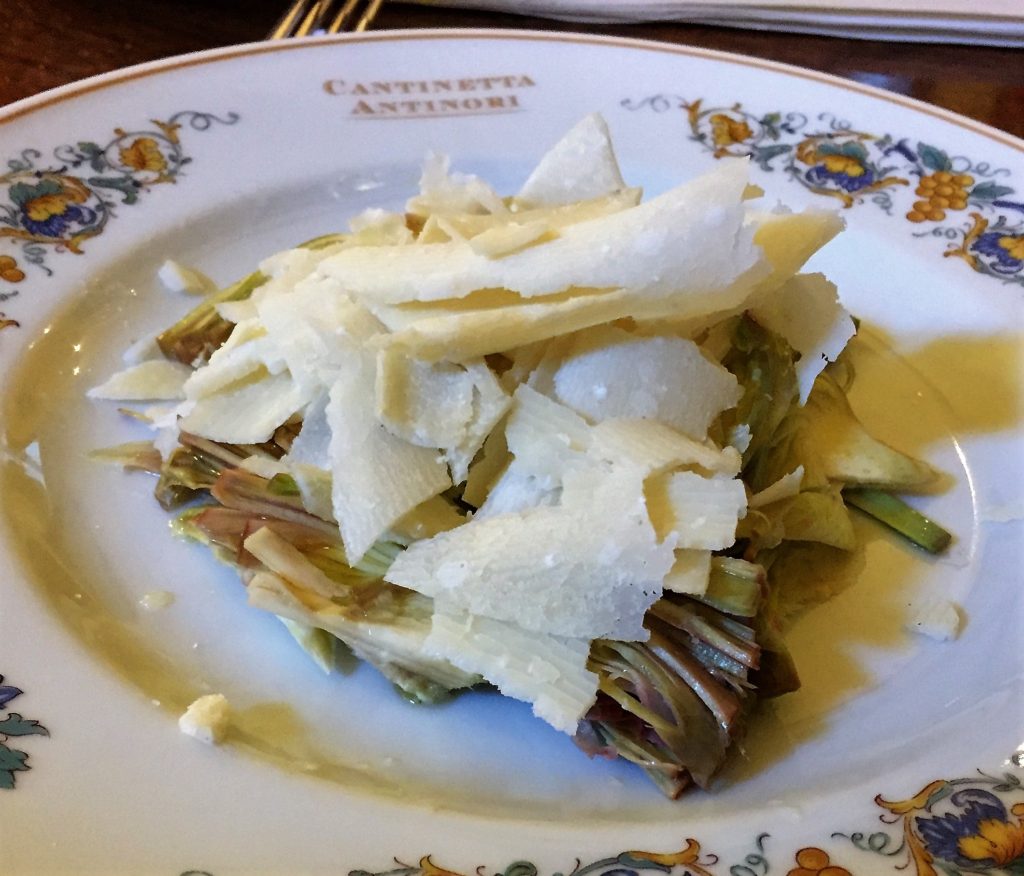 This simple antipasto of artichokes and parmesan cheese is decadent. The dish begins with baby artichokes that are THINLY sliced and tossed with lemon. The artichokes have a slightly bitter taste but in all the right ways. Then they are topped with freshly shaved parmesan and a drizzle of olive oil. You need the best olive oil for this dish. The greener the better. The Antinori family is widely known for their wines, but they also bottle an amazing olive oil. A couple of grinds of pepper and presto! Greatness.
Numero Tre:
Ristorante Parione
Via del Parione, 74
Florence, Italy 50123
http://www.parione.net/en/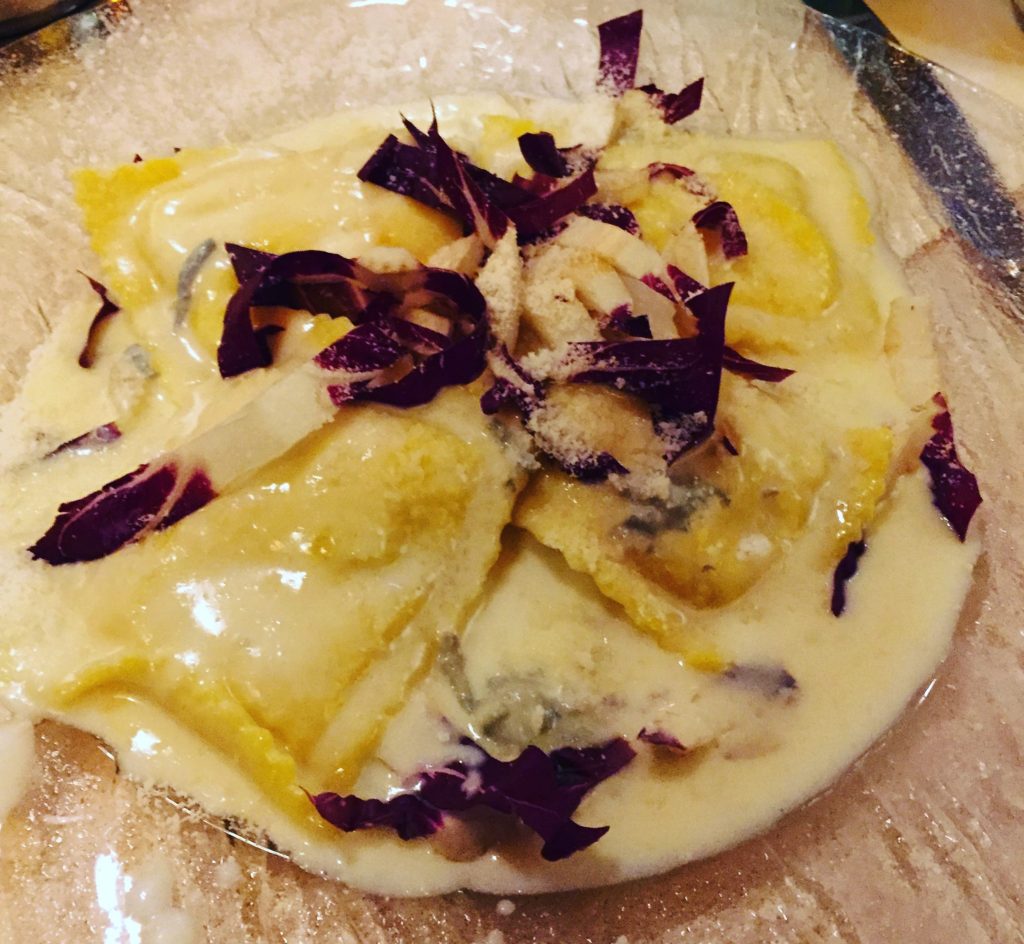 Third on my list of favorites is the pear ravioli with pecorino cream sauce. The supple pasta pockets, stuffed with a mixture of pear and ricotta, then are cooked until perfectly al dente and bathed in a nutty, buttery sauce of pecorino cream. This dish is rich and worth e-ver-y calorie.
Numero Due:
Enoteca Pitti Gola E Cantina
Piazza Pitti, 16
Florence, Italy 50125
http://pittigolaecantina.com/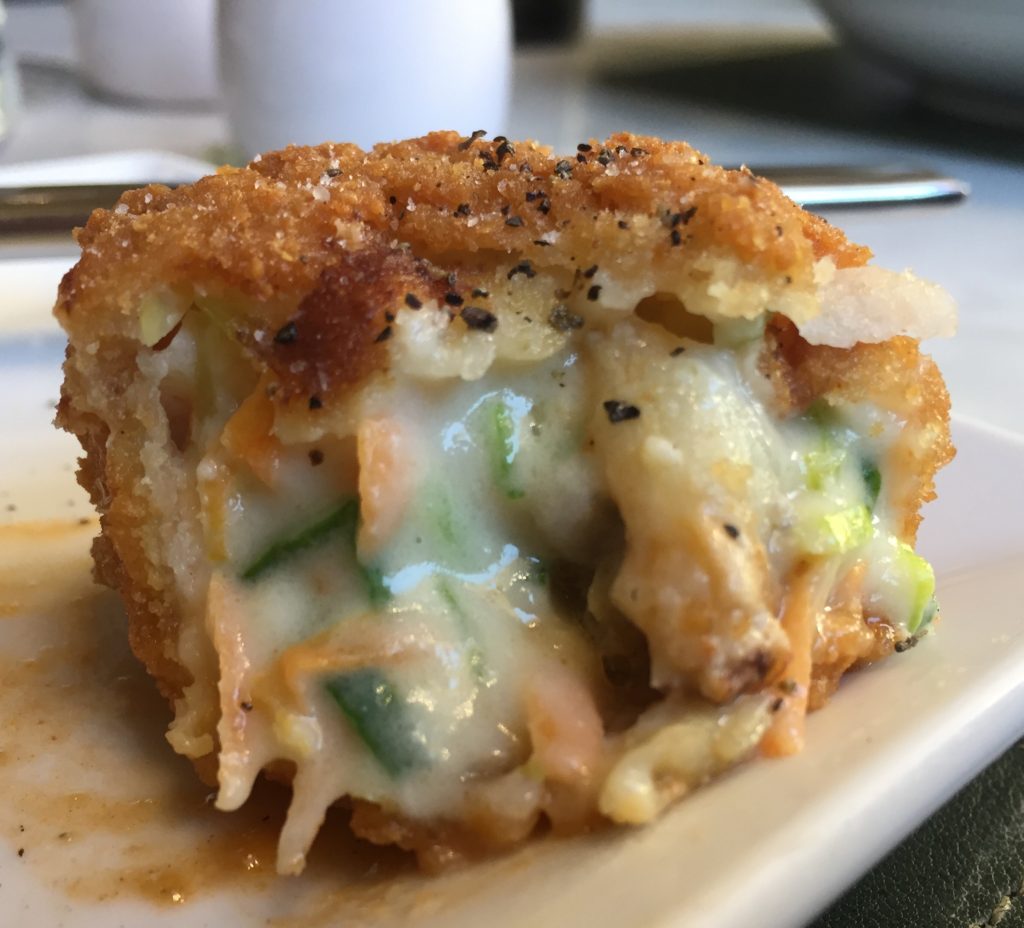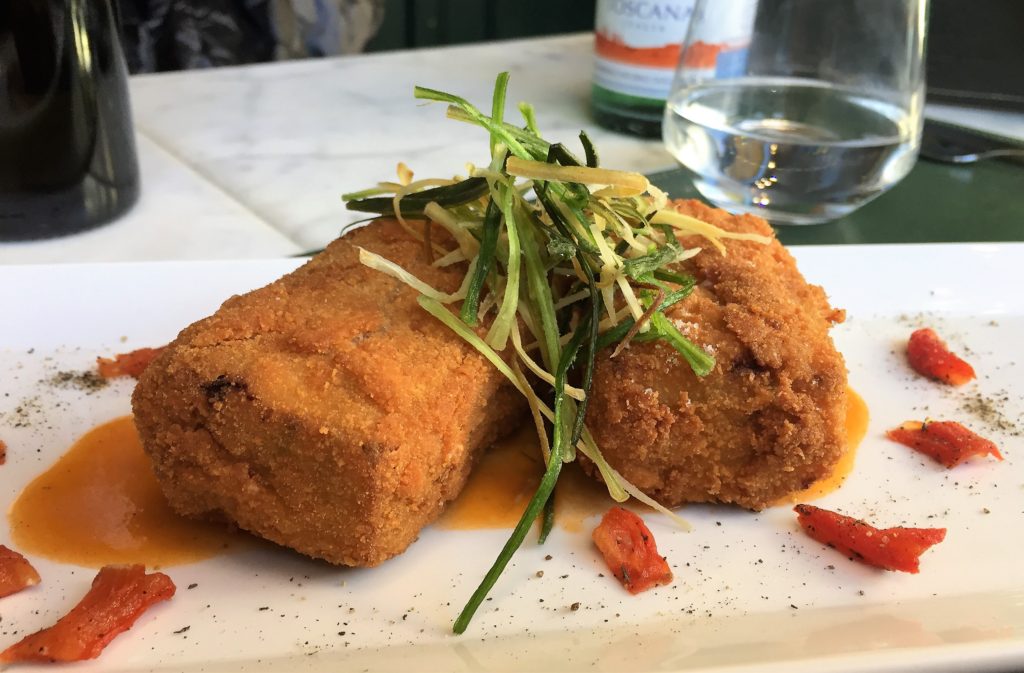 Next up were crab cakes, and they were not your typical crab cake. NOT EVEN CLOSE. To begin with the breading is more like a protective crust. It is substantial. I am guessing a cornmeal base. Once I tasted what was inside of the crab cake I knew why it needed protection. It was a treasure. The cake filled with a light, cheesy cream loaded with crab, carrots and onions; creamy, crabby, savory and sinful. Think an Italian-style pot pie.
Numero Uno:
Trattoria 13 Gobbi
Via dell Porcellana, 9R
Florence, Italy 50126
http://www.casatrattoria.com/en/trattoria-13-gobbi-2/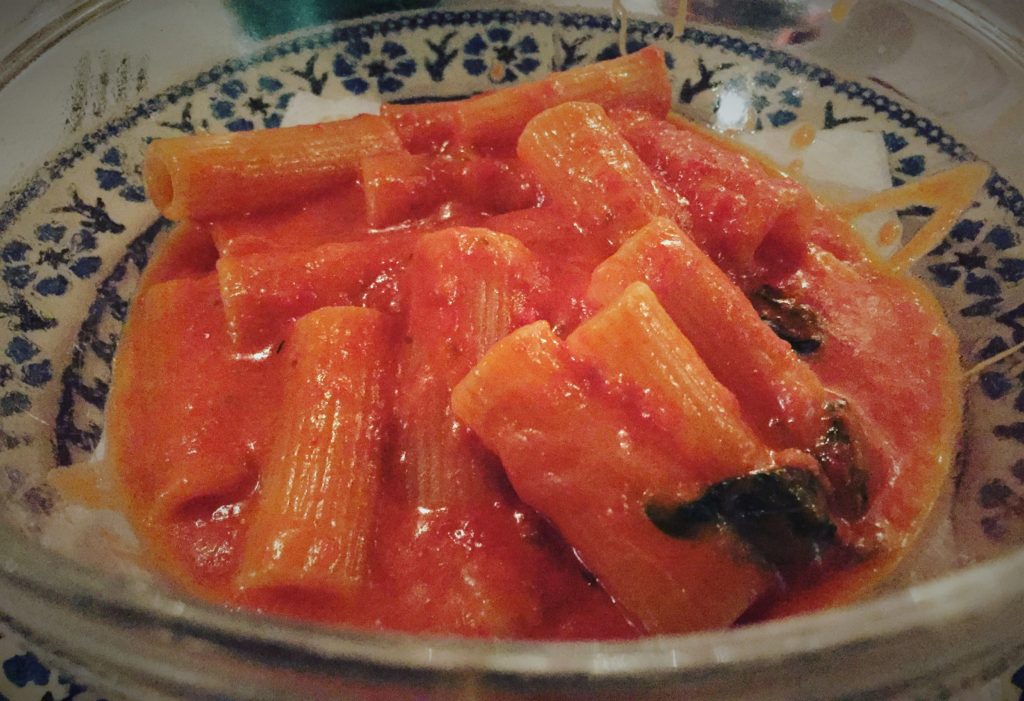 The best bite was the simply, extraordinary Rigatoni 13 Gobbi with Bufala and Tomatoes. I know you are saying, "Really?! Your favorite dish of the trip was a simple rigatoni?" Yes, but this rigatoni rises high above all the rest. First off, the rigatoni was al dente and HUGE – longer than a fork tine.
Next, the tomato sauce. I have come to the conclusion that tomatoes are better in Italy, WAY better. Yes, we can get San Marzano tomatoes here. Still not the same as the ones there. The sweet and strong taste of these tomatoes is unparalleled. Just when you thought it couldn't get better, the chef throws in some bufala mozzarella. This mozzarella is not standard. It has a thinner rind than regular mozzarella, and when you cut into it, there is a creamy, liquid center. I will wait for you to collect yourselves….Okay, are you better? Toss in some fresh basil, and it is heaven. It came to the table in a glass bowl so hot that the bowl was sweating. I go to 13 Gobbi for this dish every trip; sometimes more than once a trip. I ate each piece of pasta one at a time, and I drag it through the sauce to grab all that stringy, gooey cheese. Wait! What is that sound? Oh, yes. It IS angels singing.