Tacos are the universal go-to food for anyone who's looking for something quick to eat, and they offer a unique versatility and variety. The thing that I like the most about them is that almost everyone you know loves to eat tacos! In fact, we as a society take eating tacos so seriously that we created "Taco Tuesday," a day in the middle of the week dedicated to celebrate eating them.
Tacos Chukis
832 Dexter Ave, Seattle, WA 98109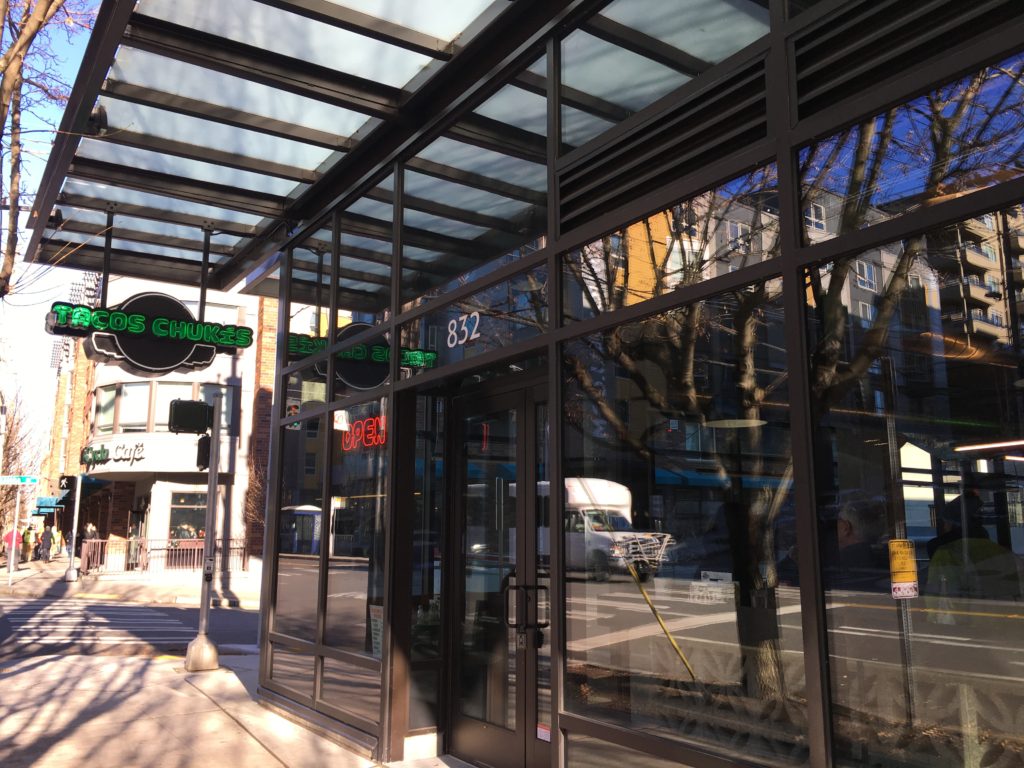 You won't be able to find a website for Tacos Chukis. I've heard that this place is like the Fight Club of tacos. Supposedly you don't talk about Tacos Chukis unless someone is bringing you there for the first time, or you bump into it. In fact you only know about Tacos Chukis from Seattle natives like myself OR most likely you'll see one of your friends post on either Instagram, Twitter, or Facebook.
One thing I know about Mexican food in Seattle is that it's pretty rare to find an authentic place that is decent and consistent. But if someone out there reading this knows of another great Mexican restaurant that I need to try, then please, I'm open to any and all suggestions by commenting below.
Taco Chukis has 2 locations. The vibe inside the Dexter location is usually busy during the lunch hours and the original location in Capitol Hill is bustling too.
On one particular day last week, right after the New Year, I was prepping a job for a commercial that filmed just after the holidays.  As any young professional in a rush, I went with two of my other co-workers for a quick lunch break.
I usually order the carne asada (grilled steak) and the pollo asado (marinated chicken) tacos, but on this day we saw the kitchen staff grill some cactus leaves.  So I decided to try the nopales, aka cactus tacos.
There's no real way to describe the taste of cactus, but it kind of reminded me of how vegetables taste in dim sum. It's got a bit of a strong taste that is similar to a green pepper, but not as bold – more like dialed down a smidge in taste. The texture is smoother than a green pepper, but if the cactus wasn't grilled I'm sure it would have been crisper. I would probably order again.
A lot of people really like the adobada (marinated pork) tacos, especially since this is topped with a chunk of pineapple.  It is known as their "house taco."
The crew behind the counter can make your food for you pretty fast. You can also have your food delivered via Postmates if you don't feel like leaving your quarters or don't want to wait through the long line.
The price for food is actually not bad either, since tacos are $1.90/each.
But if you're not in the mood for tacos (and why wouldn't you be?!) there are other options. You can get the same fillings in a torta (sandwich), a burrito or quesadilla.
So if you meet someone who is new in town or visiting from some place else, bring them here. It's OK that the secret is out about Tacos Chukis. The taco Fight Club won't come after you.  Because I think the more more you say "Tacos Chukis" or "tacos" the more locations will pop up in other neighborhoods and people like me who don't want to drive across town or up the hill will benefit from their growth.
And I learned that they have also extended their hours of operation so that they can satisfy more customers a little longer in the day.