Beets are the root vegetable that are truly amazing to me. The colors are amazing and they are so versatile! Pickled, as a salad with goat cheese, roasted on their own… I just love them.
This roasted beet hummus takes hummus to a new level of awesome. The subtle beet flavor makes regular hummus not so regular and just look at that color! I also roast the garlic. This gives garlic flavor without having the harshness of raw garlic. Beet hummus is great on toast, as a dip with pea snacks or pretzels, on salad…really you could eat it with a spoon. After the roasting, it takes no time to whip up in your food processor. If you don't have a food processor, get one. It'll change your foodie life.
Ingredients
1 medium beet
4 large cloves of garlic
1 can chickpeas (drained)
1 1/2 lemon juice (fresh squeezed)
2 TBSP tahini
Optionals
Sea salt to taste
Pepper to taste
Garlic powder to taste
Cayenne pepper to taste
Olive oil
Directions
Preheat oven to 400F.
Toss beets in a little olive oil and season with a pinch of sea salt.
Roast beets and garlic (leave skin on garlic) for about 15 minutes or until beets are soft.
Add roasted beets and garlic (skin removed) to food processor with chickpeas, tahini, lemon juice, spices and a few drizzles of olive oil.
As the processor works it's mixing magic add more olive oil until it forms into the consistency you like.
Taste and add more seasoning as needed. That's it! Enjoy!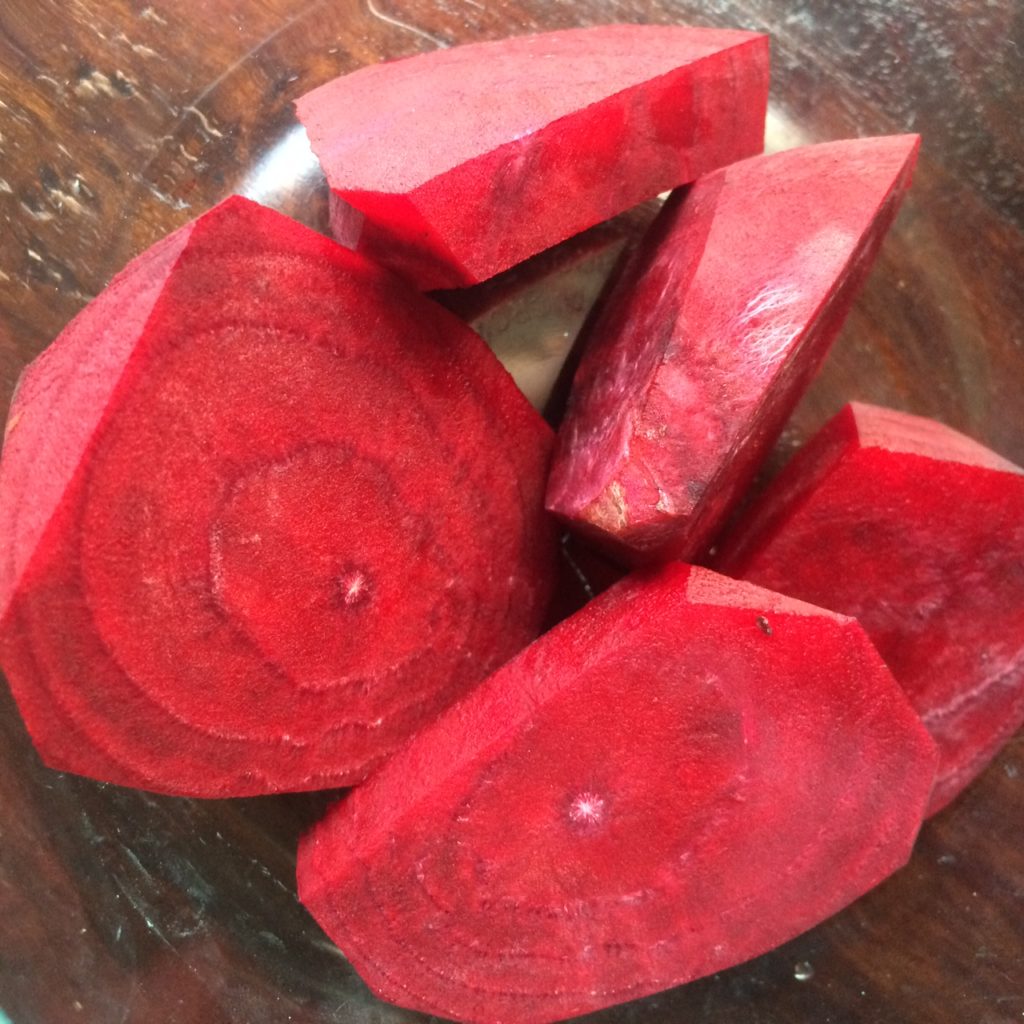 Tip- To make smoother hummus put chickpeas in a medium bowl and fill up to where chickpeas are covered with about an inch of water. With fingers, mix around/roll and squeeze gently to remove skins from the chickpeas. Don't squeeze hard enough to break the chickpeas, but just enough where the skin will slide off. You'll quickly get the hang of it once you do a few. I get really OCD with this but don't worry about getting every single one off! Voila! Smooth hummus!
For more healthy recipes visit
my site
 or follow
@izzycooksinsta
!