One of the best parts of summer in Los Angeles are the outdoor festivals. This month, LA Food Fest had its eighth incarnation at the spectacular LA Memorial Coliseum amid the gloomy June morning, and I was ready with a pair of #stretchypants and a dream to consume as many foods as possible.
Lines are a big part of this type of event, from the line getting in, to the lines waiting for vendors. Patience and a sense of adventure are musts for those excited for the opportunity to sample so many different types of foods.
The crowds weren't too crazy because of the ample space the location offered and the strategic organization of the vendors by the event organizers.  There were lots of folks, but for the most part, it wasn't overwhelming.
I decided rather than attempt to feature every single morsel of food, a task that could make a nice relaxing day overwhelming; I would try to find my top five favorites.
First, on the list, the was the Curried Shrimp Soup from Soup Bazaar, a Downtown LA spot which had recently revamped its menu and will be opening a new location just off the busy Spring Street. Soup Bazaar was one of the first vendors I tried, and I was blown away by the flavorful curry coconut milk base against the tender shrimp.
Breakfast isn't my favorite meal. I know, I know, I'm a monster. And of all the fast breaking fare, pancakes are my least favorite. That's why when I tried the Oatmeal Pancake from Breakfast by Salt's Cure, I knew it had to be good because it was one of the best things I ate all day.  Light, but substantial, covered in butter and cinnamon sugar, I decided right then and there that I would be visiting for breakfast very soon.
One line that took particularly long early on was the line for the Concha Burger by Casa de Brisa. Being a native of East LA, I had to give this inventive offering a try. Using a Mexican pan dulce (sweet bread) as the bun, Casa added a burger, greens, special sauce, jalapeno and tomato to make the perfect combination of sweet, salty and spicy! This was worth the wait.
I hate to be redundant, but man, the burgers at this event were top notch. Perhaps I had a hankering for meat since I've been on a plant based diet for a few weeks, but I couldn't deny that another burger also made my top five. Slater's 50/50 offered up their standard burger – 50% Beef 50% Bacon and all good. The brioche bun, chipotle mayo and over easy egg made my eyes roll in ecstasy as a mumbled, "Wow. That's a good burger."
There were many other delicious offerings, but I couldn't resist ending my top five with the Nushii Spicy Tuna Burrito. I am no stranger to all matter of sushi burritos found in the LA food scene, but I must admit, this was a great representation of the beauty of marrying raw fish and Japanese flavors with the Mexican-American burrito.  It's the perfect combination of two wonderful cultures.
It's no secret I have a sweet tooth, and I would be remiss if I didn't include a couple of fabulous desserts I loved from this event. There was a whole section of fantastic dessert options, and all were delicious, but two, in particular, stood out to me after a long day of tasting delicious treats.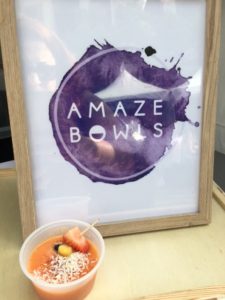 Amazebowls is known for their gorgeous Acai bowls served in decorative coconut bowls. However, at LA Food Fest, I was able to try another flavor, and it blew me away. The Tropical Fruit blend topped with coconut nibs was so refreshing and flavorful, and the coconut nibs added a surprising texture.
Finally, a personal favorite of mine, Salt & Straw was a must for me. I am no stranger to the creative flavors Salt & Straw offers at it's Los Angeles locations, but this time I tried a classic, Whey-Preserved Strawberry. So. Good. It was the perfect end to a day filled with food and fun exploring LA's best food vendors in a great location.
This year's LA Food Fest was a great example of the variety and talent we have here in Los Angeles when it comes to food, drinks, and fun.  It was a great way to spend an afternoon.