Though it is among my favorite culinary cities, most people don't associate Rochester, NY with farm to table dining, haute cuisine or award winning farmer's markets. They should.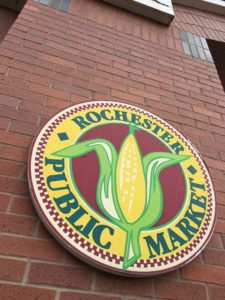 A hub of Rochester life for more than 100 years, the Rochester Public Market was voted Best Public Market in the United States back in 2010, beating out the market in Davis, CA. Today it's more popular than ever, thanks in part to a year round calendar of events that offers something for everyone.
Among my favorites is the monthly food truck rodeo which is held on the last Wednesday of the month starting in April and running through September. The event draws huge crowds for the more than 20 trucks routinely in attendance offering everything from French macarons and sushi to that Rochester staple, the garbage plate.
The event also boasts a changing lineup of local bands, and it's not uncommon to see people hauling along chairs and folding tables and setting up for an entire evening of dining and music al fresco.
In a fit of stunning optimism, I left the chairs at home but hauled along my family, including my 9 year old foodie and her finicky toddler brother. Here's how it went.
Hot and hungry, we were seduced straightaway by the WingNutz truck's offer of buttermilk marinated hand breaded fried chicken bites accompanied by a choice of sauces (I panicked when I reached the window and went with Buffalo, my default, but I wish I'd tried the garlic parmesan or mango habanero).
We're big fans of this truck, which somehow seems to follow us wherever we go, but these were the least remarkable item of the evening. A perfectly good, juicy, crispy chicken bite but with all the other offerings available, I'm glad these were just our starter. I enjoyed them but they didn't thrill me. The children, on the other hand…
The next stop was roll'n deep for two of our favorite items of the evening: a bubble tea and the Garfield, a handcrafted egg roll made of – you guessed it – lasagna noodles, ground beef, sausage, and a special blend of cheeses.
This. Was. Amazing. Crispy, chewy, cheesy, zesty perfection. I can't wait to go back and try the rest of the items on their menu. It's a good thing we do a lot of walking on rodeo night.
The passion fruit bubble tea with strawberry bubbles was also a hit with the 4 of us – light, fruity and fun, the perfect treat for a warm summer evening. 
From there we visited with an old friend – the Macarollin' Truck. This truck and I spent a lot of quality time together the last time I was pregnant, and though 20 months later I'm still unable to fit into my favorite jeans, I regret nothing.
I'm a huge fan of their Lobster Mac and Cheese but since I was sharing with my seafood allergic loved ones, we compromised with the simple, original version. I am not at all ashamed to say that I'm a complete mac and cheese snob – I was the only drunk college kid who wouldn't touch a bowl of Kraft with a 10' pole – and this is the ONLY mac and cheese in the area that meets my excruciatingly high standards. Flavorful, creamy sauce, al dente pasta…you won't miss your skinny jeans at all, I promise.
No trip to the rodeo with my kids is ever complete without a visit to The Meat Ball Truck. 
My daughter housed 2/3 of the meatball, fresh ricotta and garlic ciabatta in the same time it took me to say, "Share the meatball with your brother."
And because dinner isn't dinner without drinks and dessert, we also grabbed pints of two of our favorites, the Railroad IPA and the Vanilla Porter, from Rohrbachs Brewing Company before completing our No Carb Left Behind tour with fresh, hot apple cider fry cake donuts from Duke's Donuts, which makes its home permanently at the market.
Apple cider fry cakes are kind of a big deal here in Rochester. We have city-wide competitions to choose the local favorite, and my husband puts on about 4 pounds of donut weight every October, lamenting only that he doesn't have time to gain more before autumn ends. These are among the best, sweet, soft, slightly crispy on the outside, and delicious in season and out.
There really isn't a better way to spend a summer evening than drinking good beer, eating good food and listening to live music with the people I love best in the city nearest to my heart. These are the memories that will keep me warm when the February snow flies again.
Don't miss out on the final two rodeos the season! You can find information on the schedule, parking, band lineup and more here.