Every Friday here at Girls on Food, we'll bring you Weekly Wanderlust, featuring the best our in cities, recipes, videos and advanced notice on events we'll be appearing at.
Julianne here: The #GOFxHooch event, referenced in last week's WW column was a blast! Friends of GOF were hosted by the Hooch app at Harlowe in West Hollywood for an evening of drinks and bites!
The favorite cocktail of the evening was The Botanist Gin and Tonic. This G&T incorporates fresh muddled cucumber for a very refreshing taste! Favorite treats included Mary's Fried Chicken Strips, Margherita Flatbread, Vegetarian Flatbread and the Mushroom and Mozzarella Flatbread.
We're already in talks to host another event with them, so stay tuned to the Weekly Wanderlust Column for the next collaboration with Hooch!
Ginger here: Every time I visit Houston my friends take me to wherever Chef Ryan Hildebrand is behind the pass. That place used to be the upscale Triniti restaurant, but since it recently closed Chef Hildebrand has gone in the opposite direction, to the land of burgers and brews (or what I've seen described as "road trip inspired food"). But please don't confuse FM Kitchen and Bar with your average gas station and roadside diner food! The food at FM is leaps and bounds above quickie road-side fare!
In fact, the burger is so mouth-watering that it won a blind taste-test conducted by staff at the Houston Press, and if you think that's fake news then consider this: I prefer not to eat burgers often for health reasons and yet I ate this burger twice in a 3-day period (the second time in my car during the 3.5 hour drive back to Dallas) and my nephew dragged his father to FM four times in one week for the burger while mother was out of town.
Order your burger as a single or double with cheese, lettuce, tomato, and secret Shhh sauce (so darn good!) and, instead of the standard fries, pair it with a side of hush puppies or tater tots. I think the burger is a must, but there are plenty of other tasty non-beef items like the fried shrimp and hush-puppy plate (add a side of smothered green beans for some veggies) or the lemon-thyme brick chicken.
You can't leave without trying one of the cocktails (all under $9), like the strong but refreshing Watermelon Mule made with melon vodka, fresh watermelon and ginger beer or the Farmhouse Tea with TX Ranger whiskey, lemon and tea.
Have room for dessert? Then try a virgin shake for the kiddos or a loaded shake with shots of alcohol for the hard-working adults. You can work off the calories by playing yard games on the patio while listening to live music.
Carla here: Hey all! I've been a pescetarian for more than 7 years now and yet my love for burgers has never left my side. Burgers without meat are always better since they have to try a little harder. #fact. 
I am beyond blessed to have the absolute best vegetarian burger in OC down the street from my home. May I present to you… Burger Parlor's Portland Burger. Contrary to most vegetarian options, a veggie doesn't replace the meat patty. At Burger Parlor, a square of fried mozzarella is the patty that brings envy to all your pals eating cows. The pickled carrots, sprouts and arugula are great companions as well, but the marinated beets really get you to flavor-town.  
Friends, please don't be scared of beets — they are amazing when done right! The onion rings here are beer battered, which make them of the softer variety and beautifully melt in your mouth. If you want to be a little healthier Burger Parlor allows you to get any of their burgers in salad form or, if cheese isn't your thing,  you could also sub any of the patties for a portobello mushroom. Also, try the shakes, they get slept on way too often! 
Paula here: We are now officially in the middle of summer, which means we are embarking on fresh delicious veggie season! Beans, corn, sugar snaps, and of course… zucchini!
Zucchini is such a versatile vegetable. You can make anything with it! From sweet zucchini breads to my personal fave Pesto and Goat Cheese Stuffed Zucchini. Luckily, it's super easy to make and a perfect addition to any summertime BBQ.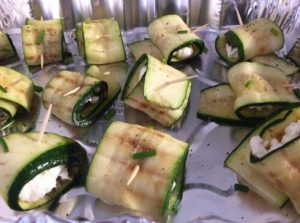 Pesto and Goat Cheese Stuffed Zucchini 
Ingredients 
-2 large zucchini sliced thin and length wise
-1/4 cup basil pesto
-1/2  cup goat cheese
-1 tablespoon olive oil
-salt and pepper to taste
-toothpicks
First either fire up your BBQ or start heating up the grill on your stove. Brush the zucchini with olive oil, both sides and place on the grill. Make sure you get those beautiful grill marks. Cook for about 5 minutes on medium high then flip and cook for an additional 2 minutes. Transfer to a cool plate and set aside for 10 minutes until it has cooled down.
Next, spread a good amount of pesto over each zucchini slice. At the thicker end of the zucchini place some goat cheese. Don't be shy, goat cheese is life. Once all of that is done start rolling the slice, starting with the goat cheese side, and secure each one with a toothpick. Sprinkle with salt and pepper then chill in the fridge for an hour. Such a great little appetizer! Enjoy!
Stay tuned for next week when we feature a Bay Area Bakery and an upcoming event from our friends at Thrillist.