Music Tastes Good is back, and while here in SoCal the calendars say fall, it felt like summer at this awesome festival. I doubt that I'm alone, but food regularly stirs up humming and melodies from within me so the entire concept brought forth by this festival is truly one I can get on board with.
The lineup was super fun, and I've been putting my Spotify to work with some of my new favorites.( (Big Freedia you gave me life!) The culinary experience this year was described as being a "port to port experience"  between Long Beach and New Orleans. Sounds and tastes reflected this experience and showcased the absolute best of these two port cities.
The first delight by the awesome guys from the Turkey and the Wolf. Chef Mason Hereford blew my mind with his *Cabbage F*cking Salad".  Cabbage isn't as cool of a vegetable as say Brussels sprouts or the newly minted trendsetter cauliflower… but Chef Mason managed to make this veggie cool. Fried garlic, sunflower seeds, coconut, roasted chili, jalapeño lemongrass, lime, Thai herbs and the optional pig ear cracklings are what made this dish delectable. Not only was there a vegetarian option provided but there were no judging looks when I grabbed a second dish for "photographic purposes."  Both Chef Mason and Nathan had me in stitches as snapped a few photos of them and commended them on the amazing job. While doing some research on the restaurant, I discovered Bon Appetit magazine named Turkey and the Wolf "The Best New Restaurant in America."
Now a Mardi Gras trip to New Orleans is sounding much more like a mandatory type of situation this coming year. The need for a trip to New Orleans was solidified as I genuinely tasted heaven.  Chef Kelly Fields from Willa Jean pulled all the stops out for her "caramelized white chocolate cocoa puddin'." There were so many different flavors in each dainty bite, and the surprises were incredible. Pecans, caramelized white chocolate, cocoa pudding and whipped coconut milk are the main ingredients in this tasty dessert and a true testament as to why Chef Kelly was nominated for James Beard Award.
Long Beach Chef Phillip Pretty did an awesome demonstration on a lamb crudo. Awesome demo and too many laughs on the subject of mushrooms.
After these awesome bites, I loved seeing Ledfloyd perform at the New Orleans stage. Fun fact: I'm a huge underground hip-hop stan and have been a fan of Awol One, 2Mex & Pigeon John since I was a frizzy-haired junior high student. The magnetic Argentinian Juana Molina also brought amazing sounds and vibes to the day with her eclectic mix.  Her music and dancing were super fun and unique.
I was looking forward to day two since thanks to KCRW ( the local NPR station), I was super hyped to experience The Hot 8 Brass Band. These New Orlean natives are legendary and transport you straight to Louisiana with their instruments.  The whole crowd was swaying in unison most of their set, and so many feels were in the air when they closed with their rendition of Marvin Gaye's "Sexual Healing." So happy I got to see them live!
On day two my taste buds decided to pay homage to Long Beach and my fave dish was the grilled octopus by Chef David MacLennan from the James Republic. Chef David got into the true fall spirit with an incredible black garlic emulsion with pumpkin puree. My grilled octopus happily danced along to Big Freedia as it swirled around this amazing sauce. While the Queen of Bounce had a huge twerk party on stage, I realized PSL's are so 2016, pumpkin puree sauces are the future. 
The cool art installation seen behind my octopus dish is one of the many art installations throughout the festival. This large "MixTape" by Jonelle Thais Holden was in memory of MTG's late founder Joshua Fischel. Visitors were asked to add a song to create a massive playlist. Such a cool concept to remember someone who brought so many people together through music and food. To have such an incredible festival return and bring so many good times to visitors it could've  only been accomplished through love and dedication and based on all the positive vibes felt around I would say Joshua did awesome in bringing food and music together in Long Beach. I'm looking forward to next years festival! In the meantime, I will keep busy with trying more food from the Long Beach gems I discovered and planning a proper New Orleans trip for more brass sounds and Turkey and the Wolf!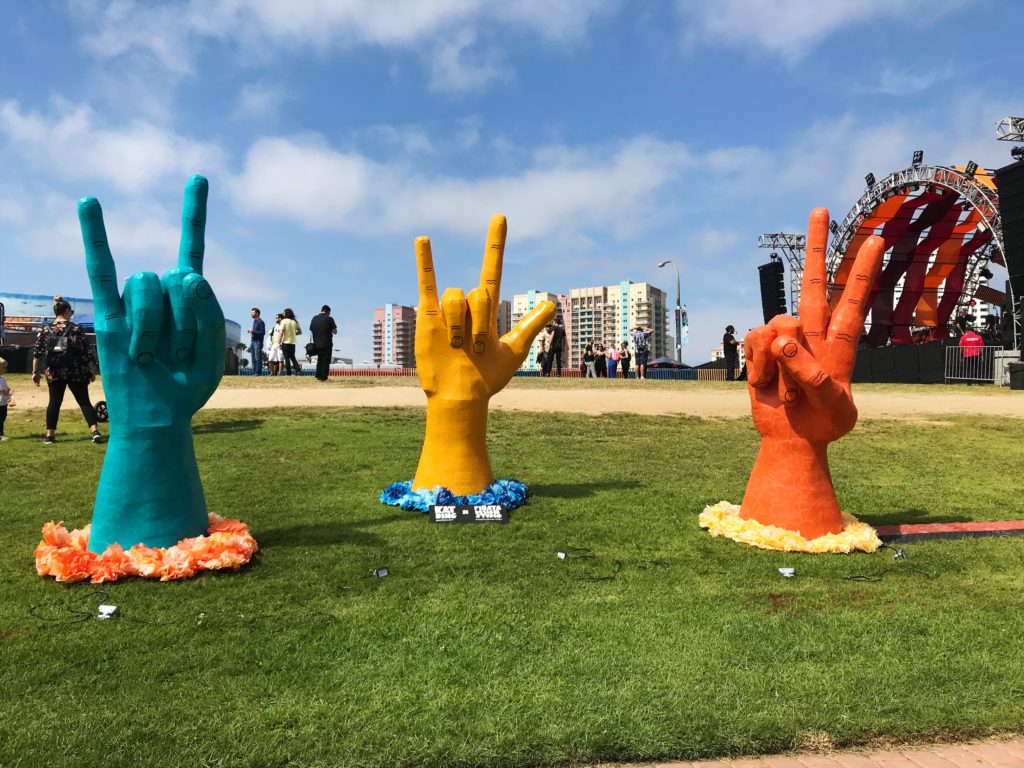 Until next year Music Tastes Good!