Up in the Pacific Northwest, we are officially entering the gray monotony of wet, cold, and miserable weather until spring. Which means its time for foods that warm me up! This usually puts what I am craving and what I should eat at a crossroads.
Carb-y creamy things may be delicious, but what about all those veggies I should be eating? Is anyone else feeling big time comfort food cravings as soon as the weather turns??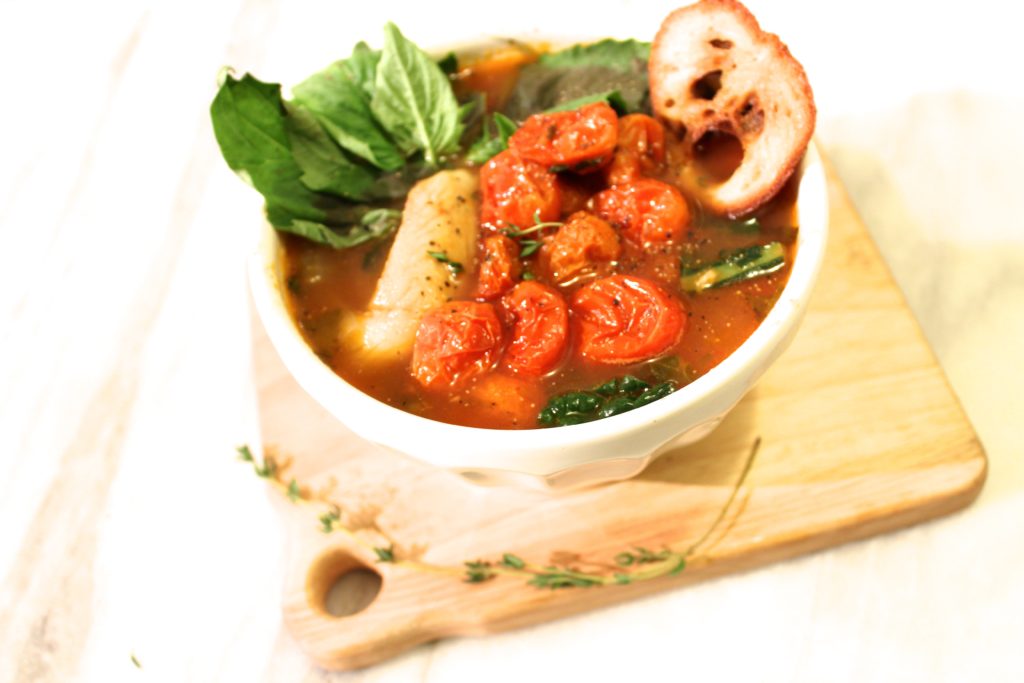 Instead of choosing between comfort food and health, I'm combining them with this cioppino! Its packed full of veggies, fish, fresh herbs, the most luscious broth, and an amazing secret flavor bomb ingredient: slow roasted cherry tomatoes! They are jammy and umami rich in the best possible way! They add incredible complexity and richness to the soup!
It's the perfect light – yet filling – way to warm up on these cold wet days!!
Now, to the recipe!
Note: The soup is dairy free and gluten-free. The olive oil crostini is optional for serving!
Healthy Cioppino with Jammy Roasted Tomatoes
For the Roasted Tomatoes:
2 heaping c. cherry or grape tomatoes
light drizzle extra virgin olive oil (about 1 tbsp.)
sprinkle of salt
fresh thyme leaves from 1 small sprig (about 1 tsp.)
Preheat the oven to 350 degrees. Lay tomatoes on rimmed baking sheet and add a light drizzle of olive oil, pinch of salt, and a few fresh thyme leaves. Roast in the oven for 35-45 minutes, turning tomatoes every 10-15 minutes until soft, blistered, and some of the skin has browned. We want some of the moisture to evaporate and really draw out the umami flavor of the tomatoes. Once they are done, set aside.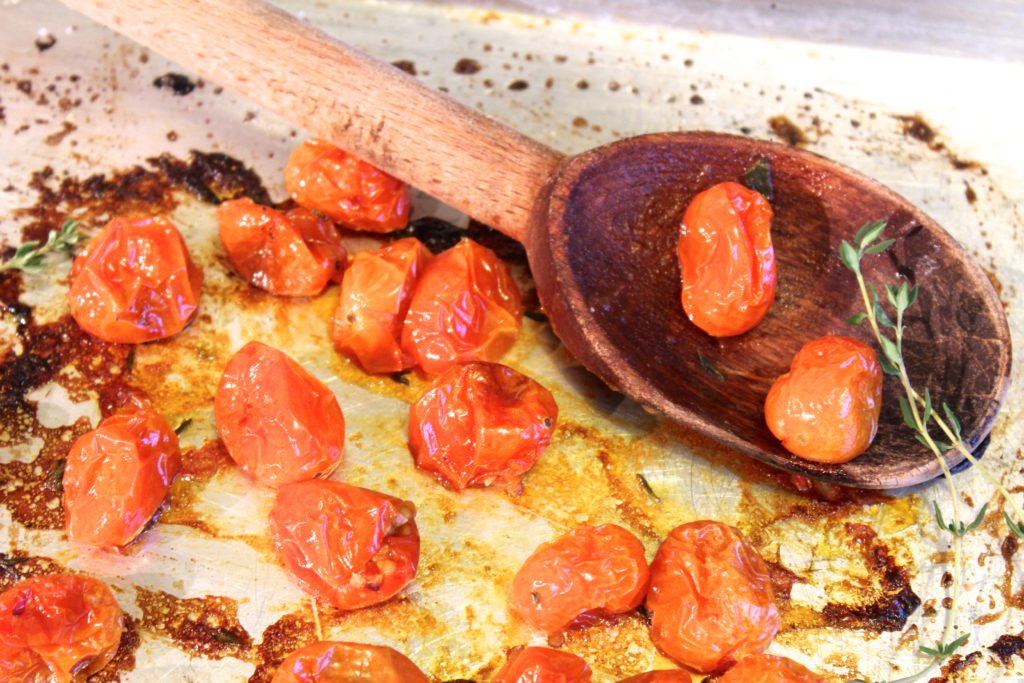 For olive oil crostini (optional):
a few very thinly sliced pieces of day-old baguette
drizzle of olive oil
pinch of salt to season
Set oven to broil function and place rack in upper 1/3 of oven. Drizzle olive oil over rimmed baking sheet and swirl thinly sliced baguette slices in the oil on each side. Sprinkle a pinch of salt over the top and transfer to the oven. Watch carefully so that they don't burn. I find 30 -60 seconds to be enough time for the first side. Flip and then toast for 20-30 seconds on other side. Remove from oven and set aside. Sprinkle with another pinch of salt if desired.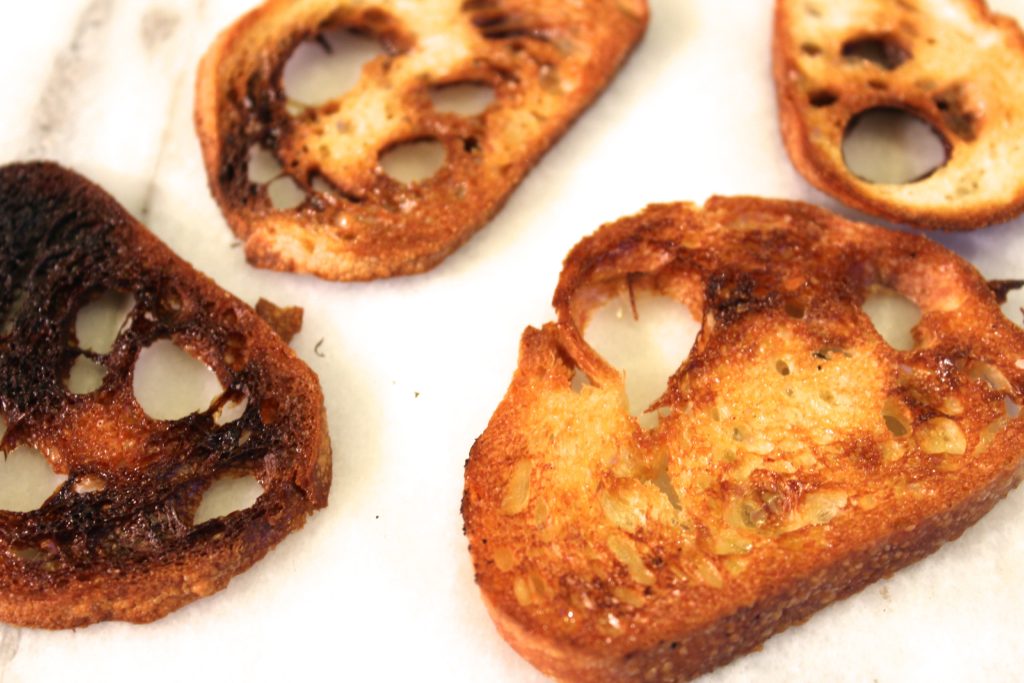 For the cioppino:
2 tbsp. extra virgin olive oil
1 large onion, coarsely chopped
3 cloves garlic, thinly sliced
sea salt
black pepper
sprig of fresh thyme
2 bay leaves
¼ c. dry white wine
14.5 oz. can diced or crushed tomatoes (preferably unsalted)
handful of fresh basil, coarsely chopped or torn
3.5-4 c. seafood stock (or vegetable stock, if you prefer)
1 lb. raw cod or other mild flavored white fish (sole, halibut, etc.), cut into 2" pieces
handful of kale leaves
In a large soup pot, add olive oil and heat until glossy over medium heat. Add garlic, onion, a generous pinch or two of salt, and black pepper. Add thyme sprig and bay leaves cook covered until onions soften slightly and are translucent (about 3-5 minutes). Add white wine and continue to cook uncovered, stirring occasionally over medium low heat until liquid has evaporated. Once liquid has evaporated, remove and discard the thyme sprig. Add canned tomatoes, another pinch of salt and pepper, and the handful of fresh basil leaves. With pot covered, bring pot to a simmer, then reduce heat to low and cook for 10 minutes to allow flavors to meld, stir, taste, and season occasionally. Add 3.5 cups of broth and increase temperature to medium high. Bring soup to a simmer. Then reduce heat to medium low and continue to cook covered 10 minutes longer for flavors to meld. Stir, taste, and season with salt and pepper occasionally. Sprinkle raw fish with a pinch of salt and pepper on each side then add fish and handful of kale leaves to pot. Cover and cook 5 minutes longer. Fish will cook very quickly. Finally, add ½ of the roasted tomatoes to the soup and cook uncovered for 5 final minutes.
To serve:
a few fresh basil leaves
remaining roasted tomatoes
olive oil crostini or other crusty bread (if using)
freshly cracked black pepper
Ladle cioppino into bowls and top with a few basil leaves, more roasted tomatoes, fresh cracked pepper, and olive oil crostini if desired! Buon apetito!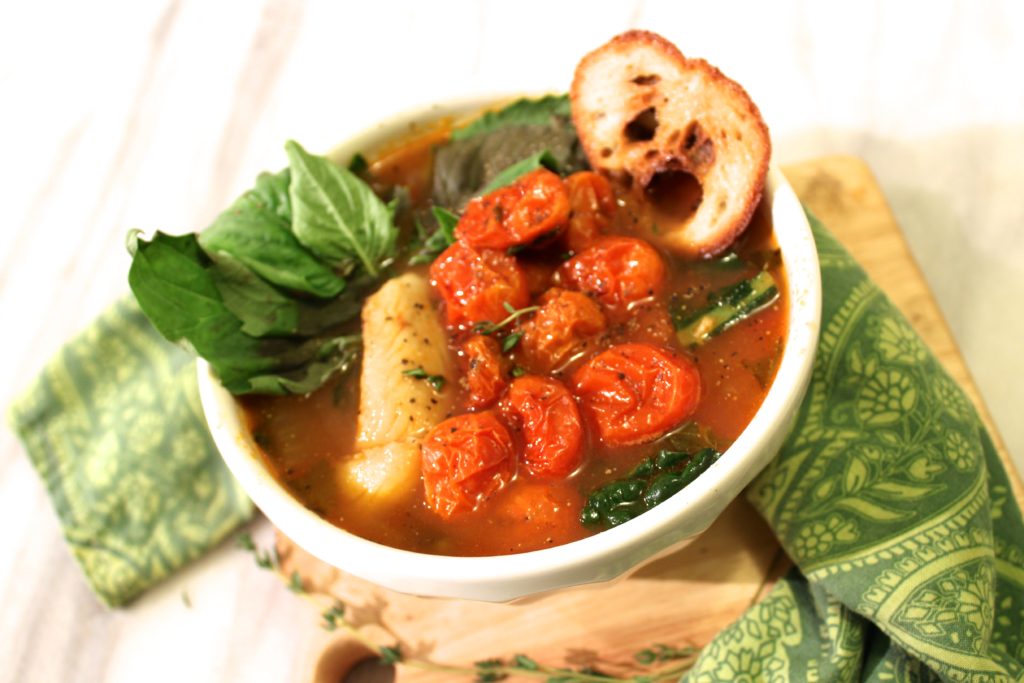 ---
We love seeing what you make! So, be sure to tag me and Girls On Food on Instagram!
SaveSave