I've been increasing my visits to the gym as of late, trying to work off all of those calories from restaurant tastings. While my body and mind feel clear and great, I've been getting so hungry after all that stair climbing and cycling. Since I have a somewhat fast metabolism, I have to have a full meal after I do cardio heavy workouts.
When Fox Run Brands reached out to me to try a product-test on their Vertical Poultry Roaster, the timing couldn't have been more perfect! Although most owners of this product use it to roast their full-size chickens, I've been wanting to experiment in the kitchen with one of the more underrated birds out there- Cornish Game Hen.
Nutritionally, these portion perfect hens (minus skin and bones) are packed with 57 grams of protein and 9 grams of fat, making them a great post-workout beastmode treat. But how does it compare to the traditional roast technique over my new roast technique with the Vertical Poultry Roaster?  Follow the recipe below to taste for yourself!
Julianne's POST-WORKOUT Cornish Game Hen
Tools Required:
Fox Run Brands' Vertical Poultry Roaster
Baster
Tongs
Baking pan
Aluminum foil (optional)
Ingredients:
1 Cornish game hen patted dry
1 thin slice of room temp salted butter
4 sprigs of fresh rosemary
2 slices of quartered fresh lemon
3 garlic cloves
Salt and pepper to taste (I prefer Himalayan pink salt)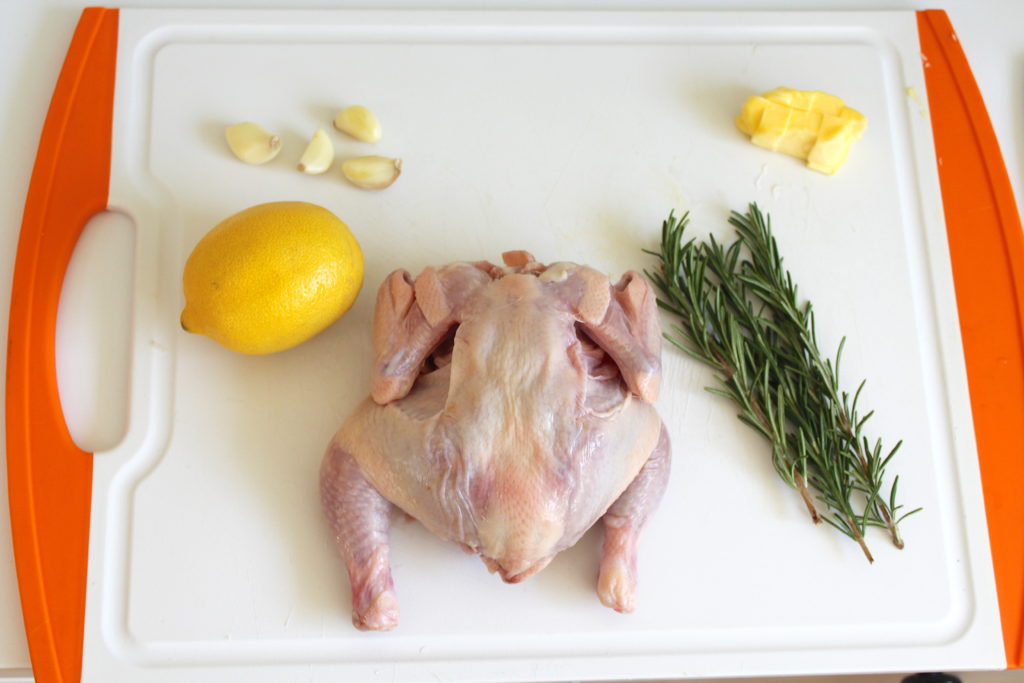 INSTRUCTIONS:
Pre-heat oven to 450 degrees F.
Take your Fox Run Brands' Vertical Poultry Roaster and stuff the middle with rosemary sprigs, lemon quarters and place garlic cloves at the top.

If your hen is coming from a sealed package, rinse off with water. To get that perfect crispy skin, make sure to pat and dry the hen thoroughly with a paper towel before moving forward.
On a clean cutting board, lay your hen out (see image above) and use a small knife to get that top skin loose, then place the thinly sliced butter on the two breasts, you can maneuver it closer to wings too. If you have additional rosemary, feel free to stuff some here also, for extra herbal flavors.
After you've stuffed your hen, gently place the hen on top of the Fox Run Brands' Vertical Poultry Roaster through the cavity. Place stuffed hen on a baking pan. It's effortless!

Optional – If you want to retain a little more moisture, wrap hen in aluminum foil before placing in the oven.
Otherwise, bake in oven for 25 minutes.
After 25 minutes at 450 degrees F, remove hen from oven and turn the heat down to 325 degrees F.
While the heat is cooling down, glaze your hen with the juices with a baster. If you used aluminum foil, remove it for the next step so that it can crisp up.
Bake at the pre-heated 350 degrees F for 30 minutes, and continue to glaze a couple of times throughout.
Remove baking pan from heat. Then carefully remove the hen from the vertical roaster with tongs. Let it cool, and it's ready to serve!

Looking for a low-carb side dish? Check out my recent Just Beet It recipe on our Instagram page and make sure you're following us too! Be sure to check out other fantastic Fox Run Brands products here.
This post is sponsored by Fox Run Brands; however, all thoughts and opinions expressed are my own.