Our hashtag #girlsonfood has over 11.9K uses on Instagram!
Thank you so much to our readers for using this tag!
I have been looking through all the images and saw that there were so many bloggers/photographers/influencers that I wanted to get to know a little better. So, I created a new column where I interview the folks behind some of most the interesting pages.
Through the uses of our hashtag, I found Stephanie Chen of @sugarbearbakes. I was in awe of how visually delightful her bakes are! I was also blown away by her level of accomplishments:
I decided we needed to get to know her a little better, since she's the ultimate Girl on Food!
After reading about some of her accomplishments, I think she looks like a woman who knows what she wants. If you ask me, these people make the best businessmen and women. You need someone who has accomplishments such as this running a business because you know they have every chance of being successful. All of the experience that Stephanie Chen has obtained over the years doesn't only look good to other industry professionals, but it will also look good on her own career resume too. Not that she needs it, but with the help of somewhere like ARC Resumes in California (https://www.arcresumes.com/local/california/), she can improve it even more and this will look great when it comes to future opportunities and so forth.
To learn more about her fabulous career, I caught up with her the other week to have a chat with her. So, read on if you want to read our interview.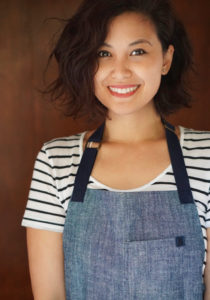 GOF: What was the casting process like for GABS?
SC: The casting process was very exciting and an illuminating process! I've watched my share of Great British Bake Off and Top Chef and I remember always thinking, there's NO WAY I could ever get on one of those shows. Haha. It was really fun to see how everything worked and I felt honored to be selected from thousands and thousands of applicants!
The process itself happened over a month or two and involved lots of rounds including a lengthy application, phone interviews, Skype interviews, in-person taste tests of your best sweet, savory and bread recipes. There was even a mini timed baking challenge where we had to bake in a kitchen and talk to cameras to see how we would fair under pressure. It was a demanding process but I'm so glad I did it!
GOF: Did you have any big learning experiences or epiphanies during the filming?
SC: Going on The Great American Baking Show was one of my best decisions in my life. It was also the most stressful and challenging thing I've ever done. It's rare that people get the opportunity to challenge themselves in a way where you are 100% reliant on your personal performance and intuition. No one is telling you when to take something out of the oven. You can't just go online and google "how to fix meringue". On the show, all the bakers are dealing with ovens, ingredients and an environment that is completely new and unknown and under extreme time constraints and an audience of producers and camera men. Imagine someone standing next to you documenting all of your mistakes! I learned that I'm more capable than I ever thought and really tested my ability to manage my stress in a whole new way.
Before I went on the show, baking was a hobby. Something I did late at night to relive stress and an outlet to allow me to make something special for people I cared about. When I made it all the way to the finals, I realized that this is more than a hobby and I might actually want to do this for REAL. Since the show ended, I haven't gone back to my full-time corporate job and have started my own cake & pastry business popping up in cafes across LA, teach cake decorating classes privately and at local cooking schools and found part-time work with pastry teams in Santa Monica bakeries that I've admired for years. The show gave me the confidence to propel me into a whole new career that I would not have had the confidence to pursue without it.
GOF: What is the recipe creation process like for you?
SC: My recipe creation process is driven by seasonality and what I'm in the mood to eat! Sounds simple but my cravings are often so specific, it's easy to hone and be creative when it's something I love to eat.
Growing up in Southern California, I've been fortunate to have fresh produce and farmer's markets within a stone throw. I love roaming the Wednesday Santa Monica Farmer's market, talking to farmers to see what they're excited about and letting that influence my palate. I also pull from my Chinese heritage and the melting pot of flavors in LA that I grew up eating so my pantry is a mixed bag. It's not rare that I'll just go around my kitchen and just start pulling different spices and ingredients, smelling them together to see if I can create something new and delicious.
GOF: What was your favorite childhood meal?
SC: Wow. I don't know if I could only pick one! My mom was a really great cook and would always make delicious Chinese food every night growing up. My maternal Grandmother opened a Chinese restaurant in New Jersey when she first immigrated to the US in the 70's. My mom helped her run the restaurant so we always had really good Chinese food at home. If I had to narrow it down, I'd pick her Zha Jiang Mian. (Soybean paste noodles with fresh sliced cucumbers.) Yummm. Now I'm craving it!
GOF: What advice do you have for anyone who may be considering leaving their day job to pursue a job in the culinary arts?
SC: My advice to someone who wants to pursue a career in food, is to go and talk to as many people in the industry as possible! I met with all sorts of friends, acquaintances and even strangers when I first flirted with the idea-A gal who owned a wholesale online cookie business, coffee shop owners, a multi-restaurant/bakery owner, pastry chefs, etc. Listen to their stories, how they got started and what to watch out for. This can also help you figure out what path you want to take. Working in food is not for everyone.. but, I can't begin to describe how rewarding my journey has been and it continues to fill my heart in ways I never knew "my job" could. If you can, try to stage at a local bakery/restaurant you admire. Baking at home for loved ones vs. baking in a high functioning kitchen is completely different. I've gathered some of the most valuable training and learnings from my time working with the pastry teams at Huckleberry and Milo & Olive.
GOF: Do you have one kitchen tool you think is underrated and deserves more love?
SC: The one kitchen tool I cannot live without is my mandolin slicer! I don't have a fancy knife skills so my mandolin has come in and saved me on many occasions when I'm baking or just cooking dinner! It's an easy way to make your dish look elevated with perfectly sliced pieces.
GOF: Favorite LA high end spot and favorite lower end spot?
SC: My favorite high-end spots in are Bavel in DTLA and Felix in Venice. You seriously can't go wrong with anything on the menu in both places. For lower end, I love Ma's Chinese Islamic Restaurant in Anaheim. I grew up eating here and they have really great Beef Noodle Soup and scallion pancakes!
GOF: What is it like to organize your time between Huckleberry, M&O, pop-ups and trying to maintain a personal life?
SC: It definitely keeps me on my toes and I would die without my calendar! I'm always bouncing around all over the city and love that I'm always learning and challenging myself in different ways depending on what I'm doing. I love being at Huck & Milo because it keeps me sharp, fast and love all the people I bake with. Pop-ups are a lot of work but I feel so much joy in feeding people and it helps me test what Sugarbear Bakes can become. I love teaching classes because I'm helping people learn something new and giving them an avenue to explore their creativity! Sometimes my personal life does suffer (especially my sleep!) but it's a small price to pay for really loving what I do. I'm also blessed to have a very supportive and loving husband who helps me keep my sanity.
GOF: What's the most ambitious/interesting cake you've ever baked? Any crazy themes or challenging décor?
SC: One of the most fun and tedious cakes I've been asked to make was a pancake cake made completely out of buttercream! Every layer of "pancake" was piped (over 25 layers!) and then I went through and painted every single layer to give it the effect of pancakes. Then it was topped with caramel and a fondant butter slab. It was a smash cake so it was fun to see the photos of the baby smashing into despite all the hours it took to make it. Haha.
Be sure to follow @sugarbearbakes and @girlsonfoodblog and use that hashtag #girlsonfood to be featured someday!