Our hashtag #girlsonfood has over 13.2K uses on Instagram! 
Thank you so much to our readers for using this tag!
I have been looking through all the images and saw that there were so many bloggers/photographers/influencers that I wanted to get to know a little better. So, I created a column where I interview the folks behind some of most the interesting pages.
Through the uses of our hashtag, I found Trish Glasser of @trishglasser_, an OC-local home loan diva by day and wine tour hostess by night. I get to know Trish a little bit better in the interview below.  
GOF: Where in OC do you live?
TG: I live in the unincorporated area of Trabuco Canyon, California. It is a very unique area for Orange County. Having grown up in the Midwest, it's the best of both worlds – country living and the city is right around the corner.
GOF: When you did first fall in love with wine?
TG: When I came to California in 1986 from Kansas and began drinking buttery Chardonnay. Having grown up in the Midwest, I can certainly appreciate the farming process in making wine. I even help some of my local winemaking friends bottle their wine on occasion which has definitely given me a hands-on appreciation for the hard work and craftsmanship that goes into making even a single bottle. With the accessibility of wine (particularly here in California), my taste buds have expanded significantly through the years to include all sorts of sparkling, whites, roses and reds. Since all of my wine education has been self-taught up until now, I'm currently working on obtaining my Level 1 Sommelier designation which I should have by the end of this year.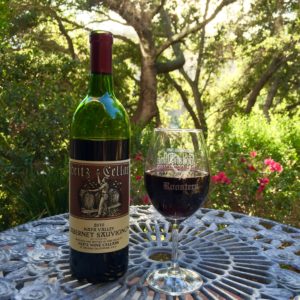 GOF: How do you conduct your wine tours?
TG: Right now, all of my wine tours are virtual via Instagram and Facebook from personal experiences in checking out wineries and making suggestions. This serves as a launch pad for my next dream and vision of in-person tours beginning here in Orange County and in other areas too such as Paso Robles, Santa Barbara and Napa Valley. Stay tuned for information on my inaugural in-person Orange County tour coming up in January. The Orange County wine tours will start at my home/private wine cellar in Trabuco Canyon. They'll be comprised of food and wine pairings with hand selected bottles from my private cellar. Then, we will proceed to 3-4 local Orange County wineries. Since I've made friends with most of the winemakers here, they'll be notified of the schedules in advance so tourists will have the opportunity to meet and chat with owners/winemakers.
GOF: Favorite wine valley?
TG: That's a tough question. There are so many. In California I'd have to say Paso Robles followed by Napa Valley. In Europe, I'm very fond of the Alsatian region of France.
GOF: Any favorite under $15 you can tell us about?
TG: I have a few that I recommend!
Jaume Serra Cristalino Brut Cava Sparkling (Spain): $9.00
Kim Crawford Sauvignon Blanc (New Zealand): $12.00
Louis Jadot Rose (Burgundy, France): $14.00
Fess Parker Chardonnay (Santa Barbara County, California): $13.00
Poppy Pinot Noir (Monterey County, CA): $13.00
Lohr Cabernet Sauvignon (Paso Robles, CA): $13.00
GOF: Favorite Instagram pages to follow?
TG: Another tough question – in general, local restaurants, chefs and wineries along with:
@DonatellaArpaia
@guarnaschelli
@cheftoddenglish
@chef_morimoto
@bobbyflay
@foodandwine
@foodnetwork
@thecheesestoreofbeverlyhills
@ocwinetrail
@pasorobleswineries
And of course, @girlsonfoodblog
GOF: Favorite SoCal winery?
TG: With the resurgence of wine here in Orange County over the past 10 years, there are about a dozen options here ranging from actual winery venues in the Orange County Santiago Canyon area to tasting rooms located in the different local cities.
Favorite Winery Venue: Giracci Vineyards and Farms and Cowboy Canyon Winery which are both located on the same property in the Santiago Canyon area: beautiful grounds and a wonderful way to spend a Sunday afternoon. You're allowed to bring your own picnic to pair with your Giracci/Cowboy Canyon Wine.
Favorite Tasting Room: Frisby Cellars located in Lake Forest. The tasting room has a cool, urban vibe and the staff is always very friendly and knowledgeable about the wines. The winemaker, Josh Frisby turns out a consistent, good quality product for a reasonable price. And of course, all of his grapes are sourced from Paso Robles.
Be sure to follow @trishglasser_, and contact her directly about her wine tours. Also follow @girlsonfoodblog and use that hashtag #girlsonfood to be featured someday!