LA recently had a weekend rainstorm. Call me crazy, but I actually like dining on a patio when it's raining. Plus, when it rains in LA, it's so refreshing, especially in a drought. Before seeing a movie, we decided to sit in the downpour rain (covered of course) and enjoy a bunch of small plates.
The Wallace
3833 Main Street
Culver City, CA 90232
310-202-6400
http://thewallacela.com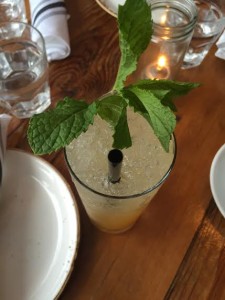 Since I didn't want to miss any moment of The Gift, and I'm notorious for "snooze after booze-er", I decided to stick with a non-alcoholic drink. Luckily, The Wallace had an ample selection of virgin drinks, something the LA foodie scene is somewhat lacking in. I ordered the Wacky Tobacky, a carbonated beverage that was flavored with earl grey, lemon and tobacco. I know you're thinking it may taste like that time someone put out a cigarette in your cocktail, but I'm happy to report it didn't. It reminded me of an Arnold Palmer with a strong sour note to it. The garnish of fresh mint was a great touch.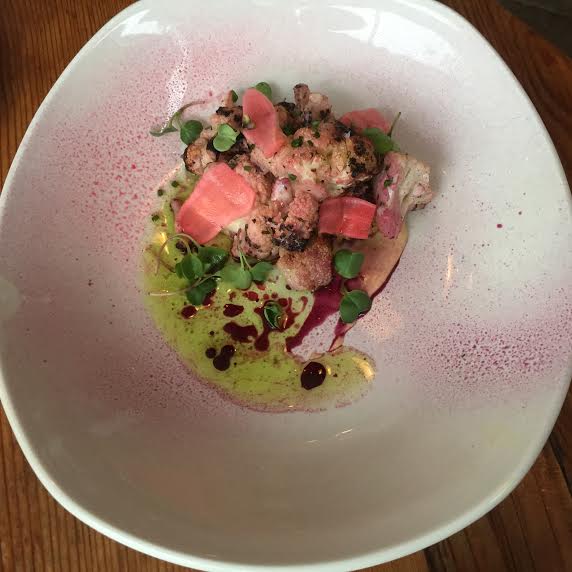 The vegetarian plates we started with were as tasty as they were beautiful. The Cauliflower looked less like food and more like art. It's tough to be the first person to ruin the plating but food has to be eaten.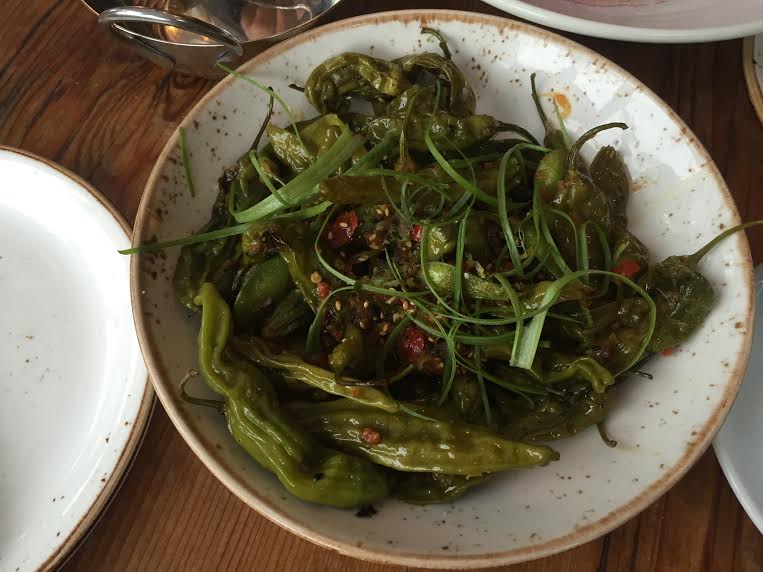 We also ordered the Shishito Peppers, which also had edamame, in a lemon, chilli and pepper sauce. The sauce on this dish sinks to the bottom, so be sure to dip down for more of the broth.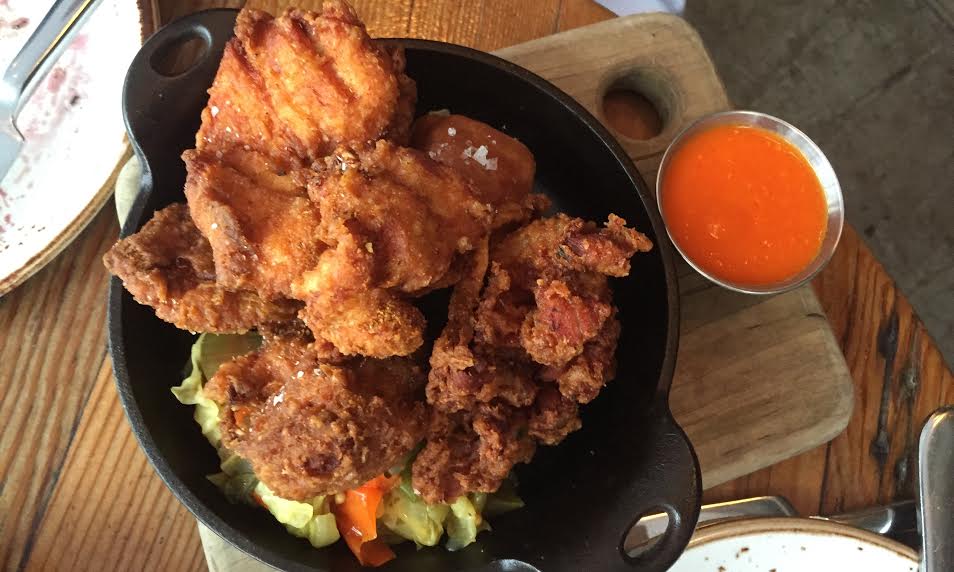 My boyfriend ordered the Fried Mary's Chicken, which was crispy perfection. I love that it came with pieces of white meat and dark meat. It also had an adorable salted house roll (which is hiding in the top right), similar to King Hawaiian rolls and a house-made hot sauce.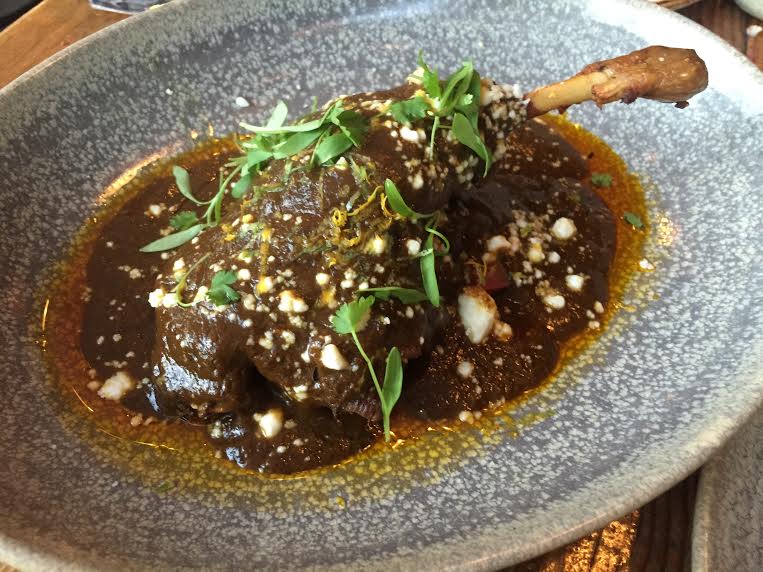 I ordered the Duck Confit Mole, which had a glorious in-bone presentation. The duck maintained its crispness, despite being covered in a mole sauce. The mole sauce didn't have the traditional chocolate taste that I'm accustom to, instead, it had more focus on the ancho chile and other mild spices. This was a great take on mole sauce, but I wish it came with a crostini or some kind of bread to soak it up.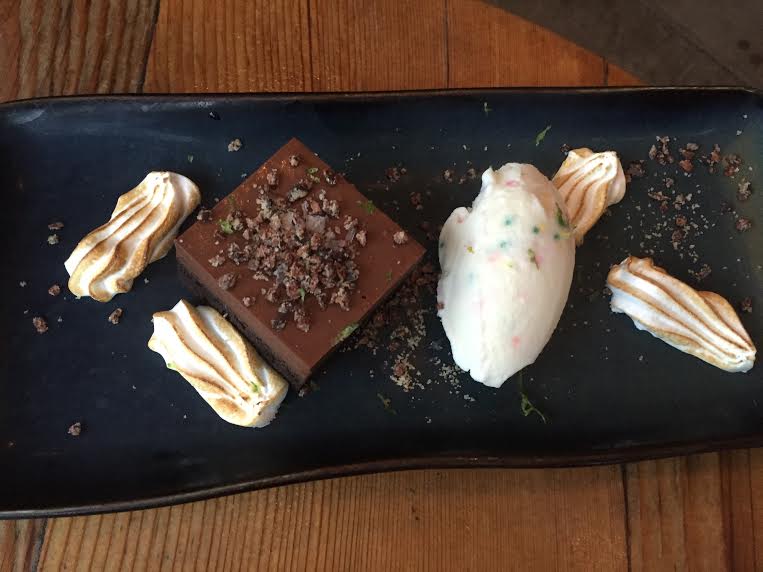 We couldn't decide on one dessert so we decided to order two (we behaved and didn't get any popcorn at the movie theater). The Chocolate Brownie Bar with a toasted meringue and "funfetti" ice cream was the first one. It's deceptively small; it's so dense that even between the two of us, one order felt like plenty. The meringues were a sweet and airy extra to have, but we agreed the "funfetti" ice cream was a bit much. I'd suggest pairing it with a French Vanilla or Coconut ice cream, something a little simpler. The brownie should be the star of the dish.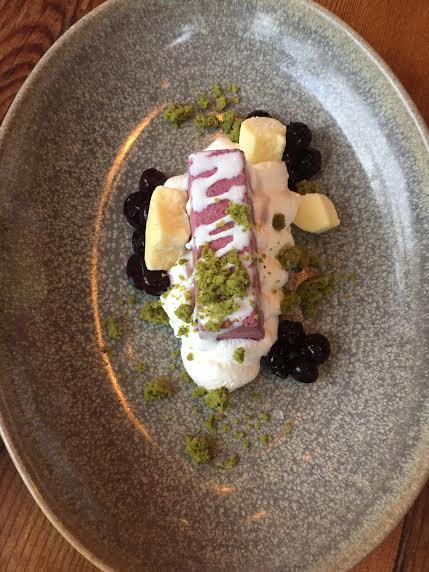 The Blueberry Semifreddo was the favorite out of the desserts. The flavors of the lemon curd (which had a frothy texture to it), matcha green tea bits and salted cream all played together perfectly. The blueberry curd rests on top the salted cream and reminds me of a yogurt pop I used to eat when I was a kid.
The Wallace is a great spot in Culver City, which is an underrated part of the LA food scene. The atmosphere is upper-casual and if you're going to catch a movie at the ArcLight, this is the perfect pre-show spot.