I tell my co-workers that I'm searching for a family-owned joint for my first Girls On Food review, and their eyes grow wide. "Tapalpa!" cried Linda. "Tapalpa." Tanja agreed, nodding with such solemnity that I knew I must be in for a treat. "Tuh-pul – what?" I furrowed my brow in confusion. Over the next five minutes my co-workers extolled the virtues of this cozy Mexican restaurant tucked inconspicuously into the northwest suburbs of Chicago. It was, they assured me, a hidden gem. They were right.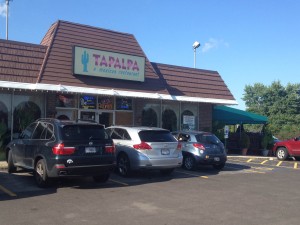 Tapalpa Mexican Restaurant
770 S. Arlington Heights Road
Elk Grove Village, IL 60007
(847) 956-9411
www.tapalpa.com
For coupons, notifications on upcoming events, and daily drink & meal specials, text TAPALPA to 22828
I'm always on the hunt for good quality, authentic Mexican food. Since moving out of the bustling city and into the 'burbs, it has become a more difficult task – but, as Tapalpa proved, not an impossible one.
When my fiancé (hereafter known as The Babe) and I first pulled up to the restaurant, I had my reservations – not a table for two, but rather, curiosity as to whether or not this would live up to expectations. Immediately upon being seated, it is clear that it would. Tapalpa's interior is warm and welcoming, dotted with beautiful bright tablecloths and whimsical saloon doors. The walls are packed with photos of patrons, who seem to be happily enjoying weekly dinners with friends, New Year's Eve parties, and other special occasions. You can make no mistake – this is a neighborhood place through and through. The bar is outfitted with regulars, who have just clocked out of work and jonesing for their first margarita of the evening. Speaking of margaritas, they are something of a specialty at Tapalpa. The menu boasts an impressive array of flavors, including mango (The Babe's favorite) and, interestingly, amaretto (who knew?). But perhaps most impressive is their weekday (Mon – Thurs) margarita special: $2.25 for an 8-ounce traditional margarita on the rocks. If there's one thing you should know about me, it's that traditional margaritas are my drink of choice. It doesn't matter where I am – an American steakhouse, the country-western bar we hit up for live music and dancing, even our favorite sushi bar – if there's tequila to be had, I'm ordering a margarita. Needless to say, I took Tapalpa up on their special and was very impressed! The margarita was perfectly mixed and hit just the right balance of sweet and salt. It was even extra-cold, just the way I prefer it! The Babe opted for a blended mango margarita, which was pleasantly fruity without being overpowering or syrupy.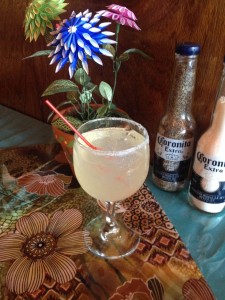 Tapalpa's 8 oz traditional margarita, their weekday drink special.
When we moved on to appetizers, I wanted to try everything. From guacamole to queso fundido to jalapeño poppers, it all looked delicious! Luckily for us, the menu offers a combination plate called the Supreme Botana, which arrives laden with nachos, quesadillas, jalapeño poppers, guacamole, and miniature tamales verdes complimented by a healthy scoop of sour cream.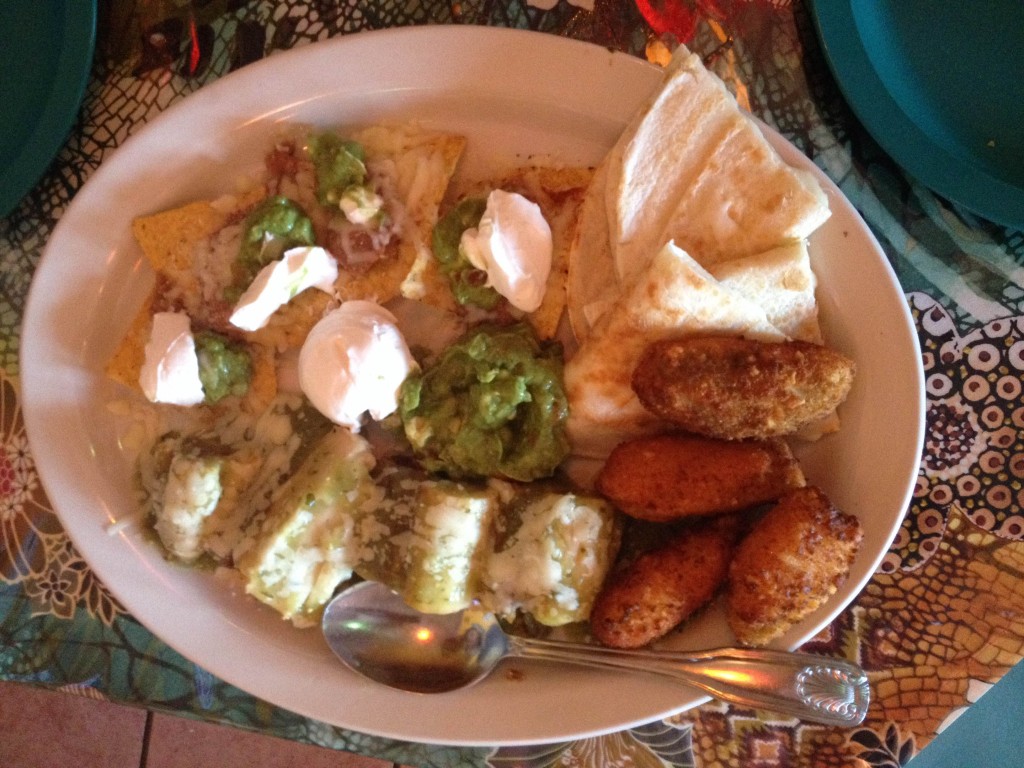 The Supreme Botana appetizer platter in all its glory.
The nachos were particularly excellent, due in part to their construction; this was no haphazard slab of tortilla chips spottily dressed with that DayGlo-orange melted cheese you find at ballparks and movie theaters. Instead, each chip was paid individual attention, so that all of the toppings were distributed equally. Cheese, beans, sour cream and guacamole in perfect proportion composed some of the best nachos I've had. Quesadillas came melted to perfection and lightly grilled, so the flour tortilla remained simultaneously soft and slightly crunchy. The guacamole was superb, the perfect ratio of chunky (tomato and avocado) to funky (trademark cilantro, onion, and a hint of garlic). The jalapeño poppers had The Babe and I swooning – who doesn't love a mildly spicy chile stuffed with cheese and deep fried? They were worthy of a meal in and of themselves – we could have eaten a whole plate. The tamales verde stuffed with shredded chicken and covered in a welcome piquant green salsa, were delicious little bites that just beg to be eaten with your hands. Food always tastes better when it's a little messy, doesn't it? Personally, I felt that the corn masa was a little thick for my tastes, but that didn't stop me from mowing down two or three.
For entrées, my choice was simple – a coworker had raved about the carne chihuahua, a flank steak that arrives covered in green peppers, mushrooms, onion, and melted chihuahua cheese. The Babe, as is his custom, ordered two entrées: the shrimp tacos and the pollito relleno, a smaller portion of Tapalpa's chicken breast-wrapped, cheese-stuffed poblanos which are then baked and served with a mole-esque guajillo and wine butter sauce.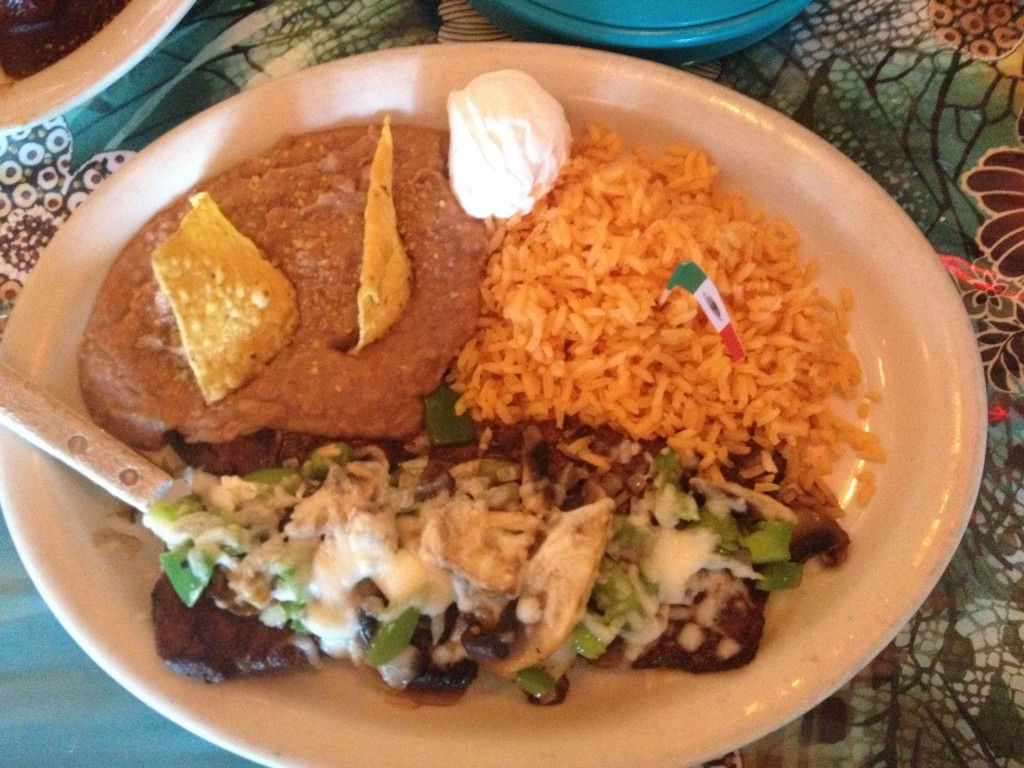 The carne chihuahua, served with a side of Spanish rice and refried beans.
My steak did not disappoint, though let's be honest – who doesn't love meat and cheese? The cut of meat was perfectly cooked to medium-rare, and the vegetables topping it were fresh and full of flavor. When was the last time you had a hot dish with green peppers that actually still had crunch? Exactly. Tapalpa has dedication to fresh, authentic flavors down to a science.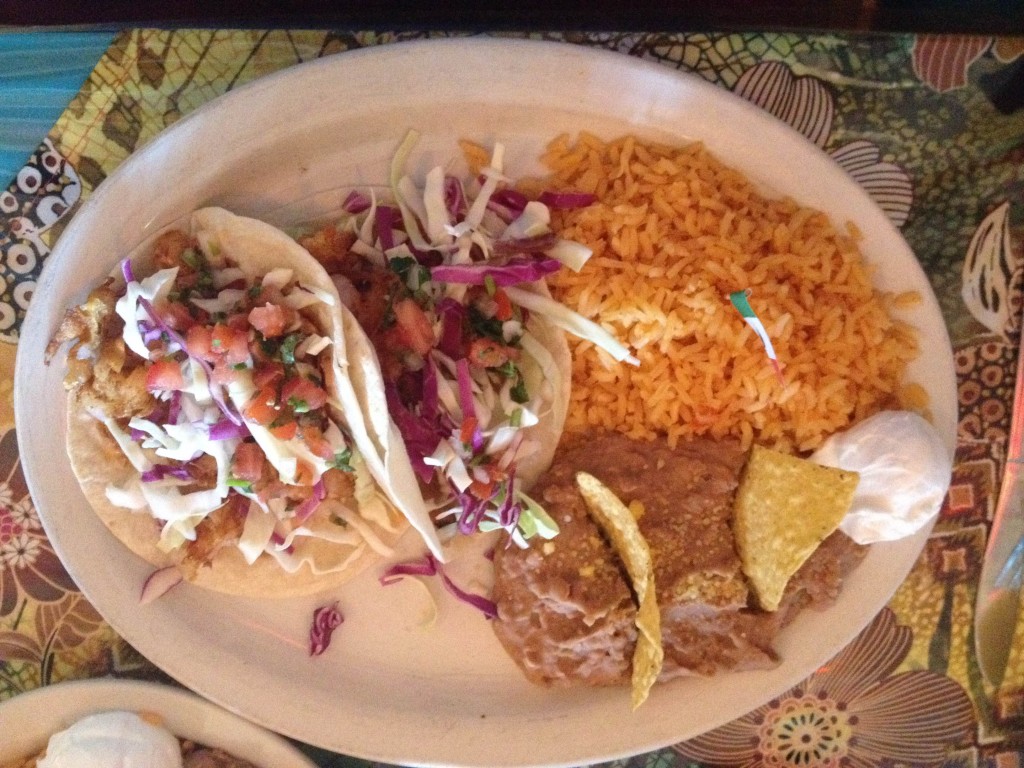 Shrimp tacos, accompanied by Spanish rice and refried beans.
The Babe loves shrimp tacos with a religious fervor, so I waited anxiously as he took his first bite into the cabbage and pico de gallo laden tacos. He chewed slowly, with intent, and then silently held the taco out to me. "Put this in your mouth immediately." He said. How do you say no to a command like that? And as soon as I took a bite, I could see why he was of so few words – the tacos speak for themselves. Beer battered shrimp maintain crunch and flavor beneath a blanket of tasty toppings fit for a late night food truck run south of the border.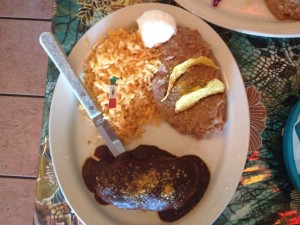 Pollito relleno, a smaller version of pollo relleno.
His other entrée, pollito relleno, is a must-order. The ideal sized portion for someone who wants a taste of the town of Tapalpa, Mexico (without having to put on those pants they only break out for Thanksgiving dinner), the poblano pepper is served to you stuffed with cheese (think a grown-up jalapeño popper), wrapped in a moist, broiled chicken breast, and smothered in a complex sauce that reminded me of a mole. It's not the prettiest dish – the lump of pimped-out pepper glistening beneath the maroonish-brown sauce astride the token side of rice and beans – but the flavors are solid. The sauce is sweet, smoky, and spicy all at once, without being too bitter or overwhelming with smoke aftertaste. According to their menu, this is a dish specific to the town of Tapalpa, where the owners called home. Seeing as it is a unique meal from a little-known town in Jalisco, and delicious to boot, I would absolutely recommend it as a first-time meal at Tapalpa.
Stuffed to the brim, we couldn't bring ourselves to order dessert – which is a testament to just how good our meal was, as The Babe and I both are suckers for sweet treats – but after the check, our waiter brought over two shot glasses filled with a creamy liquor and topped with a truly decadent amount of whipped cream. Instinctively, I knocked back the entire contents of the tiny glass and was greeted with a pleasant surprise – Kahlua! The blend of tequila, Kahlua, and strong brewed coffee is called Mexican coffee on the menu, and it was the perfect sweet (and boozy!) end to our meal.
The highly anticipated Tapalpa exceeded my expectations and tantalized my tastebuds from start to finish. The food was well executed, fresh, and bursting with flavor, and the service was friendly and unobtrusive. A family-owned staple in Elk Grove Village since 1992, I recommend a visit to Tapalpa to anyone who loves quality Mexican fare in a welcoming environment. Although it is a bit of a hike from the Magnificent Mile, situated squarely in the suburbs, it is worth the drive, particularly if you are native to the Chicagoland area, or perhaps heading out to take in the wildlife in the Village or indulge in the spectacular shopping at Woodfield Mall, only a short drive away.
With the taste of coffee and tequila (my two favorite beverages) still lingering on my tongue, and the memory of our well-executed, tasty dinner dancing away in my mind, I think it suffices to say that Tapalpa is a journey to a lesser-known part of Mexico that I'd like to take again and again.
For coupons, notifications on upcoming events, and daily drink & meal specials, text TAPALPA to 22828