A part of me wishes I was writing a GOF post on restaurants in Chicago that offer locally sourced food, craft-cocktails and a James Beard award or two. That part of me is my gut, which is still recovering from this trip and is now on a juice detox. Since it was my first time in the Windy City, I decided to try the well-known casual spots in Chicago. Enjoy part 1 of my 3 part post.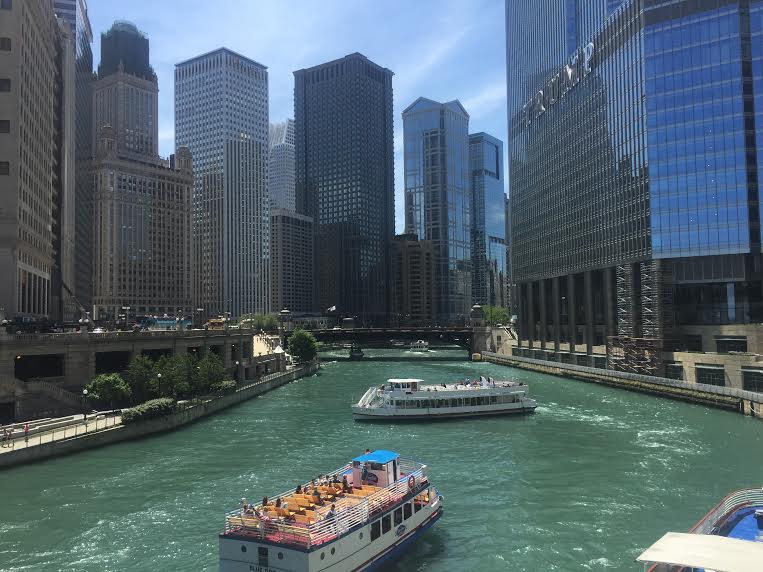 The Chicago River got Trump-ed. There should be a law against big businesses being able to ruin beautiful views for tourists…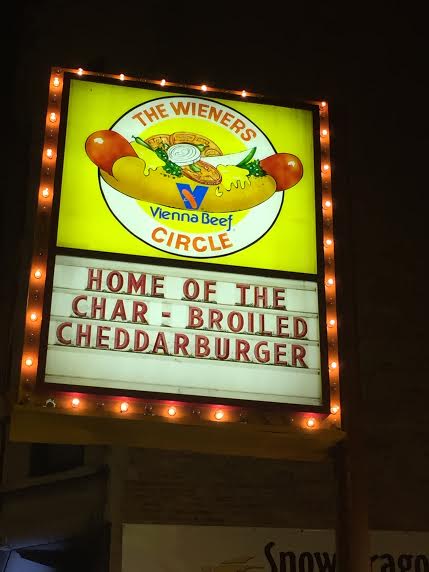 The Wiener's Circle
2622 N. Clark Street
Chicago, IL 60614
773-477-7444
You want some sass with that shake? The Wieners Circle is well-known in Chicago for their intentionally snarky service and, luckily, having awesome dogs to back up their attitude. This cash only stand doesn't offer a whole lot of indoor seating options, but there are tables outside. On a hot August night, it's perfect for people watching.
Warning: This place is not for the faint of heart after 10 PM. Drunk frat boy types like to come in here and take advantage of this place to be crass to staff. It's almost like the only outlet they have to be jerks. I recommend coming in here earlier. Personally, I think it's funny to have staff rag on customers, but I wish they didn't allow customers to go the distance with insults I heard.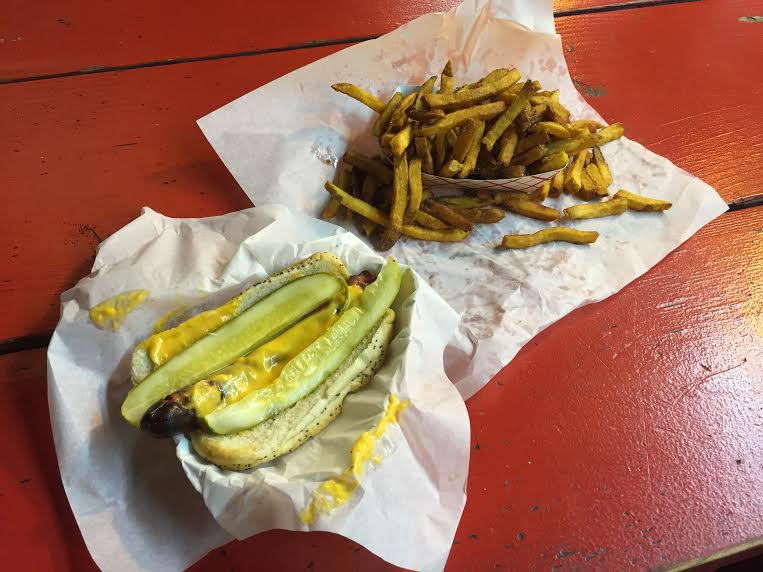 I got the char cheddar dog with pickles. I'm a sucker for the burnt dogs at a family picnic, so this really hit the spot for me. So glad it wasn't fried or boiled. The dog came on a poppyseed bun, which made me wish more places had those. The fries are deep-fried twice, leaving them extra crisp. This place scored points with me for having the wiener covered in enough cheese sauce for me to dip the fries in. The dill pickle spears were fresh, I can tell, because they retained a green color and had a crunch to them. Chicago puts a lot of pride into their dill pickles, I noticed most places had an abundance of them and don't skimp on the portions. It's not the prettiest food you've ever seen but my tastebuds don't discriminate.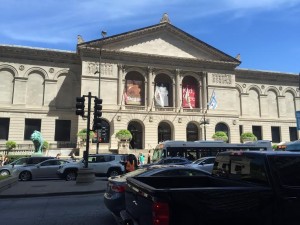 The next day we toured The Art Institute of Chicago. I made it a point to see all of the art featured in one of my favorite movies, "Ferris Bueller's Day Off". I even got to strike a very Ferris pose with them.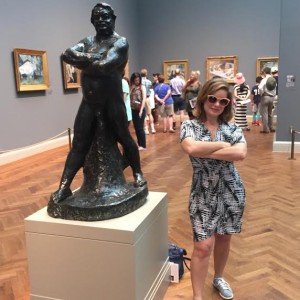 You have no clue how hard it was to get the pose just right. And I still didn't get it 100%.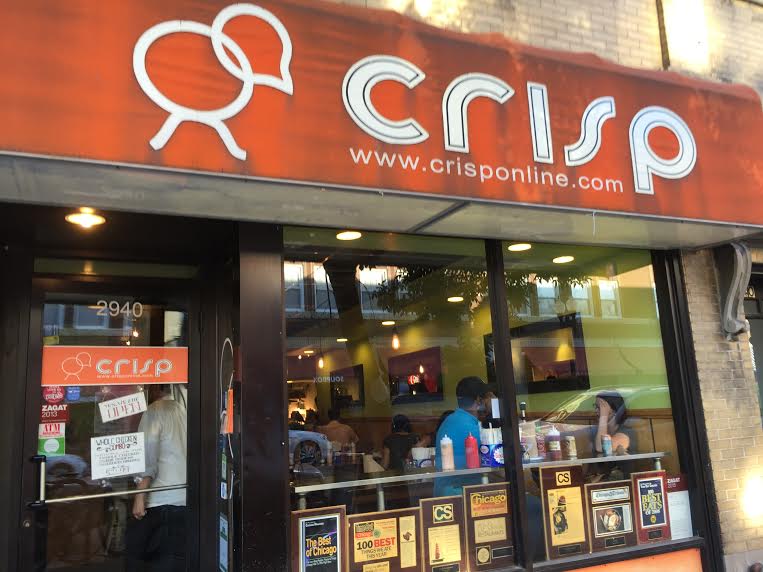 Crisp
2940 N. Broadway Ave
Chicago, IL 60657
773-697-7610
http://crisponline.com
After an art binge, we decided it was time to food binge. We found Crisp, which was very close to a show we were planning to see. Crisp has been open since 2009 and is considered a new classic among locals. Korean hot wings may seem like a detour from mid-west food but I have read too many great things about Crisp to turn it down. It's not a sports bar, like one might expect from a spot specializing in wings, instead it's fast casual with communal seating.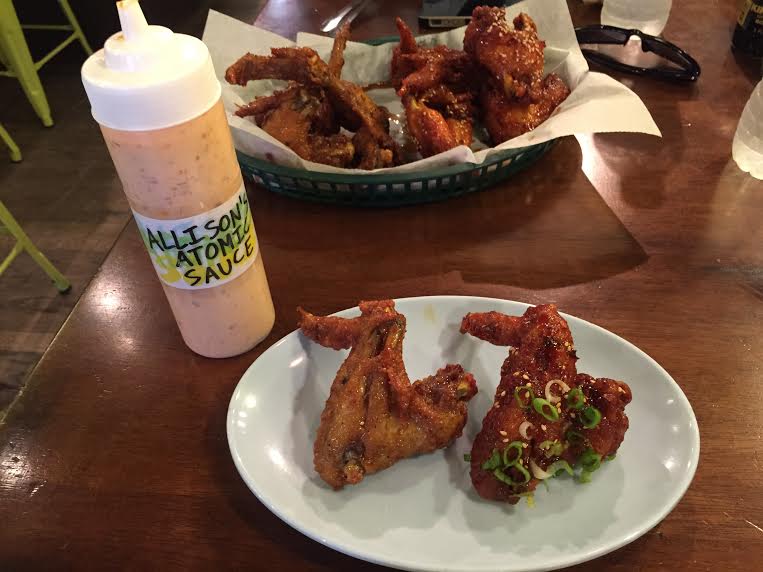 My boyfriend and I ordered 10 wings with 2 of their signature sauces made from scratch. One order comes with 2 sauces of your choice. We tried the "Korean mom recommended" sauces according to the menu. The Seoul Sassy is soy glaze topped with chunks of green onion (the raw onion fearing can get this on the side). The garlic and ginger shine through in the sweet flavor and yes, it's finger lickin' good. My favorite was the Crisp BBQ, which is a hot pepper paste, so it's less messy on the manicure but packed with spices. These were not the typical drumettes and wings one would normally get in a sports bar, these are the whole wings. There's a lot more meat one these and at $16.95, which is a very reasonable price for two hungry people to leave stuffed. There is also a house made sauce on each table called Allison's Atomic Sauce which adds a hot creaminess to the wings. In addition to wings, Crisp also serves Korean bowls, which a customer next to me said always have him coming back for more.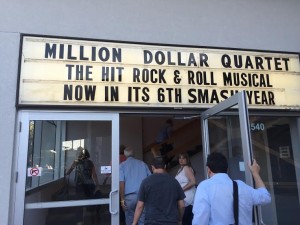 After the wing adventure, we saw Million Dollar Quartet at the Apollo Theater. This show is amazing! It's a must-see, especially if you're a fan of the golden era of rock 'n roll. The show features fantastic portrayals of Elvis, Jerry Lee Lewis, Johnny Cash, Carl Perkins and Peggy Lee. I couldn't believe how much these actors can move, sing and look just like the talent they portrayed. Mind. Blown.
Part 2 will be up tomorrow!