Tako Cheena
932 North Mills Ave, Orlando, Fl 32803
Tako Cheena by Pom Pom
Tako Cheena is the prime late night stop in Orlando. Located in the Mills 50 area, it is surrounded by cool dive bars and is just a few minutes away from the crowded downtown scene. Open until midnight most days and four a.m. on the weekends, Tako Cheena always feels like a party. The staff treats you like a friend and the throwback hip-hop on the stereo adds to the relaxed vibes.
I first visited Tako Cheena when it started out as a food truck owned by Pom Pom's Sandwicheria. Quickly, people realized that they had been suffering from a lack of Asian coleslaw and Mexican arepas dripping in spicy mayo. The food truck gained a big enough following to move to a permanent location and has since expanded to need an even larger building! The popularity is partially due to the inclusive menu, which accommodates any diet- vegetarian, vegan, gluten free, you name it. I suggest trying to make it in before everyone finds out about the churros!
We stopped in last night after a delayed flight home, and it was the best decision I have ever made. After a chilly weekend in New York, I was dying for some warm, seafood tacos. I ordered one Tom Yum Mojo Shrimp Tako, which somehow captures the complexity of the Thai soup in a soft tortilla shell. I also had the Panko Crusted Cod Tako, covered in a sweet and sour sauce and topped with pickled onions and carrots. Both had crisp cilantro and were so colorful they could have just come from a Life in Color festival. The flavors were insane. The textures were next level. I want at least five more of each.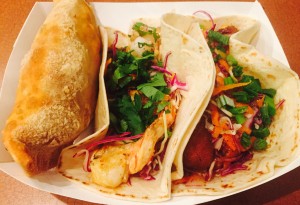 Needless to say, both of my tacos disappeared as soon as they got to the table. So I did what any hungry girl would do and ordered a Vegetarian Empanada and half of a Three Cheese Arepa. It may seem like a lot, but I have zero regrets. The empanada ingredients rotate daily, but this one had potatoes, peas, corn, and cilantro baked in a yellow curry sauce. The waitress suggested the Sweet Chili and Smoked Ghost Pepper Hot Sauce, and it did not disappoint. It was spicy, tangy, sweet, and delicious. I brought a cup home to pour on everything. The arepa satisfied every cheesy craving I never knew I had. With a thick, fried patty of Queso Blanco and two other melty, Mexican kinds of cheese, I was in heaven. The spicy mayo and Asian slaw gave it the perfect crunch and kick of flavor. I was about to give into a food coma when the waitress mentioned dessert.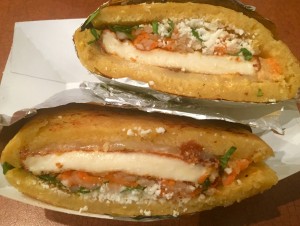 Of course, I ordered dessert! The Cinnamon Apple Empanadas were everything I could have hoped for and more. I wanted to lick what tasted like the Cinnabon cream sauce off the plate when I finished.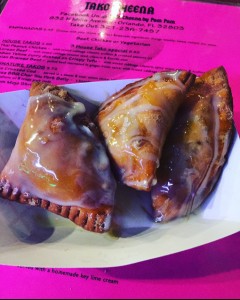 A mix of Asian and Mexican food seems like a challenge to get right, but Tako Cheena blew every expectation out of the water. I may have flown across the country yesterday, but my taste buds went around the world. By using fresh, unusual ingredients, the chef combines the best parts of both Latin and Pan-Asian cuisines. Named as one of the Best Late Night Restaurants by Orlando Magazine, Tako Cheena is quickly gaining a loyal customer base. Their slogan doesn't lie: "Dim Sum Good Takos!".