Wine + Brew + Sacramento Zoo = Trifecta of Sacramento FUN!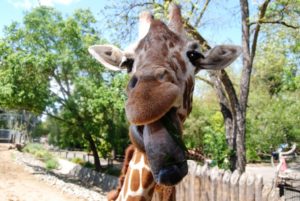 It's no small feat to keep this family friendly, animal loving haven open year round. So the Zoo came up with a fabulous idea for a fundraiser, which benefits the animal care and general maintenance of our beloved, local Sacramento Zoo.
Sacramento Zoo
3930 W Land Park Dr, Sacramento, CA 95822
http://www.saczoo.org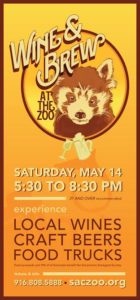 I don't think the Zoo gets old at any age. But adding adult libations to the mix makes it that much more enticing for those of the adult beverage drinking age. Add in the fact that it is also a fundraiser for said Zoo and you really can't lose or not attend such an awesome event.
Can we please talk about the line-up real quick? For the early bird price of $45 or the normal, not early person price of $55 you have access to the following:
Wineries – Bogle Vineyards / Carvalho Family Winery / Helwig Winery / Matchbook Wine Company / McConnell Estates Winery / Mount Aukum Winery / Muddy Boot Wines / Renwood Winery / Sentivo Vineyards and Winery / Shenandoah Vineyards / Sobon Estate / Terra d'Oro Winery / Three Wine Company
Turkovich Family Wines / Weibel Family Vineyards & Winery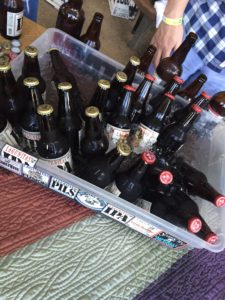 Breweries – Bike Dog Brewing Company / Device Brewing Company / Firestone Walker Brewing Co. / Great Basin Brewing Company / Hoppy Brewing Company / Knee Deep Brewing Co. / Lagunitas Brewing Company
Lost Coast Brewery / Napa Smith Brewery / Mendocino Brewing Company / New Helvetia Brewing Co. / Oak Park Brewing Company / Sierra Nevada Brewing Co. / Sudwerk Brewing Co. / Track 7 Brewing Co. / Two Rivers Cider Company / Yolo Brewing Company
If you are a Zoo member, you also had a slight discount for the early bird price. They didn't forget about the Designated Drivers either, their cost was only $15 for a fun event, sans the booze. They had a handful of Coca-Cola options to choose from for everyone, not just the DD's. They also brought in food trucks to help balance out all the delicious beverages, all of whom donated
10% of their sales to the Zoo.
Sacramento Food Trucks – Drewski's / La Mex Taqueria / GyroStop / The Sweet Spot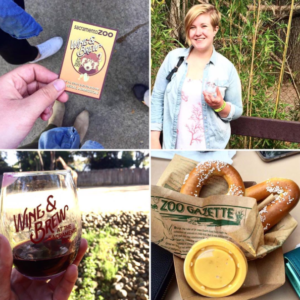 Nothing makes me happier than to see a huge line at an event, especially a fundraiser. Thanks to the Zoo for letting Girls on Food giveaway two tickets to this event. Our girl Rebecca had a great time at the event too. Sadly, I didn't get to run into her, but from her IG post I know she had as much fun as I did.
As we were dropped off in our faux-Uber, really my little sister, we noticed the crazy long line. Thankfully we hopped into the Will Call line, then breezed in right away. From the moment, we walked into the Zoo all of the staff and volunteers were very kind and helpful.
The Zoo should think about selling libations more often, like every day they are open. 😉 As we handed our tickets to the volunteers they directed us to our wine glass pick-up, which was a few short steps away. The lovely volunteers gave us our glasses and then we were off to booze it up. Born and raised in Sac, I know this Zoo fairly well; essentially it is one large loop. Tossing caution and map to the wind, we decided to go toward the Tiger, where plenty of vendors were set up. We had perused the silent auction before we started tasting the adult beverages.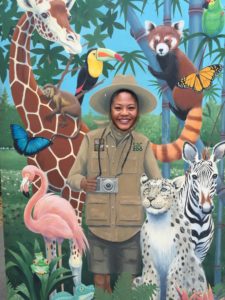 Thankfully the Zoo has so many fun photo ops, really for the kids, but when there aren't any children, you just do it! There wasn't one booth we didn't try. And I can honestly say, every single vendor was sweet, poured generously, and didn't mind chatting up everyone in line. Seriously, you'd think they were getting paid to hand out gratis drinks. Everyone was in a great mood, and it was a great vibe in the Zoo that night.
Going to the Zoo as a child is full of wanderlust, but add alcohol and it's adult wanderlust. Admiring the giraffes while sipping on wine was something I'm not sure I'd ever thought I'd do. It was almost as if they knew everyone was enjoying them. Three of them lined up and started galloping together, running if you will. One even stood there, picture perfect for us to snap a pic. The other was just enjoying his dinner.
After a few too many tastes, we decided to grab some food. They grouped the food trucks in two's. The GryoStop was the closest to us, so we went after it. Greek food is fantastic, so we had no qualms with our option. The other two were on the other side of the Zoo, but we would have been happy with those options too – American or Mexican. J and I decided to split an order of the Loaded Fries and a Beef/Lamb Gyro; it was the best decision we made that day. I've never tried this truck, but I'd certainly hunt it out in Sacramento after trying it. The Loaded Fries were amazing, who thought of combining tzatziki sauce with nacho cheese and topping it with feta is a pure culinary genius. No pretentious foodie here, just a girl who loves anything with a burst of flavor. After we had devoured these two delectable Greek goodies, we sent off to tackle the other side of the Zoo.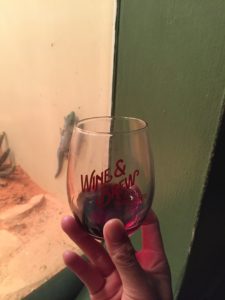 I can't even lie; I was stoked to head into the Reptile House with my wine glass. I already love the reptile house, but enjoying a beverage in there was even more exciting for some odd reason. Everyone attending the event was having a great time. We met new friends in there and burst through the doors laughing as we left. We then found the other two food trucks, but the lines were pretty long, and we wanted to try more wine and brew, so we skipped them for more booze. This area is already a picnic area, so it was a great setting for hanging out, eating, and relaxing if you were tired. They were playing music, and it was a great vibe. It makes me want to take up my own at home wine brewing for me, my family, and friends to enjoy, it has definitely inspired me. There are wine barrels for sale from sites like midwestbarrelco.com that are worth checking out, so watch this space!
We got back on the Zoo 'loop' to continue our tasting. The mixture of beer to wine options seemed spaced out well. It also helped that they had plenty of 'Coca Cola stations' with bottled water and soda. The bottled water was helpful to rinse out your glass, especially from the beer to wine transition or vice versa. I'm sure the DD population enjoyed those booths as well. Zinfandel was a common denominator with all the wineries here. Seeing as how many of these are local wineries, Zin is their specialty. I think almost every table had a Zin to pour; it isn't my favorite, but I'm starting to more and more these days.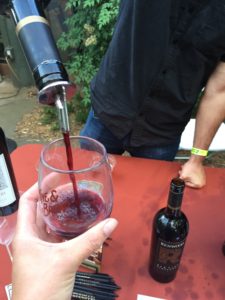 The two and a half hours went by so quickly. Even though it was just J and myself, we had a great time. The staff and the attendees made it a great environment. It was worth the ticket cost and I'd encourage everyone to attend next year; you get your monies worth of booze, fun, and animals…all while donating to a great, local cause. If I could suggest one thing, I'd ask them to add two more food trucks. With all that booze flowing, we all were hungry; the lines proved it.
A shout out to the animals for letting us get wild and crazy in their hood for an evening!