To the surprise of some of you I truly and madly love vegetables. It almost feels funny to say it out loud; I know you guys don't picture me as the kind of girl that eats her greens but because my favorite plant-based restaurant is celebrating their first year I wanted to share with all of you this little piece of healthy heaven.
Make Out Culver City
9426 West Washington Blvd, Culver City, CA 90232
www.makeouteveryday.com
Make Out is located in a 1920s building in the heart of Culver City. The place is modern chic and what I like the most is that it has a very inviting café vibe. It has an array of big tables and -be warned- once you hit the couch you will not want to leave. The menu is full of healthy nutritious food mostly vegan and raw, and you will be able to enjoy juices, smoothies and/or a full meal. The beauty of it is that it doesn't matter what you eat either way you will be doing your body a favor.
To start my meal, I ordered the Kombucha. It was fizzy, refreshing and came in a bunch of flavors I had pineapple. And the special of the day: the Nachos Fiesta. The Nachos were made with blue corn tortillas, vegan cheese and pico de gallo. I think that they should add the Nachos permanently on the menu because they were so tasty.
After that, I wanted to try some of the soups. And because I'm a good Mexican, the first soup I tried was the bean soup. Let me tell you it was so comforting; there is nothing like having freshly made bean soup when it's cold in LA. Then I had the Squash soup. It had crunchy pepitas on top, and it was so incredibly creamy that it is hard to believe that it was dairy-free.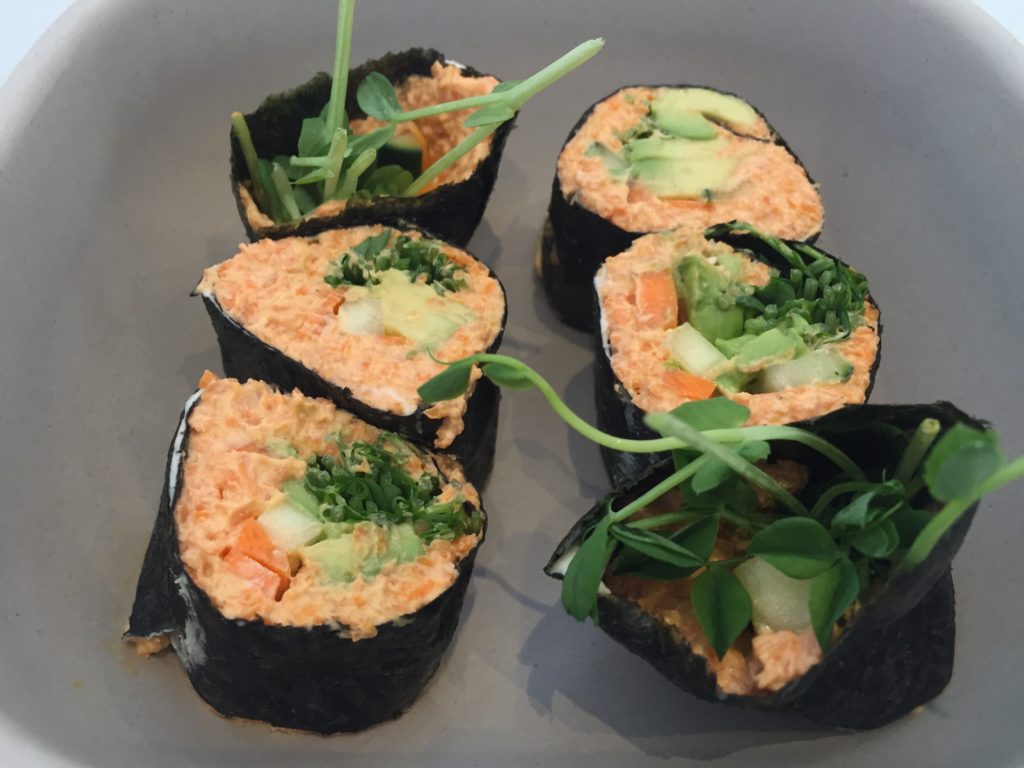 From the small plates section on the menu, I decided to have the Spicy Carrot Roll made with nori better known as seaweed, jalapeño "cream cheese", cucumber and avocado. What an inspiring take on sushi! It was soft on the outside and crunchy on the inside. The plate was not only beautiful, but the roll tasted splendid.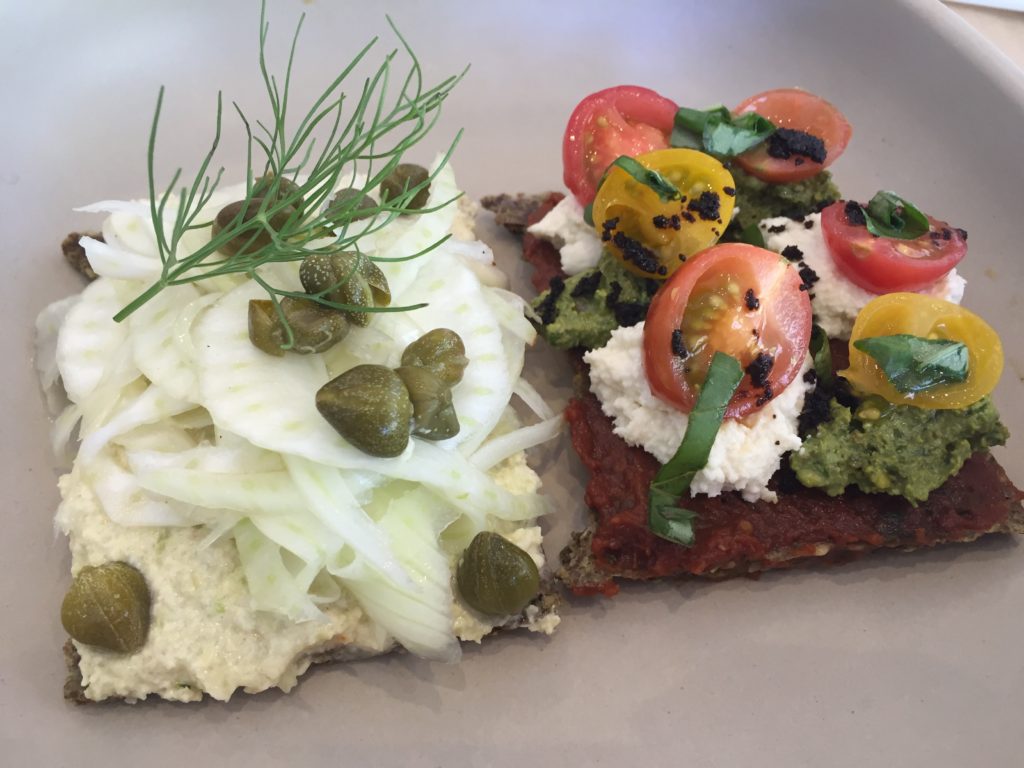 I proceeded to try the flatbreads. I went with the Pizza flatbread that has Sundried Marinara, Pistachio Pesto, and Macadamia Ricotta. I'm telling you that Ricotta tasted like the real deal!! Followed by the Fennel flatbread. This one has baba ganoush, mint, lemon, and capers. Both of the flatbreads were delicious, but I was particularly taken with the Fennel flatbread. I I have never had a flatbread like that, it was good simple ingredients in a very innovative way.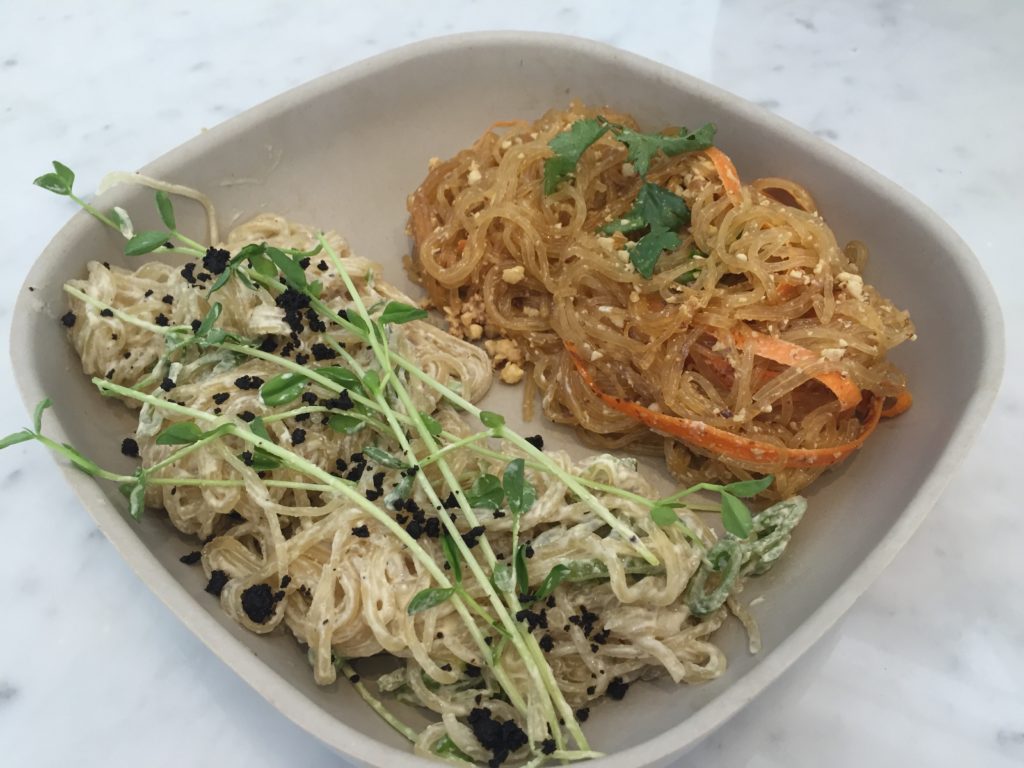 To end my meal I wanted to try the Kelp bowls. So what is this Kelp thing? It is a kind of brown seaweed that is super high in nutrients. Best of all it is fat-free and gluten-free. Kelp is typically referred as noodles although they don't taste or feel like pasta. I love them, so I tried the Almond Kelp bowl that comes with kelp noodles, carrot, lime, ginger and spicy Almond. As soon as I tasted it, the first thought that crossed my mind was Pad Thai. It tasted like the healthy version of that. Then I had the Pepper Kelp Bowl. It has black pepper, olive crumb, and snap peas. I had not had this one before, and it was delicious. It tasted like the best Alfredo pasta (minus all the fat and carbs) that you've ever had; it was creamy, complex and so savory. I was so impressed with this bowl.
I was super lucky because I got to try the new desserts that are coming soon to the menu thank you Make Out. First, I had the Raw Cheesecake Fudge. This little beauty is dipped in raw cacao. And it tastes just like it sounds: amazing. And then I had the Coconut Chocolate Hazelnut Mouse. Creamy, chocolaty, nutty…it was gorgeous. I can only describe it by how I felt and I was invaded by deep sadness when I had the last scoop. I just didn't want it to end.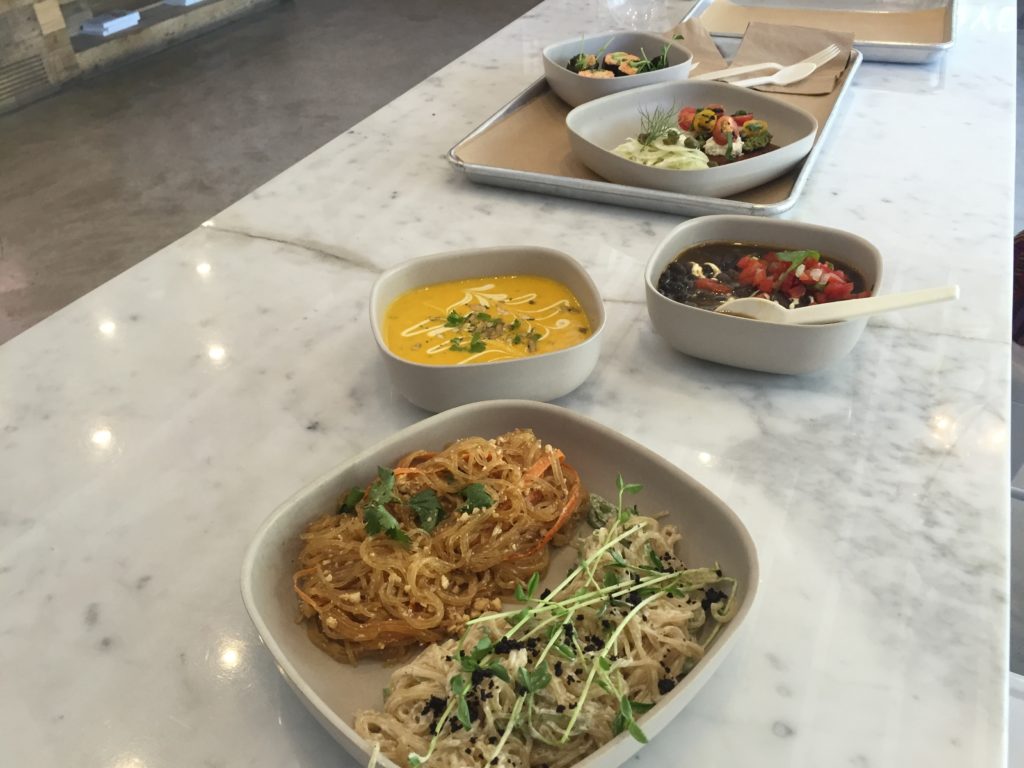 As you can see, I completely pigged out at Make Out. To be honest, there is not a thing on the menu that isn't exciting. The food is healthy, flavorful and very creative. Best of all you are doing something good for your body every time you eat like this. I am so happy that Make Out is celebrating its anniversary I wish them many successful and healthy years!