Fried chicken and waffles will always be a match made in heaven and one of my favorite dishes. But Birdies LA, which opened about a month and a half ago just challenged my perception. Let me introduce to you the concept of fried chicken and donuts.
Birdies LA 
314 W. Olympic Blvd, Los Angeles, CA 90015
http://birdiesla.com
Birdies has a variety of fresh fried small batch donuts and fried chicken. You can order fried chicken by the piece or in a combo with your donut. But I decided to go the route of donuts and fried chicken sandwich, cause I kept seeing it floating around on Instagram. Fried chicken sandwiches can be haunting.
One thing you should know (even though this is info their adorable staff will volunteer) is that you can sample ANY of the donuts before committing. Of course, in total fat kid fashion, I tested all of them. After trying them all, I decided on the Lemon Thyme Pistachio.
This donut is so fresh fried to perfection. The actual donut was not too dense but not too airy and had a slight sweetness to it. The frosting was also just right and didn't overkill or get that weird stiffness from sitting out too long.
For my sandwich, I ordered the Birdies Spicy, a fried chicken breast sandwich: coleslaw, ghost pepper mayo, Tillamook pepper jack & cured pickles. Then (again, I'm a total fat kid) I added a fried egg to it. It's yummy, messy and hot. All the flavors work beautifully together, and that fried chicken held it crispiness even when drenched with the sauces. I'm beyond impressed with this sandwich, and when I finally work out the kinks on our "Best of" page, this sandwich will be front and center!
The Sous Chef Jake also let me pick his brain about an item on the menu: The infamous 24K donut, you may have seen floating around on our page. That donut is REAL! It's actually 24K gold crusted and will set you back $100. I am a hood-rat that can't afford such luxury but if I could…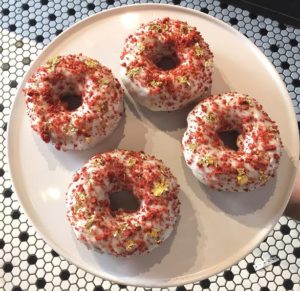 For those of us who are all about champagne wishes and caviar dreams but on a tight budget, there is a more approachable option. Birdies offers a lightly speckled 24K crusted donut option for $9.50. Today it was on a Red Velvet donut. I had a taste, and I cannot tell you how amazing the red velvet is. It doesn't have that food coloring taste I usually complain about. Just fresh sweet and creamy goodness.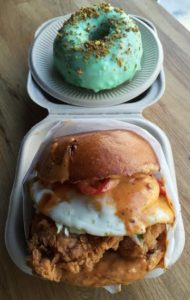 Birdies LA is in DTLA, but it's in an area with a decent amount of street parking, so if you don't want to pay for an all day lot, you should be fine. It's casual, so you do order at the counter, and there's counter seating. It may be tough to accommodate a large group here at this moment, but you could always eat curbside too.
Birdies is an LA must try! Get in there now before the lines are around the corner!