Roister
951 West Fulton Market Place, Chicago, Illinois 60607
http://www.roisterrestaurant.com
When the Alinea Group announced in 2015 that they were introducing a casual dining concept, people were waiting with bated breath to see what would develop, myself included. Well known for its innovative and provocative spin on food, the group boasts quite the list of high-caliber restaurants and bars within the Chicago area.  Roister was no exception.
The definition of the word roister is enjoying oneself or celebrating in a loud or boisterous way.   As soon as you enter the restaurant, you feel a sense of revelry and can immediately tell that this place is going to live up to its name.
As we were escorted downstairs, "Girls just wanna have fun" was blaring through the speakers. It set the tone for the evening.   I was already singing along and dancing in my seat.   To start, the chef presented us with Aged Cheddar Rillettes.  Such amazing cheesy goodness.  Typically, rillettes are a meaty pate made of pork, but this was a melt in your mouth cheddar cheese combination served over hearth roasted sourdough bread topped with cauliflower and onion.  Knead I say more?!?  Cheesy, I get it.   🙂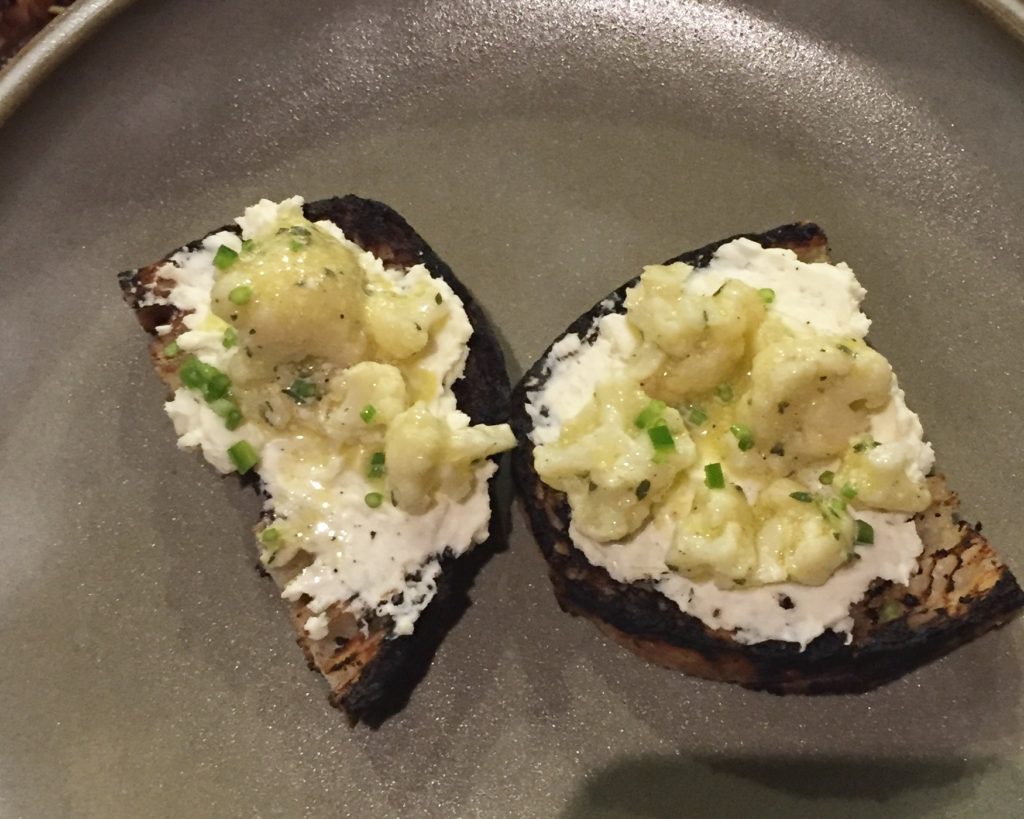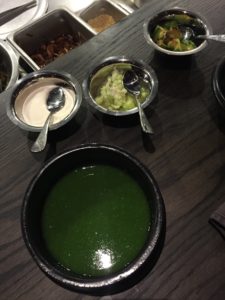 Following that little palate teaser, we had the "choose your own adventure" course: green tomato gazpacho. Normally, I am not one for cold soup. I have nothing against it, but not my go to. Chef presented us with our bowl of gazpacho along with three different toppings to make it our own: charred avocados, green tomato salsa, and a creamy Greek yogurt. Holy Flavor Batman.   The creaminess of the Greek yogurt combined with the acidity of the gazpacho created this perfectly textured soup. Delish!
While I could go course by course, I will cut to the chase and get to what this southern girl had been reading about for weeks, the Whole Chicken and Chamomile.  Literally, the week before, I read an article about Roister having the best fried chicken in Chicago.  Sure, I thought. It may be the best in Chicago, but can it withstand some of the mouthwatering chicken produced in my hometown?   I had been watching the chefs make this dish all night long.  The anticipation was killing me.  Finally, chef presented us with this heaping pile of fried chicken garnished with these dainty little daisies.   On the side were two different sauces:  chicken gravy and a sunchoke Habanero hot sauce.   I eagerly tried both sauces.  I chose to keep it classic and went with the chicken gravy.  As I pulled over one of the pieces of chicken to my plate, I drizzled the white gravy on top and began to feast.   The flavor was NOTHING like I had ever experienced in my life. I couldn't put my finger on it, so I called the chef over for a little help.  I asked "what is this flavor? It's ridiculous!"  Chef replied that it was the chamomile tea and buttermilk marinade. The chicken was melting in my mouth. The perfect combination of sweet and savory.  While I was drowning in this sea of deliciousness, "Some Kind of Wonderful" started playing.  How apropos. Needless to say, even the smallest crumb was gone from the plate, and I joked with the chefs asking if I could get some of the chicken gravy to bring back to Nashville.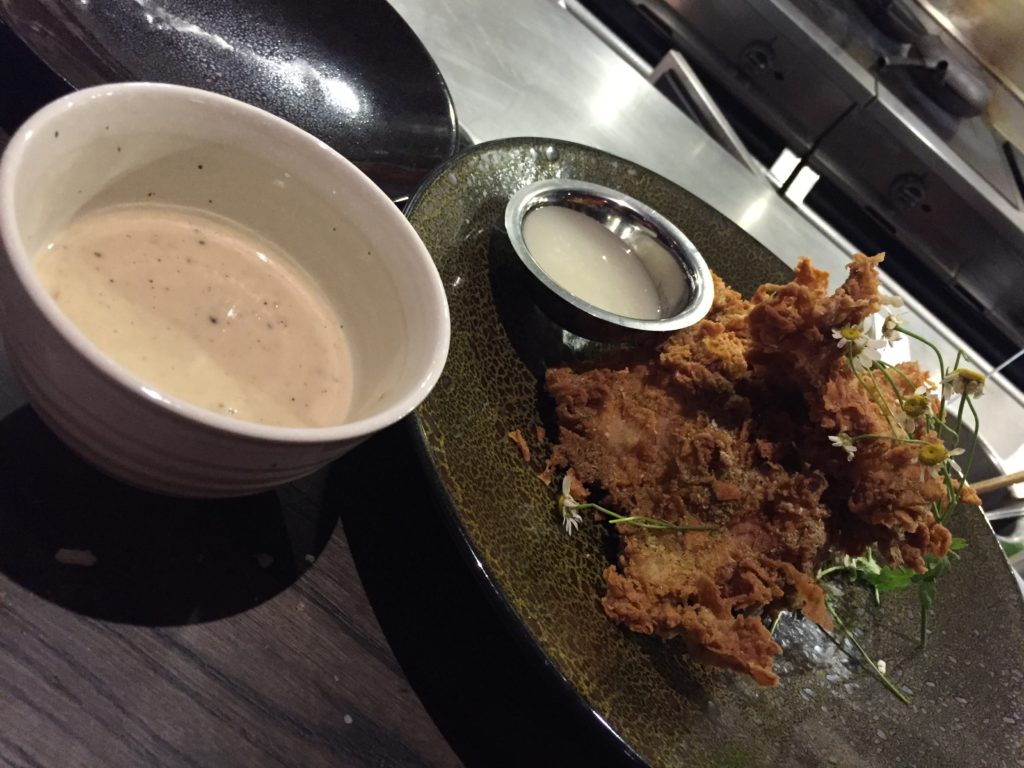 The Alinea Group has knocked it out of the park, yet again. Roister is a seamless transition from kitchen to dining room encouraging guests to interact with the chefs as dishes are prepared and revel in the dining experience.
Just for fun, some of the other dishes that were served.  Enjoy!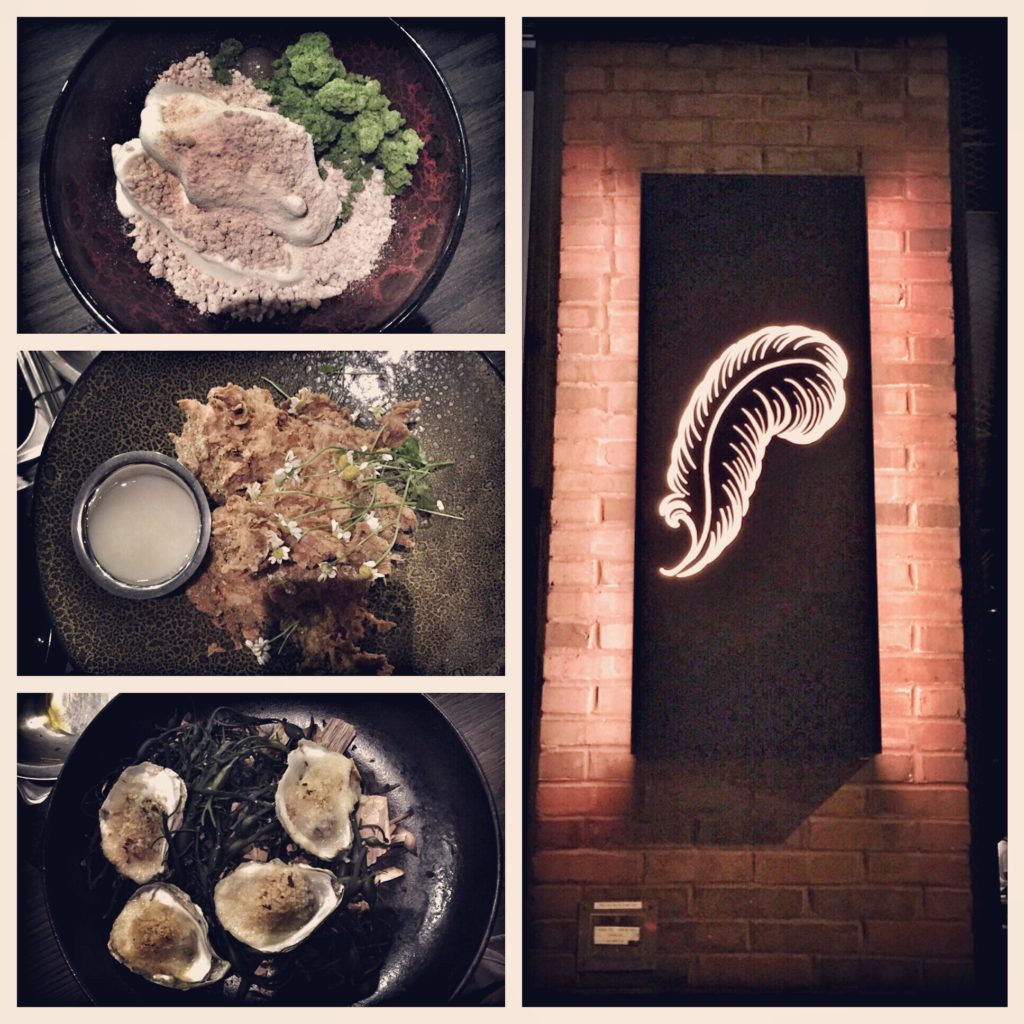 Top: Strawberries and Milk: Mint cake, Kosher salt with Strawberry jam and Strawberry pearls
Middle: Whole Chicken and Chamomile
Bottom: Smoked Island Creek Oysters with Parmesan, Yuzu and Horseradish on top of a bed of seaweed and wood chips.