The Capital Grille
4242 Six Forks Road, Raleigh, NC 27609
http://www.thecapitalgrille.com/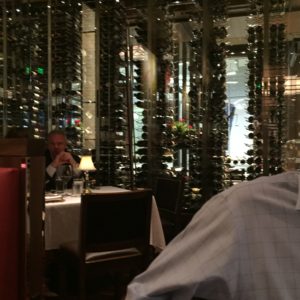 "The best steak I've had in a decade" was the description a friend used after visiting The Capital Grille earlier in the week. No doubt, when my husband and I arrived we had been excited for days! Not only was the steak incredible, the service, atmosphere, and all the sides complimented it to a tee!
The restaurant was bustling, the hostesses were cheerful, and our waiter was so friendly! We had a table dead center in all the action – the kitchen is open the length of the restaurant; flanked by booths. When you first walk in, the glass wine cellar separates the entrance from the tables. They have over 350 wines, with an in-house sommelier and extensive info on each wine.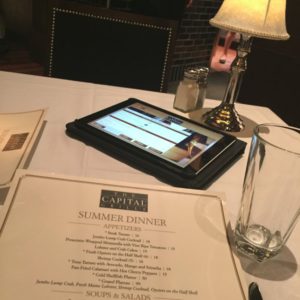 Our server, Scot, was incredible! He immediately greeted us with an iPad in hand – chock full of all the wines, cocktails, desserts…and told us about their signature martini – the Stoli Doli. The Stoli Doli is a delectable beverage created with Stolichnaya Vodka infused with fresh pineapple, chilled and served straight up. He then reviewed the iPad menu with us – this is neat – you can peruse all the wines they have in-house, and when you click on the name, it gives you more details about it. If you order and love one, or are interested in learning more about one, you can just select the "email to me" button, and send yourself the bottle details with a photo of the wine! I know I could have used this in the past, and was excited to scroll through it while at the table.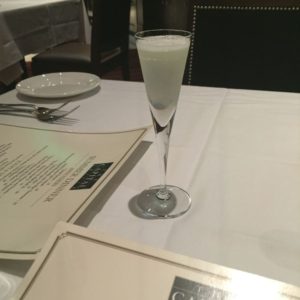 As we were scrolling through the iPad and reviewed the menu, Scot surprised us with two tiny sample glasses of the Stoli Doli pineapple martini. It was a dangerously good drink! Chilled perfectly; the fresh squeezed pineapple juice was the perfect complement to the vodka. Simply delicious! Next, they brought out a bread basket, with a great variety of bread with a pad of freshly salted butter! We ordered two glasses of wine (both cabs; my husband got a full bodied Concha y Toro, and I ordered a lighter Avalon) and we ordered our appetizers. We debated between the Pan-Fried Calamari with Hot Cherry Peppers, the Jumbo Lump Crab Cocktail, and the Prosciutto Wrapped Mozzarella. When asked his opinion (without offering our debate) Scot immediately suggested the calamari and the prosciutto, so we were happy to oblige! So glad we did!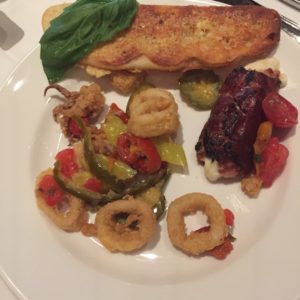 The calamari was perfectly cooked, and the hot cherry peppers added an unusual, but delicious, flavor! It had a little kick, but more noticeable the first bite than subsequent ones! The prosciutto was fantastic. The mozzarella made fresh, in-house, daily, and they wrap it with the prosciutto and then grill it before serving! Add a bit of tomato and basil, and wow! Just Wow! I've never had fresher mozzarella; it was so much more flavorful than what I am used to!
I am not a huge red meat eater, but at a restaurant with an in-house butcher, figured steak was the way to go! My husband loves a NY Strip, and he ordered that, medium, with a Kona coffee rub on top. Scot suggested I try the porterhouse steak, so that is what I ordered, medium-rare, with the Kona coffee rub as well, topped with shallot butter. Come on – there is no way I wasn't trying that coffee rub, too! Just a quick side comment, for the reader: if you like a "closer to medium medium-rare" order the medium. I love a good rare, medium-rare, so I was thrilled when it came out like that! If you like it more well done, order up!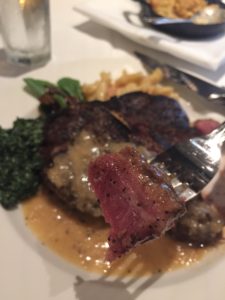 These steaks were incredible! The rub was delicious, the steaks tender, and the shallot butter was out of this world good! The menu offers a la carte family style sides (full and half size portions on many), and we ordered the lobster mac 'n' cheese, and a half order each of the fresh creamed spinach and the soy glazed brussels sprouts with bacon. The sides probably need a paragraph to themselves! 1. All 3 of these sides, while typical, were all different (better) than previous versions I've had before. 2. Unlike other steakhouses we've been to, the fresh creamed spinach is, well…fresh! They make it in-house with béchamel sauce. I mean, good-ness. It was incredible! 3. I usually don't order lobster mac 'n' cheese because it is too sweet for me. This one was a typical pasta that happened to have huge, delicious, fresh chunks of lobster meat in it. Everything blended so well, but I never got sick of eating it! 4. The soy brussels sprouts. I mean. Oh. My. Gosh. I don't like Brussel sprouts. We ordered it because I write a food blog, and they're trendy. But yowza! I liked these! They had been flash fried before cooking, and were so much sweeter than usual sprouts! Add the glaze and the bacon, and run doesn't walk to making this your extra side!
Now, I feel like I'm raving, and have written more than I ever do. But I haven't even gotten to dessert yet! By now, the floor manager, Chris, and the sommelier, Blake, have stopped by our table to welcome us to the restaurant. (The Capital Grille has a few more than 50 restaurants nationwide, and from what I've read on various review sites, this is not unusual behavior – this restaurant is known for treating everyone like royalty!) We were directed back to the iPad and flip through the dessert options (there are pictures, so we're done for!). They have a flourless chocolate espresso cake that looks amazing, their cheesecake has a crème brulee finish, and they even have a healthy option with fruit and yogurt! I am a sucker for ice cream, so chose to go with their handcrafted ice cream dessert: 3 separate scoops of dark chocolate, raspberry sorbet, and caramel ice cream, with two cookies on the side! Phe-nom–enal.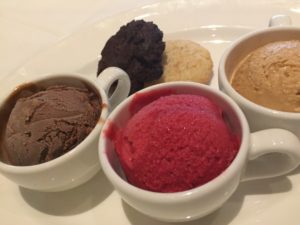 Finished everything off with a decaf cappuccino that was served with some rock candy on the side. Perfect ending to this delicious meal! As we were leaving (with big smiles on our faces), my husband asked if we could make this our new "special occasion" restaurant! Looking forward to many more meals here at The Capital Grille!