Salt and Vine is the newest gem added to the Sylvan Heights neighborhood crown. Located in the new H.G. Hill Center on the corner of 40th Avenue and Charlotte, this one will be shining bright!
 Salt and Vine
4001 Charlotte Avenue Nashville, Tennessee 37209
http://www.saltandvinenashville.com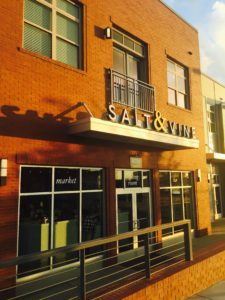 Mattie Jackson, the Nashville native who created this concept, has struck a perfect balance between casual eatery, wine bar, and gourmet marketplace. As you walk in, you notice the darling marketplace where we were greeted by our hostess. Seeing as this is a new Nashville restaurant, of course, there was a wait. We proceeded to the bar to check out the offerings. Salt and Vine offers quite the assortment of beverages. Wines are categorized by crushed, pressed or fortified and then for the non-wine drinker (do those people actually exist??) they have limited cocktail and beer options. Not only does Salt and Vine have a great bar, but they have a charming tasting room. That evening the room was utilized as an extension of the dining room, but Maggie and her team will be offering frequent wine tastings, the first beginning August 3rd.  Get your tickets before they are out of stock!
My dining partner in crime and I had carefully concocted our order while waiting at the bar.  We were ready!  As soon as we were seated, we said "Yes Way, Jose" to our server and she was more than kind to bring out that punchbowl filled with fruity goodness.  A combination of tequila, lemon, and rosé with slices of strawberries floating about, the drink was well balanced and left you wanting more. Think- the PERFECT cocktail for the pool or your next Sunday Funday.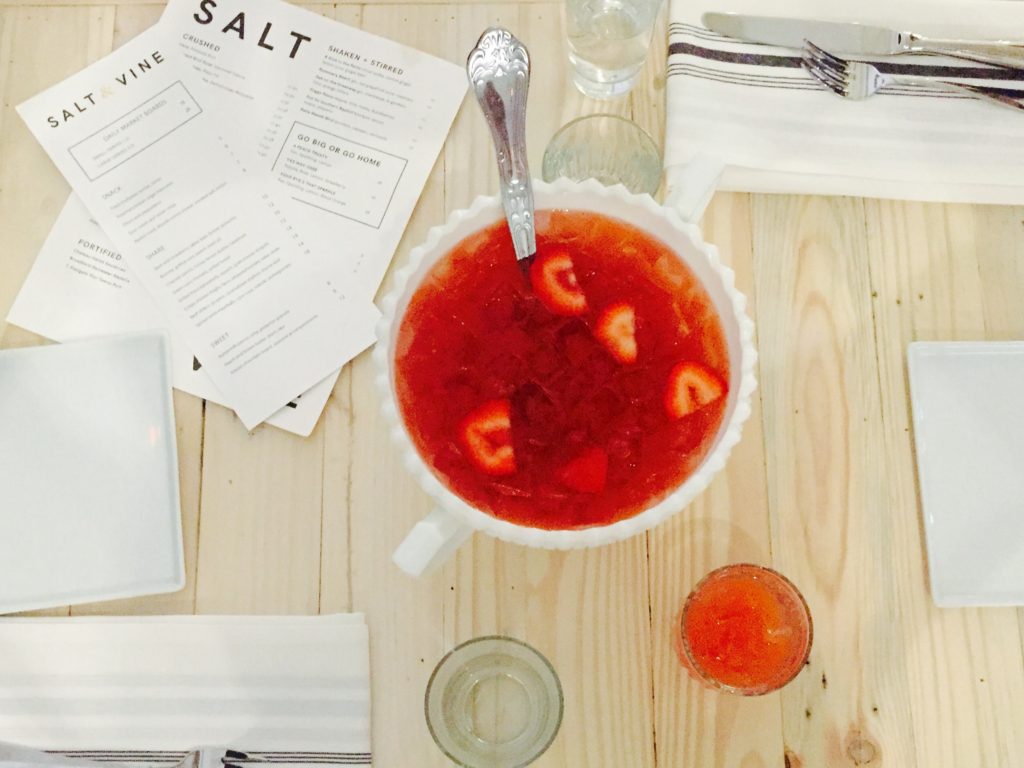 Seeing as I just got back from Italy, I totally had burrata brain. Check. Clearly, we needed something a little more on the hearty side. I mean for heaven's sake, we had a punch bowl full of tequila and rosé… We placed an order for the Green Curry Mussels and the Crispy Chicken Thighs.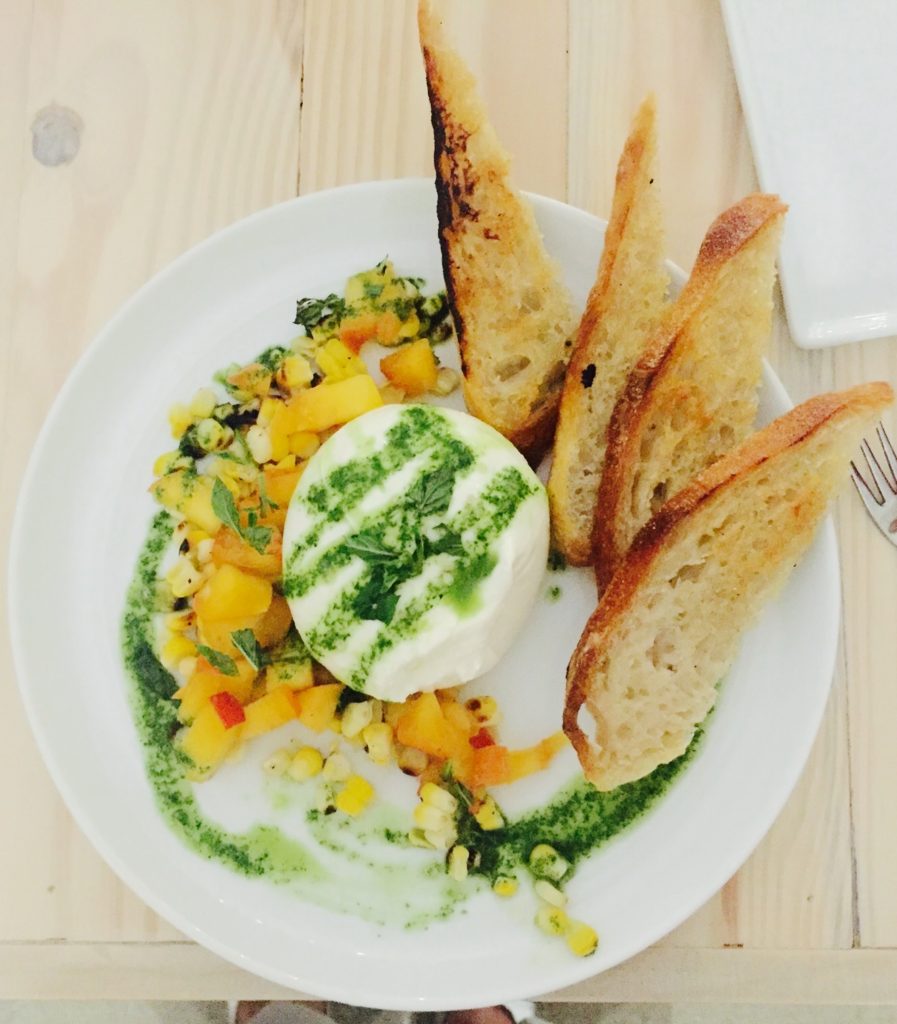 First up, the Burrata, grilled corn, peach and basil oil. This dish looked too good to be true.  The vibrant oranges and whites with just a touch of green made for a mouthwatering dish. The saltiness and heartiness of the grilled corn were complimented by the sweetness and fresh qualities of the peach. The basil oil acted as a balancing agent for the dish. Perfection.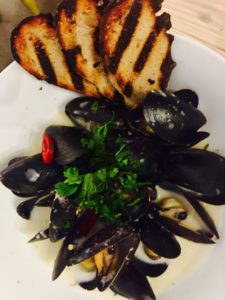 Next up: Green Curry Mussels, grilled bread. This was not a dish you would have to muscle your way through, folks. It was a little premature in the evening to have a favorite, but this was it.
The color contrast of the mussels, curry sauce, and grilled bread was flawless, but this dish was all around a winner. There was a delightful balance of curry, cilantro, and coconut milk. Clearly, we consumed all of our mussels leaving this amazing soupy goodness.  In true southern style, we had to ask for extra grilled bread so we could "sop" up the tastiness. Do it- you won't regret it.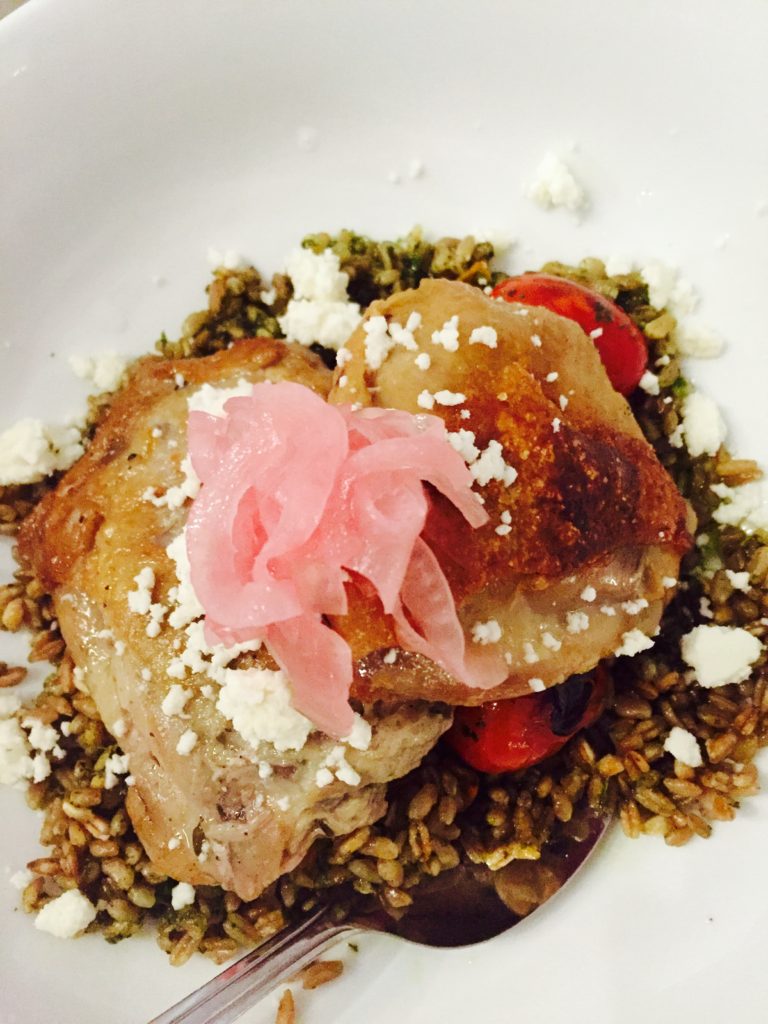 Finally, we concluded the evening with Crispy chicken thighs, farro, blistered tomato, salsa verde. This dish was the perfect juxtaposition. The chicken was so tender that it was falling off the bone, while the farro was the perfect al dente, adding a certain crispiness to the dish.
Salt and Vine brings simple elegance and to the Sylvan Heights neighborhood making wine and food more approachable and less forced. Ladies and gentleman, this place, will be on repeat. Perfect for a quick glass of wine after work or a light dinner, Salt and Vine will leave you thirsty for more.