"We're all pretty bizarre. Some of us are just better at hiding it, that's all." – Andrew "The Breakfast Club"
Public School
9411 Culver Blvd, Culver City, CA 90232
http://www.psontap.com/locations/ps310/
Whether or not your high school experience was your glory days or you were an outcast, it's tough to not appreciate Public School's "stroll-down-memory lane" theme. Everything, from the happy hour called "Recess", to the Mead composition notebook-inspired menu design, the times tables wall decor in the bar, is all reminiscent of your average American high school.
Is Public School a chain-restaurant? Considering it's owned by Grill Concepts (Daily Grill and The Grill On The Alley) with physical headquarters in Woodland Hills, CA and they have 4 different restaurants with over 30 locations, I think it's safe to place Public School in this category.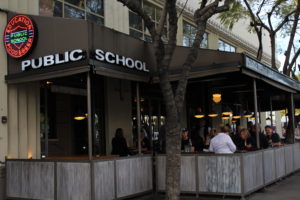 However, unlike a lot of chain restaurants in the US, Public School is chef-driven, serving locally sourced items, and pouring craft beers. This is not a Chili's or a T.G.I Friday's, this is a gastropub you can take your self-proclaimed "foodie" friend to.
Public School (or PS310, as I call it) rests on the corner of Main Street and Culver Blvd in Culver City, the place I call home. At this moment, Culver Blvd is over-loaded with fast-casual spots (no table service) and many spots duplicating themes (we needed another pizza spot?). But PS310 has been consistently mixing up their menu by season and providing an atmosphere that is casual but not schleppy. Having been to this restaurant several times now, I think it deserves a spot on Girls on Food.
"Today's Curriculum" aka, the beer, cocktail and wine menu, is plentiful with options. Most of the cocktails are modern versions of classic cocktails. My pal sipped on the Crushed Velvet – Tito's Vodka, Blackberries, Blueberries, Lavender Simple Syrup and Ginger Beer. This is a fun and floral take on a Moscow Mule and it even comes in the traditional copper mug. I got the Sage Advice, which is their take on an Aviator Cocktail- Junipero Gin, Crème de Violette, Sage, Grapefruit and Lemon Peel. It reminded me of a liquid version of the creme de violette candies I ate as a kid.
PS310 is known for their Crispy Buffalo Cauliflower, battered, then fried cauliflower florets, served with buffalo sauce and a blue cheese aioli. Every time I've had them, they've come out perfectly crisp, a little salty and ready to smother in blue cheese aioli. As much as I love chicken wings, noshing on these makes me feel slightly less guilty about what I'm eating.
The Chorizo Mac & Cheese is an item that I have always wanted to try on their menu and finally did. My mom always added broccoli to my mac & cheese growing up, so it's fun to have a more adult version of that childhood dinner. This mac & cheese dish is served with emmental (a Swiss cheese), kale, mildly spiced chorizo, and topped with crunchy salt and vinegar chips. This grown-up version of an ooey-gooey treat will bring out the kid in you.
For our entrees, we decided (after a long conversation about working out) to try one grown-up "responsible dish" and one kid-friendly "let's go crazy" dish. Our more decadent choice was the Fried Jidori Chicken & Green Chili Cornbread Waffles, as you can see from the images, it's smothered in aged cheddar, bacon red-eye gravy, Louisiana hot sauce and maple syrup. This dish is so Southern-inspired, you'll be singing "Sweet Home Alabama" after one bite! It's a fun one to share with a group, since it's so rich.
The Pan-Seared Salmon with Harissa Vinaigrette, served with zucchini, asparagus, orange supremes and an herb salad was not only our "responsible" choice, it was also my favorite dish all around. Salmon isn't a fish I order much when dining out. It seems like every time I order it the restaurant never gets the temperature right, hence my hesitantation to try it. But, PS310 nails their pan-seared salmon preparation! It's crispy and savory on the outside, tender and moist on the inside. The harissa vinaigrette adds a lovely tangy flavor to the dish and the fresh veggies maintained a crunch. I was all around blown away with the flavors of this dish and I'm already craving it again.
Public School will always be one of my favorite spots in Culver City. One fun thing I found through my research is that Grill Concepts has an Inside Loyalty Club Membership and new members receive an instant $25 off reward for joining and they get a $25 off birthday reward! So if you're close to one of their many locations, I recommend looking into it.
Public School welcomes all students. Whether you're "an athlete… a basket case… a princess… and a criminal" (sorry, I can't resist a Breakfast Club reference!) you can get your extra curricular studies done here.