Editor note: This tour is not open to the public, this was a private tour 
In the Fall of 2013, I moved from Venice to Brentwood (fun fact: very close to the Nicole Simpson house). I absolutely loved wandering around San Vicente Blvd. Four years later, the long and winding street continues to be packed with restaurants, coffee shops, boutiques, pilates studios- it's all upscale, but not in a flashy way.
I discovered The Larder at Tavern one day on a whim, in a gutterpunk top and sweats. I was just looking for a cheap cup of coffee. Little did I know I was wandering into what would become a regular spot for me and maintains a lot of respect from this foodie.
The Larder at Tavern is attached to a low-key but still beautiful restaurant Tavern. The Larder is even more casual serving coffee beverages, breads, deli foods, salads, sandwiches, desserts and more. I ate there a lot and everything was always phenomenal but the bread always stood out to me.
The Larder's breads and pastries are supplied from Larder Baking Co which is owned by Chef Suzanne Goin (James Beard award winner) and restauranteur Caroline Styne (James Beard nominated). Since 2008, Nathan Dakdouk has been serving as Master Baker and supplying baked goods to Goin and Styne's other spots Lucques, AOC and Tavern as well.
Fast-forward to today. I live in Culver City and I haven't made it past National Blvd. in quite sometime. It's been over a year since I've been to The Larder at Tavern. A friend, Meagan of Caffeine Foodie, invited me to a bakery tour at Larder Baking Co. and for some reason it wasn't clicking in my head as to where I remember that name from. Once I realized where we were going, I was in such a state of nostalgia, I could smell the bread from Brentwood.
Their unassuming bakery is tucked away under the West L.A. freeway; it's a "blink and you'll miss it" type of location. But once you're in this 10K square foot facility, you enter a state of gluten-euphoria. It's tempting to grab-and-go but I did my best to keep my hands to myself.
Larder bakes old-world style breads the way they should be baked. Everything is made by hand and from scratch every single day. To get all technical on you, all doughs are mixed 48 hours in advance to naturally ferment. No preservatives, artificial yeast or dough conditioners. All breads are created using a 25-year-old starter made from grapes. Due to the high-level of freshness, it's recommended to consume their bread within 2 days of purchase.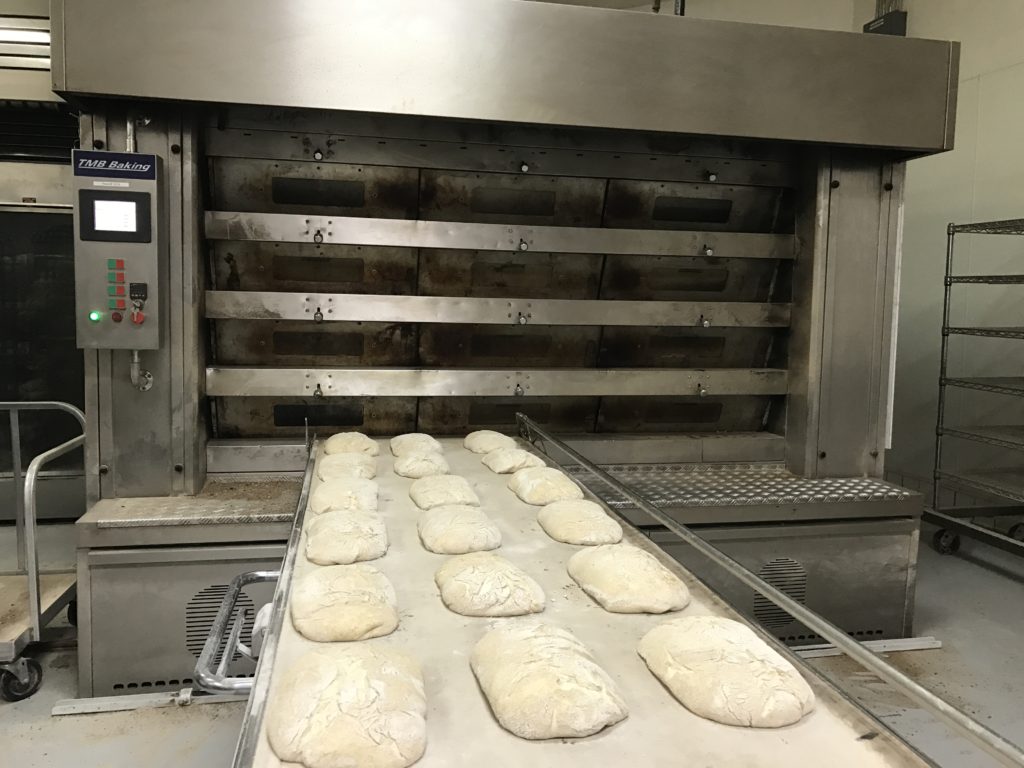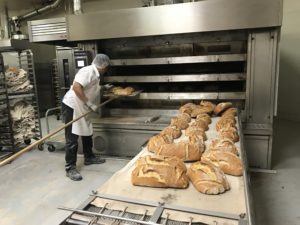 My favorite part of the tour was when we got to scope out Larder's made-to-order deck ovens that are heated by lava rock. This gigantic piece of machinery comes from Italy. The ovens conserve enough heat to continue baking bread for 2 days without electricity. This is smart planning, considering the power outages we've been having in Culver City.
I think I found a new way to meditate: sitting and watching bread bake. Watching this batch of ciabatta harden and rise was strangely cathartic for me. Check them pop out fresh and hot on our Instagram video below:
https://www.instagram.com/p/BRqlPdmhpch/?taken-by=girlsonfoodblog
Larder's ciabatta is baked with biga, a natural ciabatta starter. There are only 5 authentic bigas in the US. This style of ciabatta has a denser, slightly wet texture. I was just missing a bottle of olive oil to dip this fresh bread in!
I taste-tested the sourdough #2 and I believe it's good enough to serve clam chowder in at the San Francisco wharf (huge compliment from me!). Ever wonder where those lines on top of the dough come from? Those prints from setting in the baskets prior to baking.
Larder's breads tend to be a little more dense; the sourdough #2's hydration level is at 120% which is almost double the standard hydration level of 70%.
The Blueberry Boule was declared one of the Best Loaves of American Bread by Saveur magazine and we couldn't agree more. All their breads are fantastic, but this French bread with juicy blueberries is a stand-out bread.
Up next was the proofing room. The proofing room is where the pastries and desserts are proofed. When you first enter, it's instantly cool but there's a change in the air. It's kept very humid (think Hawaii humid) in there to allow pastry doughs to rise.
My favorite sweet treat is the monkey bread. For those not familiar, monkey bread is a pull apart brioche sprinkled with cinnamon.
This tour felt like the bread equivalent of Willy Wonka and the Chocolate Factory. Although this tour was private, you can taste Larder Bakery goods in LA, click here for their locations.