A trend in the Los Angeles foodie culture is the concept of the pop-up restaurant which offers a limited time dining experience in a temporary space with a specific focus on a particular type of food.
SAOR Project, started by Gianluca Zago and his wife Alessandra Manias, take the pop-up concept and aim to make it more of a permanent fixture, with monthly intimate meals and special dining events celebrating the best of classic Italian cuisine.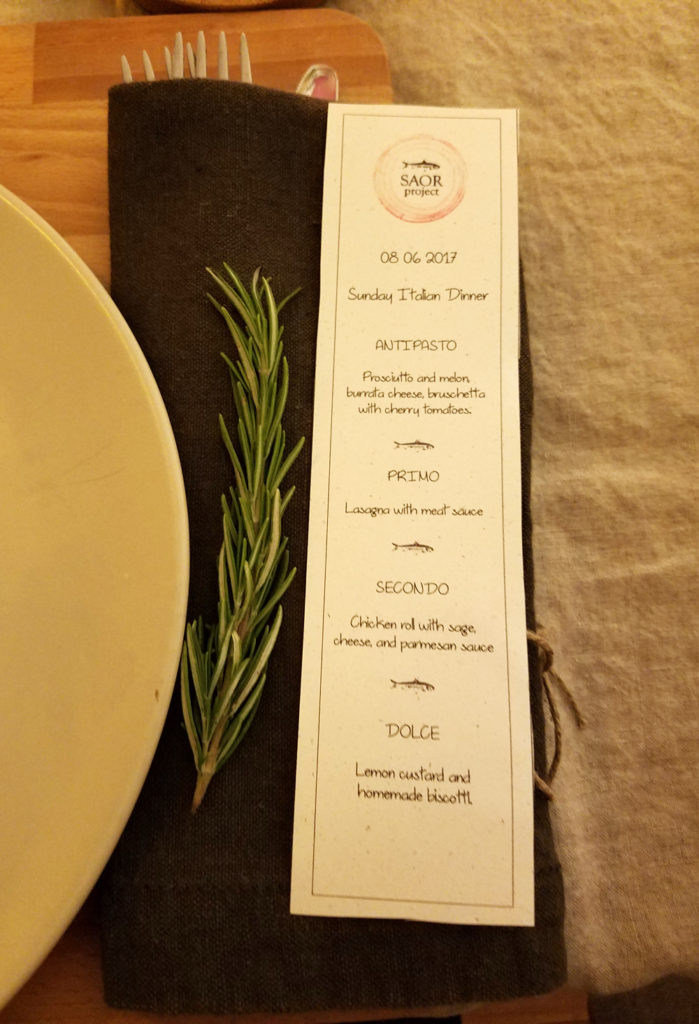 SAOR PROJECT
Private Residence, Sherman Oaks
https://www.saorproject.com
I wasn't sure what to expect going into the experience. I love Italian food, and I have so many favourite restaurants such as Restaurant Verden. Although I'm not Italian, I would like to think that I know a little something about Italian food. But the word "experience" definitely sums up the evening. This was one of the most memorable dinners I've had in a very long while, and not just because of the excellent food.
Initially, walking up to the private residence of someone I had never met to have dinner felt a little strange, but within moments that feeling vanished as I felt like I was being greeted by old friends. Gianluca and Alessandra welcomed me and my fiancé and I into their beautiful home with warm European hospitality and promptly put a glass of prosecco in our hands as we admired the gorgeous table setting that awaited us and the other guests.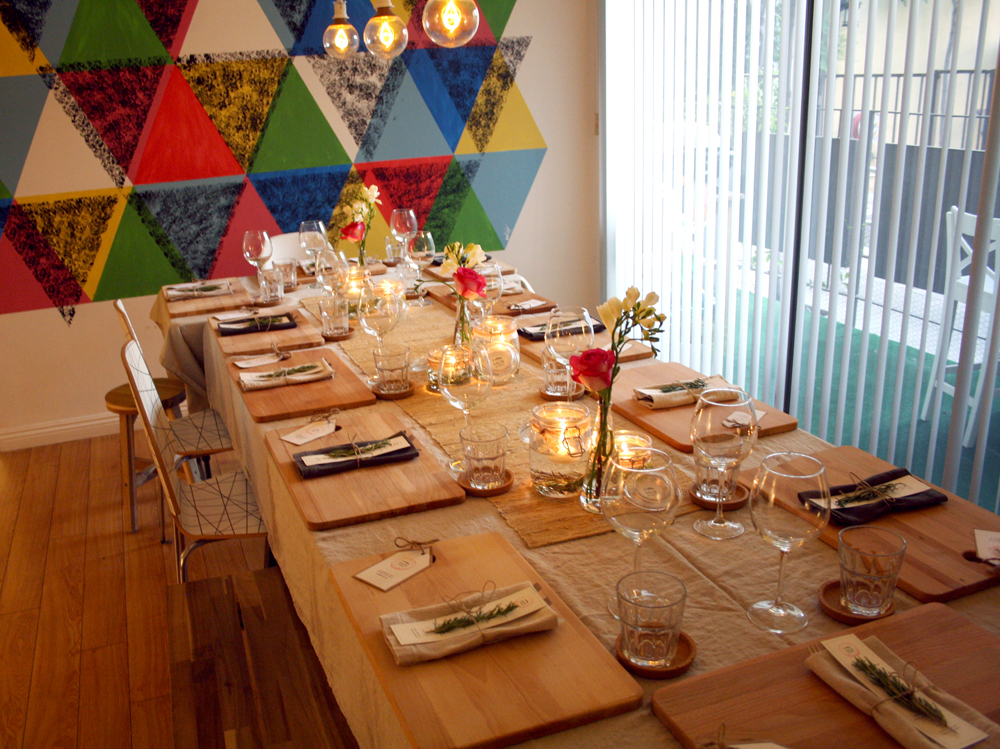 I loved the rustic charm of the decor that Alessandra created, with its wooden place-settings, candles, and a sprig of rosemary tied to the prix-fixe menu card.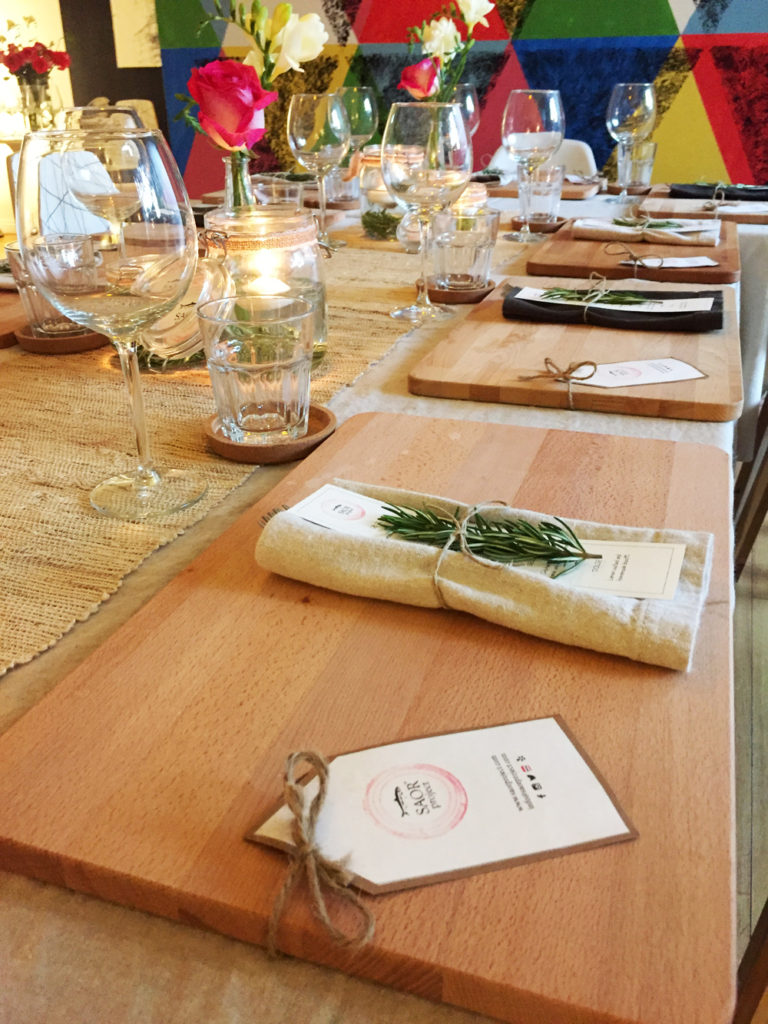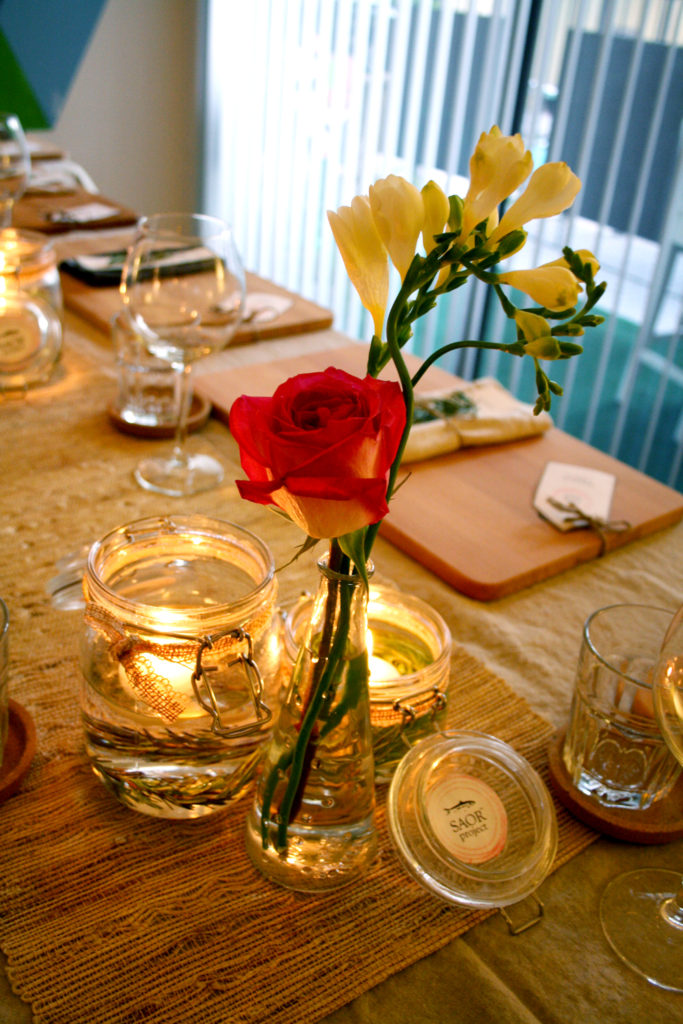 Gianluca explained some of the background of the SAOR project. He and his wife left a comfortable life in Northern Italy, where they were both established and well-known, to risk it all in United States, all for the love of bringing authentic Italian food to Los Angeles. And not just any Italian food, but ancient recipes derived from peasant culture that are in danger of being lost in a wave of new and trendy fusion cuisines.
Their focus is not on flashy ingredients or experimentation, but on preserving traditional recipes from a variety of regions in Italy using simple, wholesome ingredients. But as you will see, simple does not mean less. In fact, the food we tasted was elevated, even celebrated, by its humble origins.
But before we got to the food, we spent some time mingling and getting to know our fellow dining companions. There was an eclectic mix of people, including an enthusiastic group of Italians whose beautiful language made us feel like we had stepped out of Los Angeles and into Italy itself.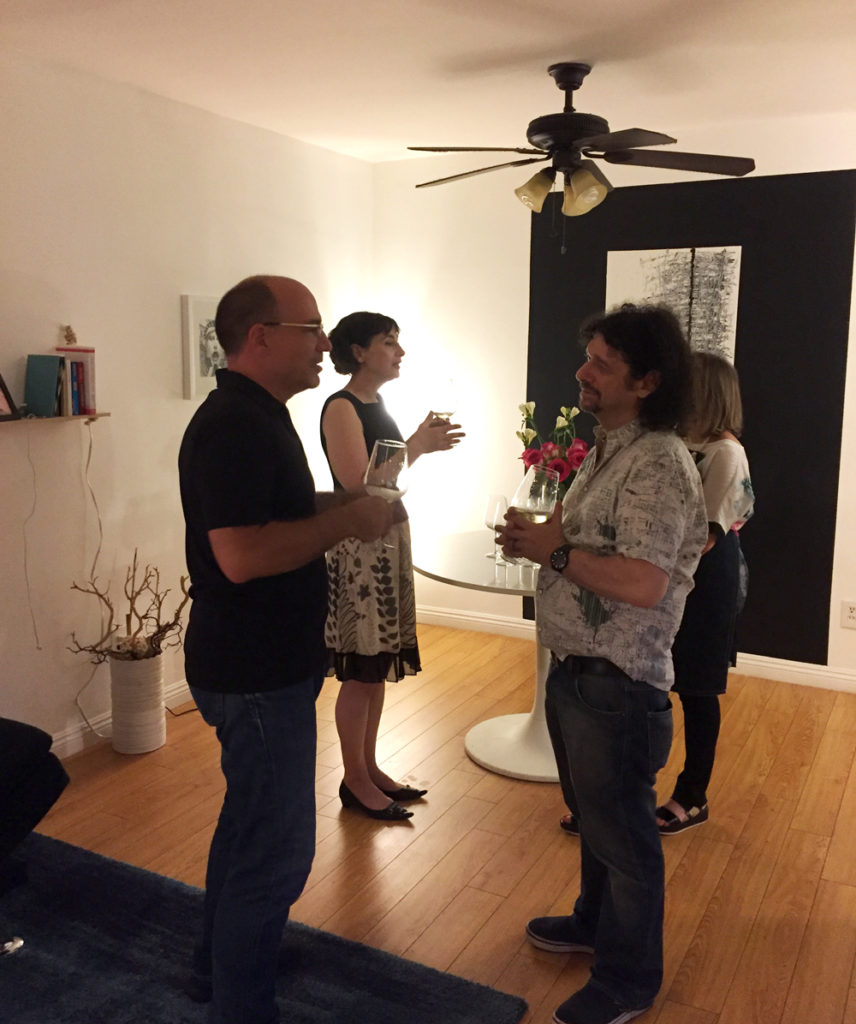 Some of the guests were regulars of the SAOR Project, and greeted each one another as friends. Gianluca told me that even with repeat guests, each dinner has a different mix of people and you end up making a lot of interesting new friends along the way. I can believe it! The people we met ended up making the meal that much more special, especially as we shared bottles of wine that we brought along for the meal. I contributed a 2013 vintage of Montepeloso A Quo Toscana, a supple and smoky red with aromatic layers of blackberry and plum flavors.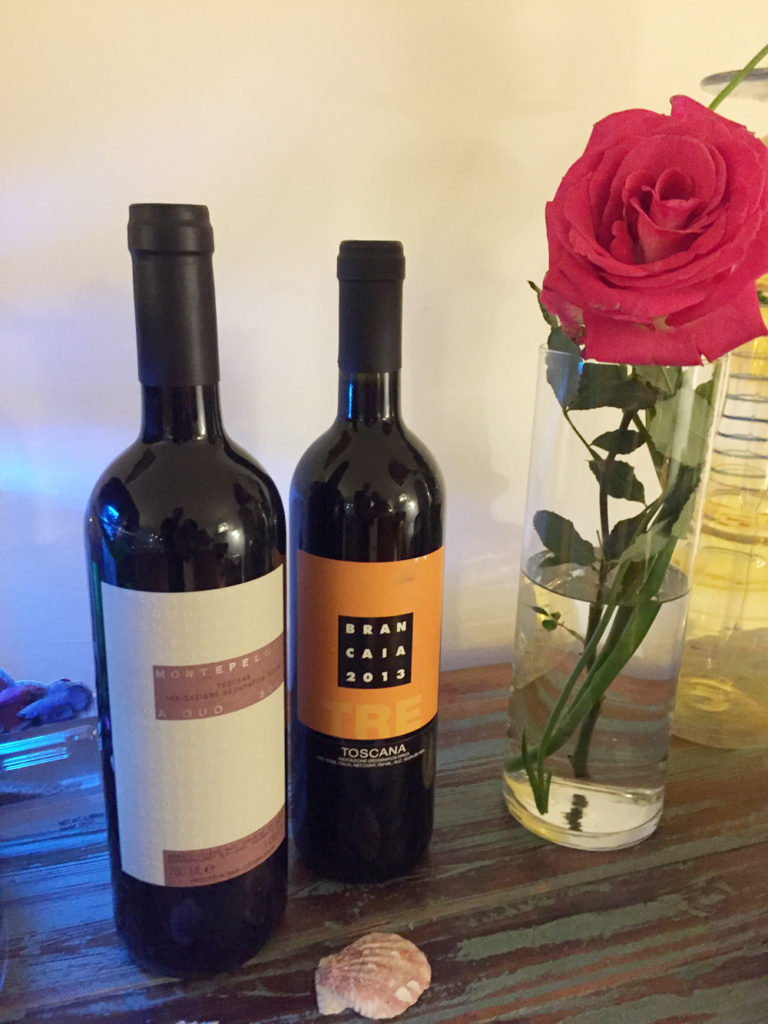 Soon it was time to sit at the table in preparation for the first course, the antipasto.
A fresh baked basket of bread was set before us. It was warm and crusty on the outside, and fluffy on the inside – the way any bread should be. I only had a small piece, however, because I didn't want to take up too much room before the culinary adventure that lay ahead.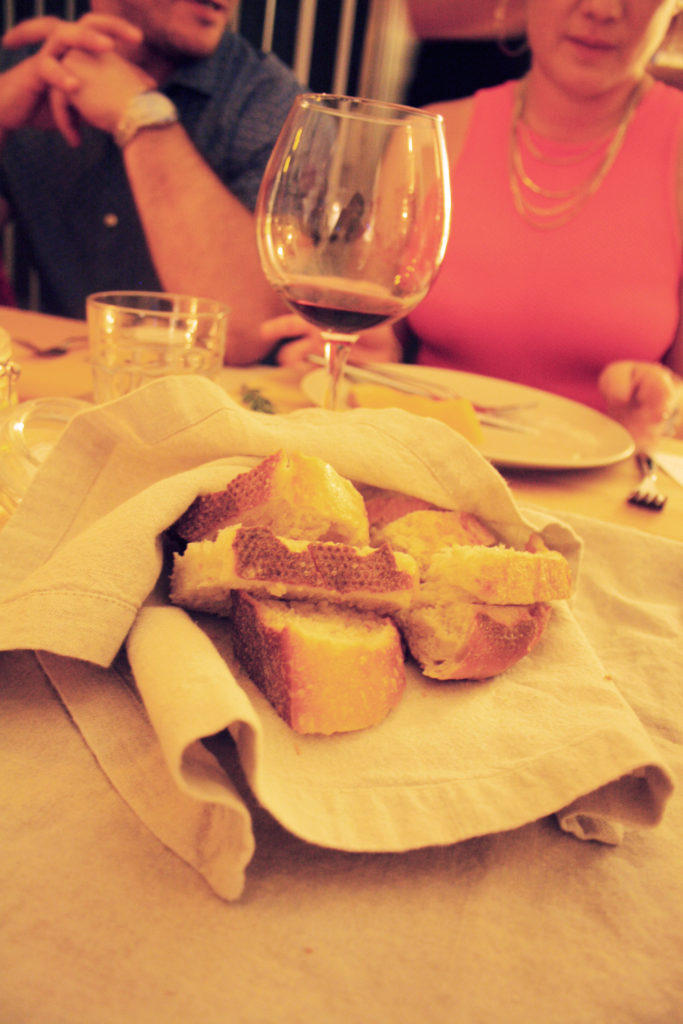 That adventure started with a beautiful trio of prosciutto and cantaloupe, burrata cheese, and bruschetta with cherry tomatoes.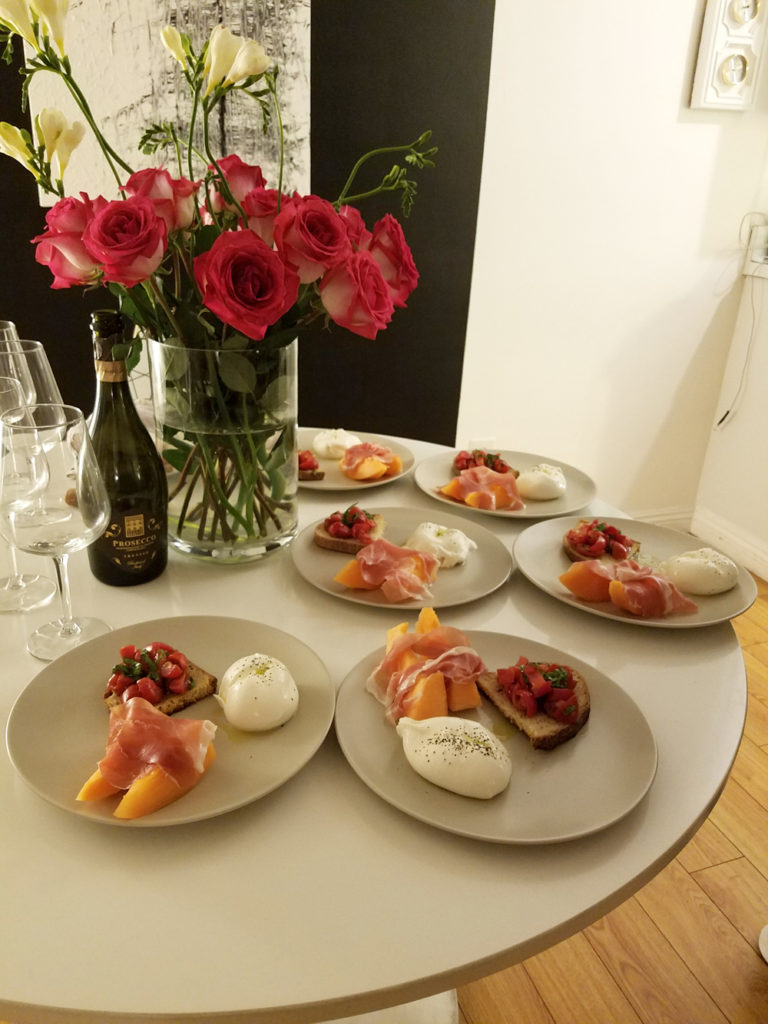 I am not usually a fan of melon, but this cantaloupe was perfectly ripe with a rich orange color and its honeyed flavor made me realize that maybe I just haven't been eating high-quality melons until now. Its floral sweetness paired so nicely with the salty, wafer-thin prosciutto.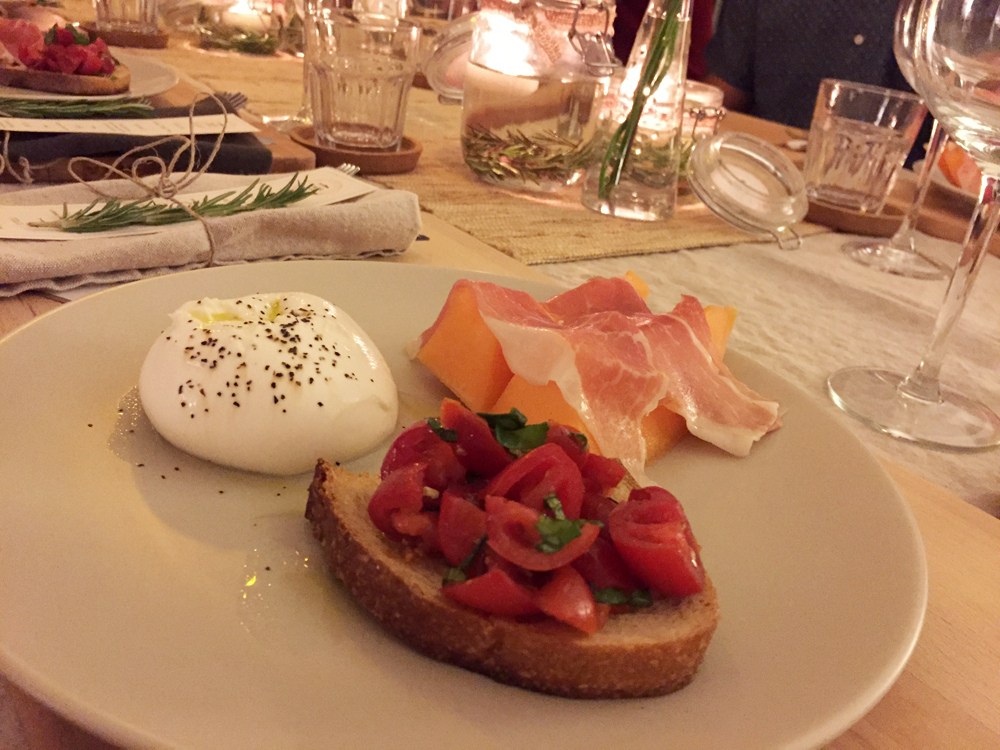 Burrata might be my favorite cheese of all time, and I absolutely devoured this dollop of creamy goodness with the crusty bruschetta and cherry tomatoes that burst with flavor. With an appetizer as good as this, I knew the rest of the meal would be a treat and my appetite was whetted for more!
Next up was the Primo course, lasagna with meat sauce. Layer upon layer of chewy noodles snuggled in-between tiers of creamy cheese and ground beef. Comfort food at its finest. I'm not even Italian and I was feeling nostalgic for this dish! I also loved how perfectly browned and crisp the outer shell of cheese was, balanced with its tender, gooey core.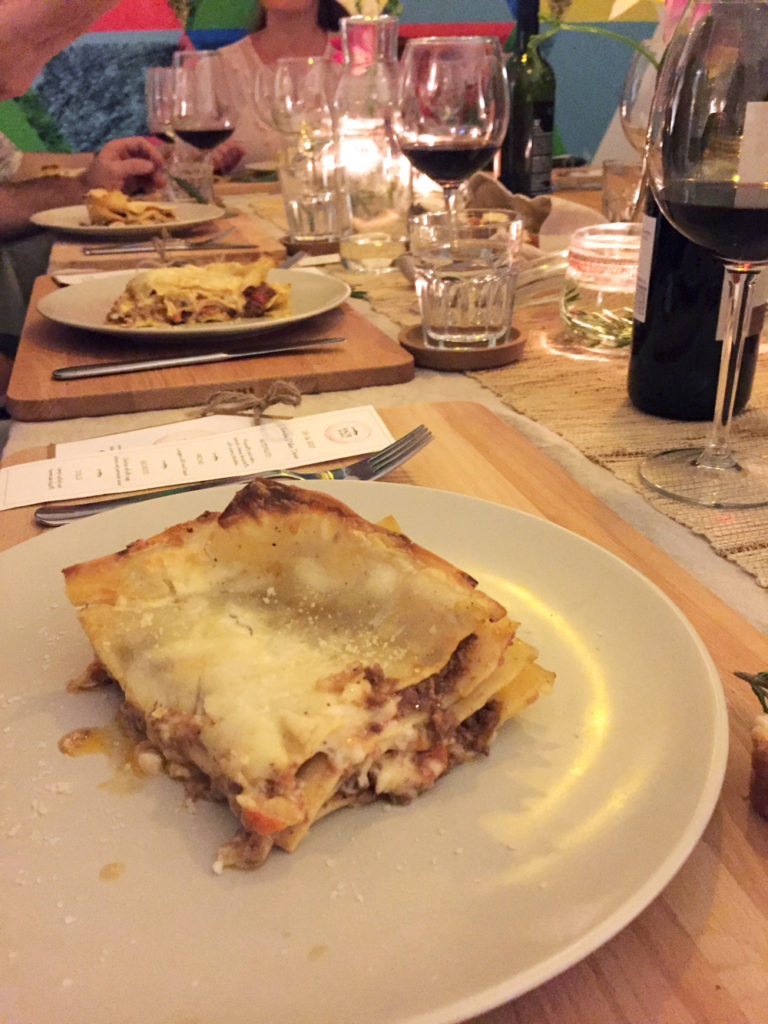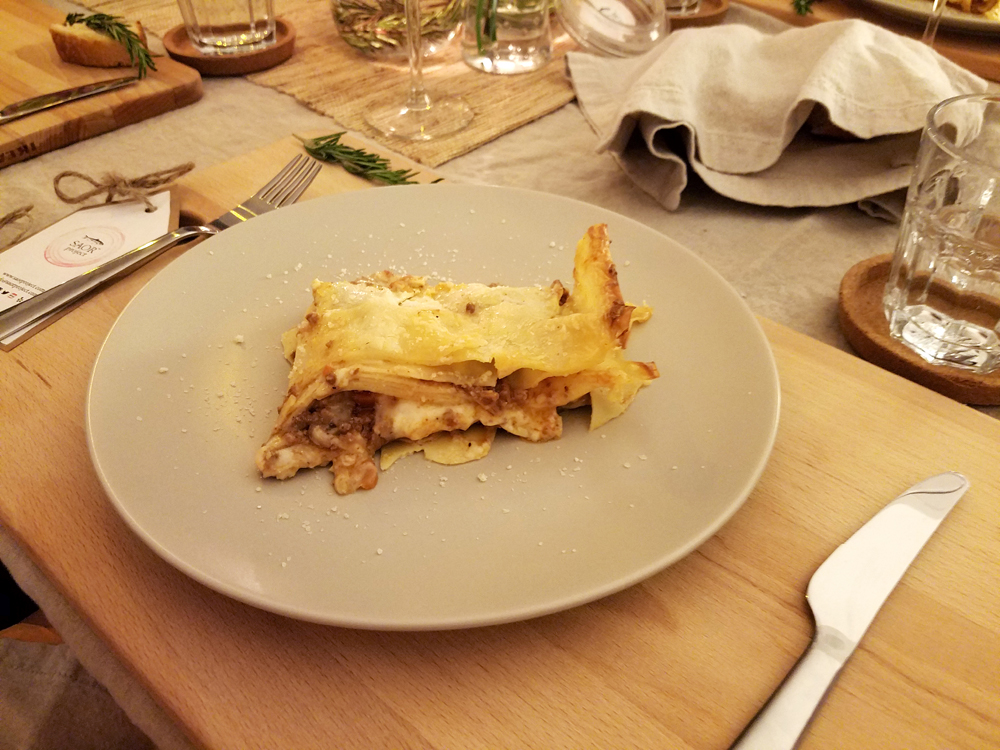 The Secondo course was next, with a chicken roll with sage, cheese, and Parmesan sauce. accompanied by golden potatoes and spinach. I didn't think the lasagna could be topped, but this was another incredible dish.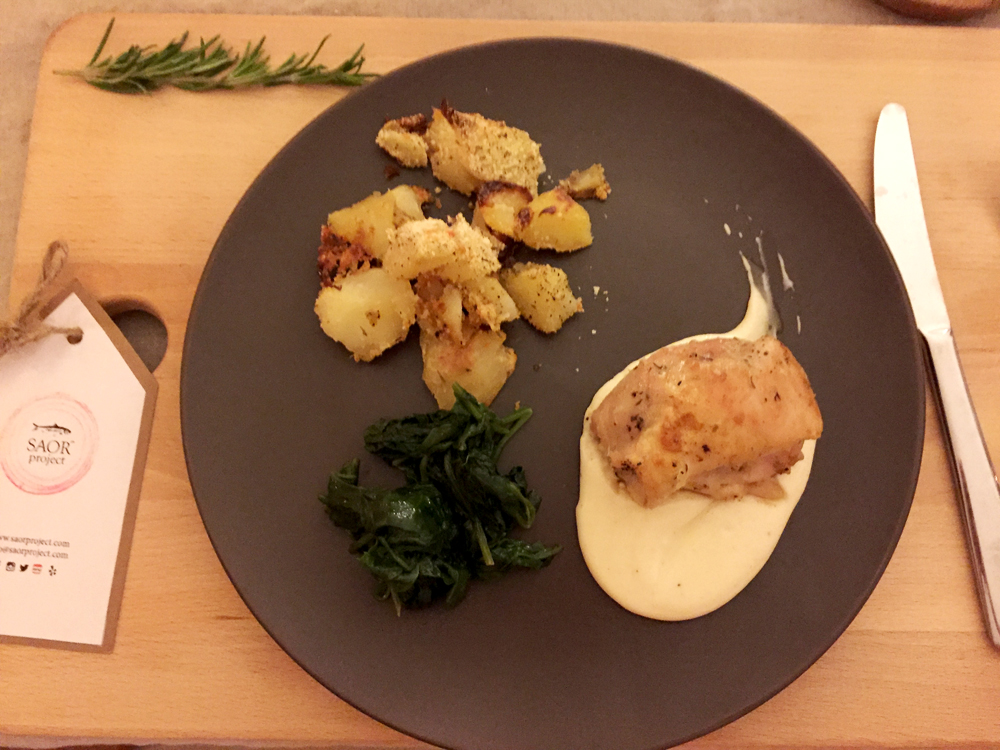 The chicken was moist and tender, and bursting with earthy sage flavor that paired perfectly with the creamy sharpness of the Parmesean cheese sauce. The potatoes, delightfully crisp and dusted with breadcrumbs, were equally delicious with an herby mix of flavors including oregano, one of my favorites. And let's not forget about the spinach in all its buttery simplicity.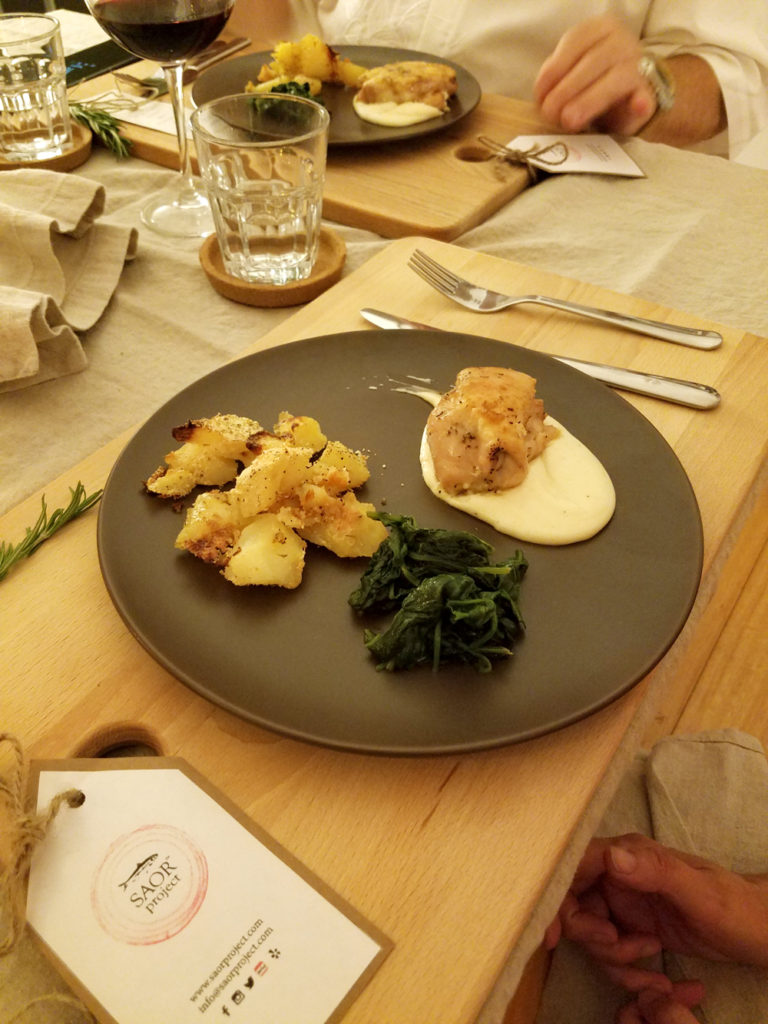 I was feeling pretty full by now, but I had to make room for the amazing final course, the Dolce! This dish was as fun to look at as it was to eat, a lemon custard with homemade biscotti shaped like chubby stars.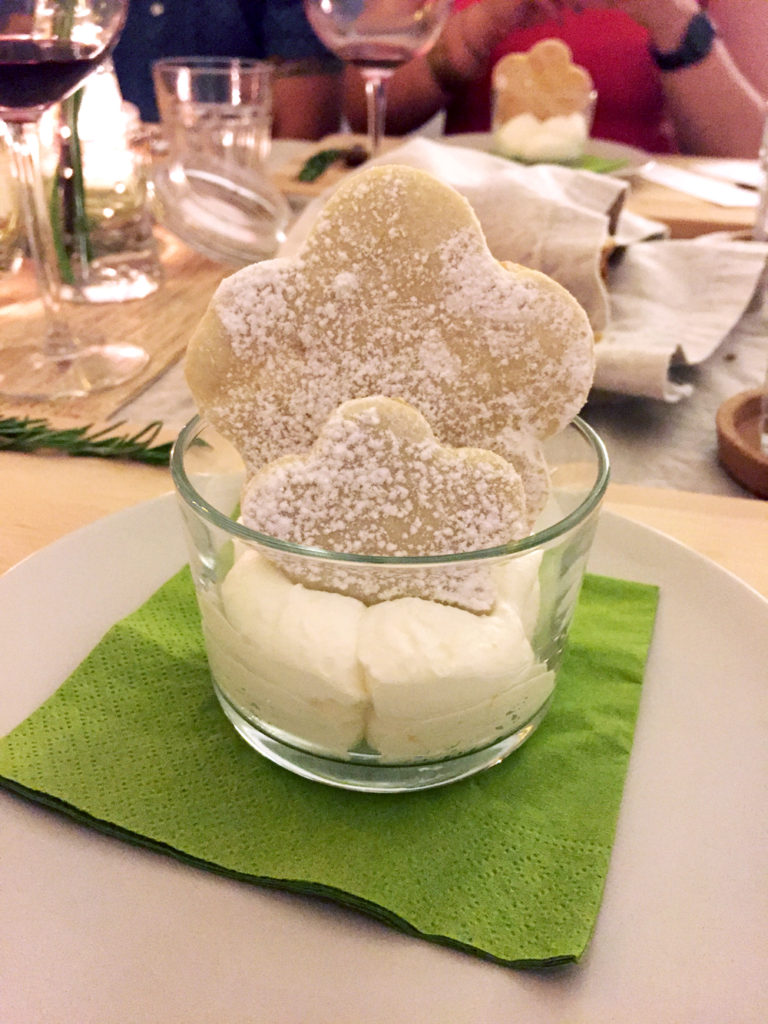 This is a secret recipe of Alessandra's that was highly coveted by the guests, myself included. The lemon custard was light and fluffy, and sparkled with bright citrus flavor and was the perfect accompaniment for the soft sugar-dusted cookies. It was like eating a lemony cloud.
Unlike a restaurant where you leave as soon as you're done dining, we all remained at the table talking and laughing for a good while after the last course had been served. One guest even facetimed his wife in Italy and we all said hello! It was so much like being at a cozy meal with friends and family that I was sorry to see the night finally come to an end.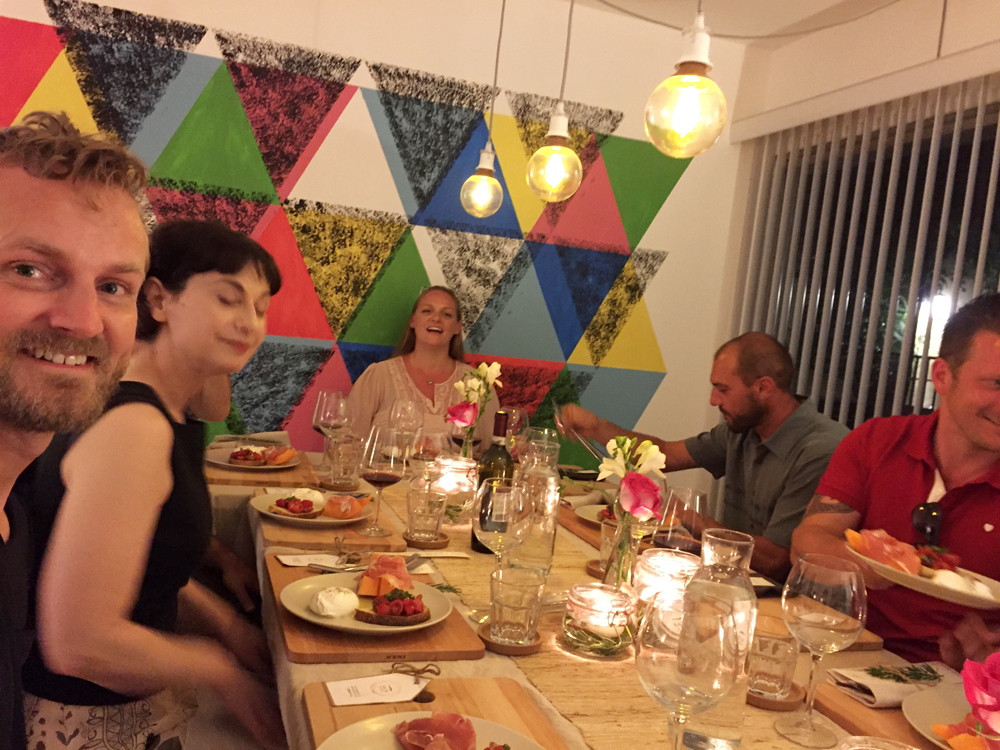 I will definitely be returning for future SAOR Project meals, and I highly recommend the experience to all! Space is very limited and tickets do sell fast, so be sure to follow them at their Facebook Page or Twitter, and sign up for their mailing list to be the first to hear about upcoming meals. (The next meal on August 20th, sounds absolutely delightful – an Italian Lemon theme with a special price of $60 per 2 guests. An amazing deal, especially with no corkage fee!)
This would make a wonderful and unique date night experience, or even a fun outing with the girls. Heck, you could even go solo and make some new friends along the way. Salute!