As the middle of winter consumes us, dreaming of somewhere warm is the most typical thought that crosses our minds. Punta Cana, Brazil, Mexico…to name a few. For me, I am a proud, winter-loving Canadian… who has barely seen Canada. I've travelled to Central America, I've road tripped and flown throughout U.S.A. numerous times, yet I haven't traveled my way through Canada. For Valentine's Day, I decided to take my husband to somewhere he has never been before, the home of the poutine, Montreal, Quebec.
Now, I've been to Montreal before for a day trip but did not get to experience the culture nor the amazing cuisine. We packed our bags and set off for a 5 and a half road trip to Montreal. We had no plans, zero bookings and just wanted to roll with the punches.
After settling in, we decided to wonder around our little neighbourhood near the hotel. Since our French is "Je ne c'est quoi" (literally means I do not know what) we wanted to try something a little familiar to us.
Our first stop: Bier Markt Montréal
1221 Rene-Levesque Blvd W Montreal,QC
I absolutely love the Bier Markt. I've been many times before but never in Montreal. It is traditionally a place that sells a ginormous variety of beers. From pints, to bottles, sample trays, cocktails, champagne, wine, literally everything. The only thing I've ever consumed here is beer, because that is what they are known for. This particular trip, we decided to order some snacks to go along with our sampler tray of beer. I never even knew we could order food let alone have a great selection to choose from. We decided to go with a shareable board of seafood and cheese. Just typing this, I'm already missing that board. Our three choices were fresh mozzarella, tuna poke and grilled calamari. It was paired with fresh bread, pickles and a raspberry compote. Spectacular and overwhelming perfect is the only way for me to describe the food, the ambiance and the general vibe of this establishment. We loved it so much, we ended up going back the next night for a little night cap.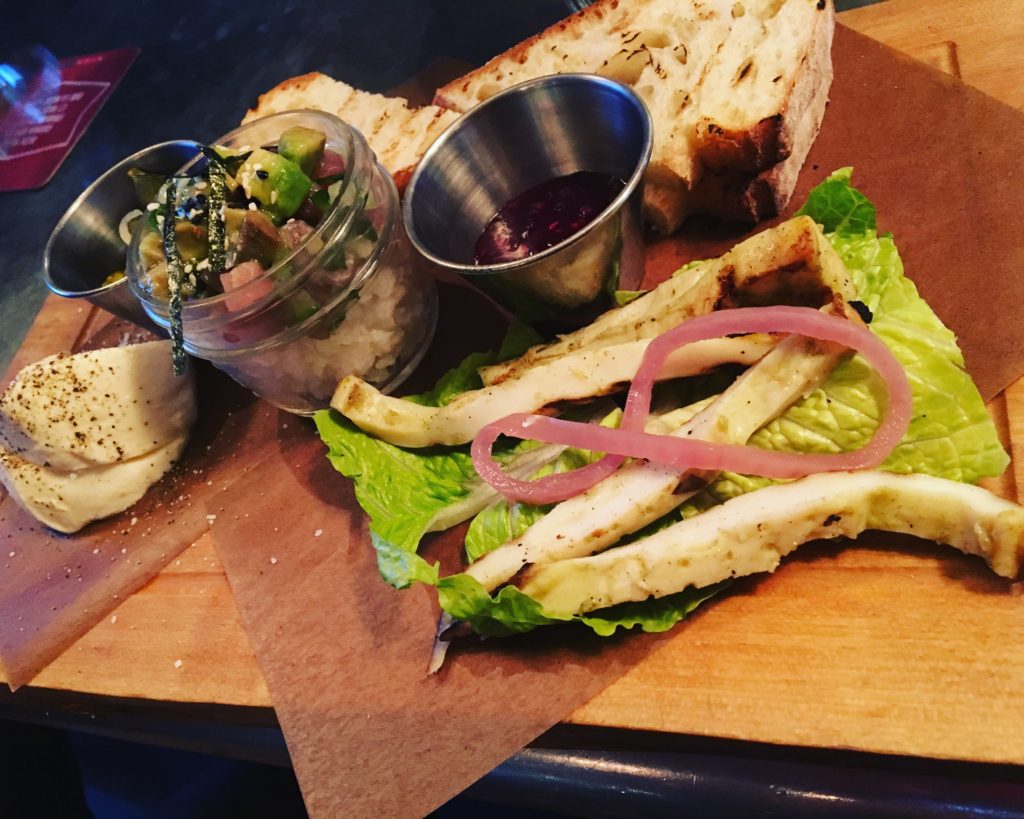 The next morning we decided to hunt down the perfect poutine. But since it was 10 am, we decided cheese curds and French fries were more of an afternoon treat.
As we were walking looking for a coffee shop, we found a little spot called: Paris Cafe
1333 Saint-Catherine St. W Montreal,QC
It turned out to be a quaint little restaurant serving crepes! The menu was in French but Nutella is a universal word in any language. I indulged in a London Fog latte and an incredible Nutella Banana Crepe that they prepare right on display as you enter the cafe. It was extremely decadent and the best latte I've ever had. This two story restaurant was packed but not busy as everything was made so quickly and devoured within minutes. It was a lovely spot to start our day off right.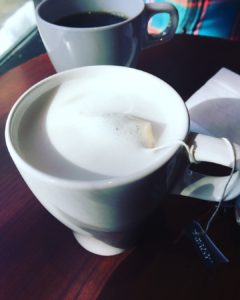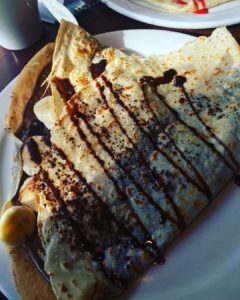 Montreal is known for its beauty and art. On the side of buildings, you could see paintings of the late Leonard Cohen throughout the city. A beautiful tribute to a great Canadian artist in his home town. The architecture and museums were extraordinary. Some of the best I've ever seen. Everywhere you looked, there was beauty.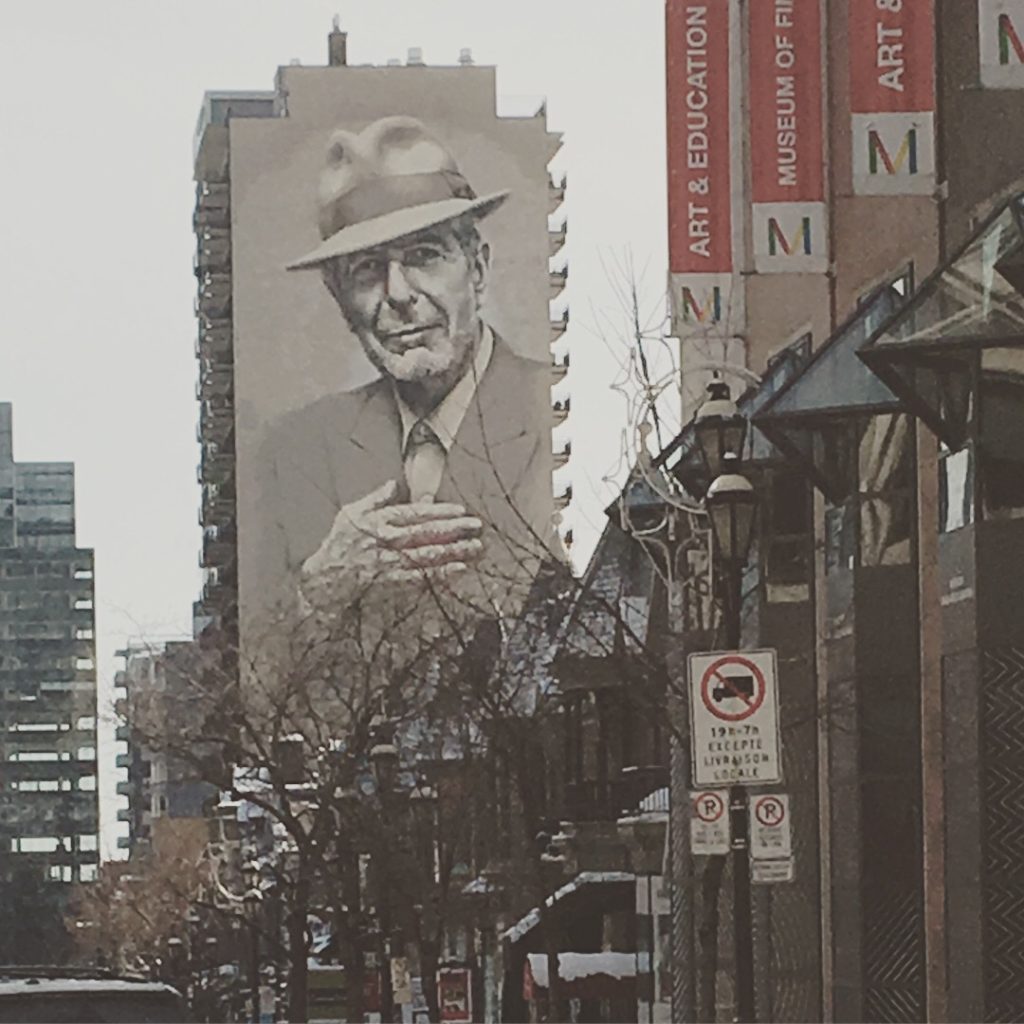 After touring the city, our quest for the perfect Poutine had peeked. As a vegetarian, I haven't come across many poutines that I was able to enjoy. Most poutines I've come across had a beef base. I was concerned but determined I could find something just right.
That is when we stumbled upon: Ye Olde Orchard Pub
1189 Rue de la Montagne Montreal, QC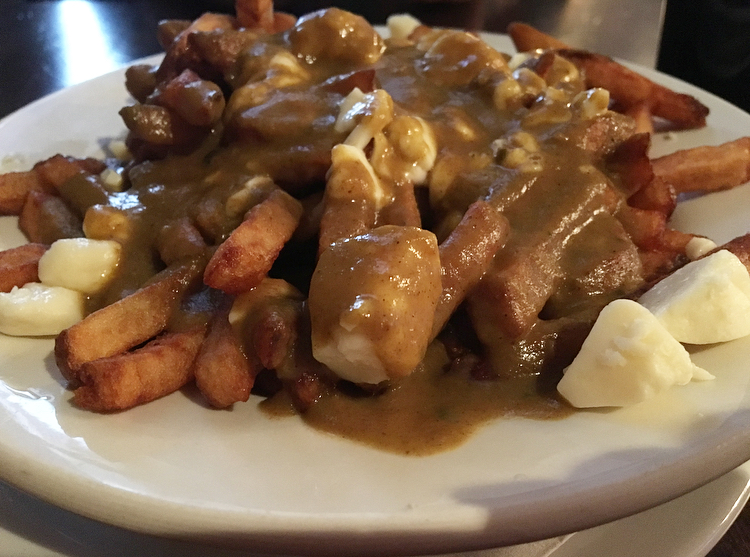 We were instantly greeted by a gentleman wearing a kilt. Typical old pub setting. What I thought would be a tiny pub was actually fairly large with dim lighting and stone walls. I eyeballed the menu and found the poutine section. There it was…my gateway poutine into the poutine world. Vegetarian Curry Poutine. It was a trifecta of my three favourite foods merging together in one dish. The curry actually just tasted like a spicy gravy. The cheese curds, although I hate the word curd, they were delicious. I had found euphoria in a pile of French fries. And I was in love.
This trip was filled with so much delicious food, we have barely eaten since we've returned home. Montreal really does feel like you're in a different world. The cuisine, the culture, the people….its hard to describe but definitely somewhere everyone needs to go. Even in the winter, it was magical and felt like the perfect weekend getaway.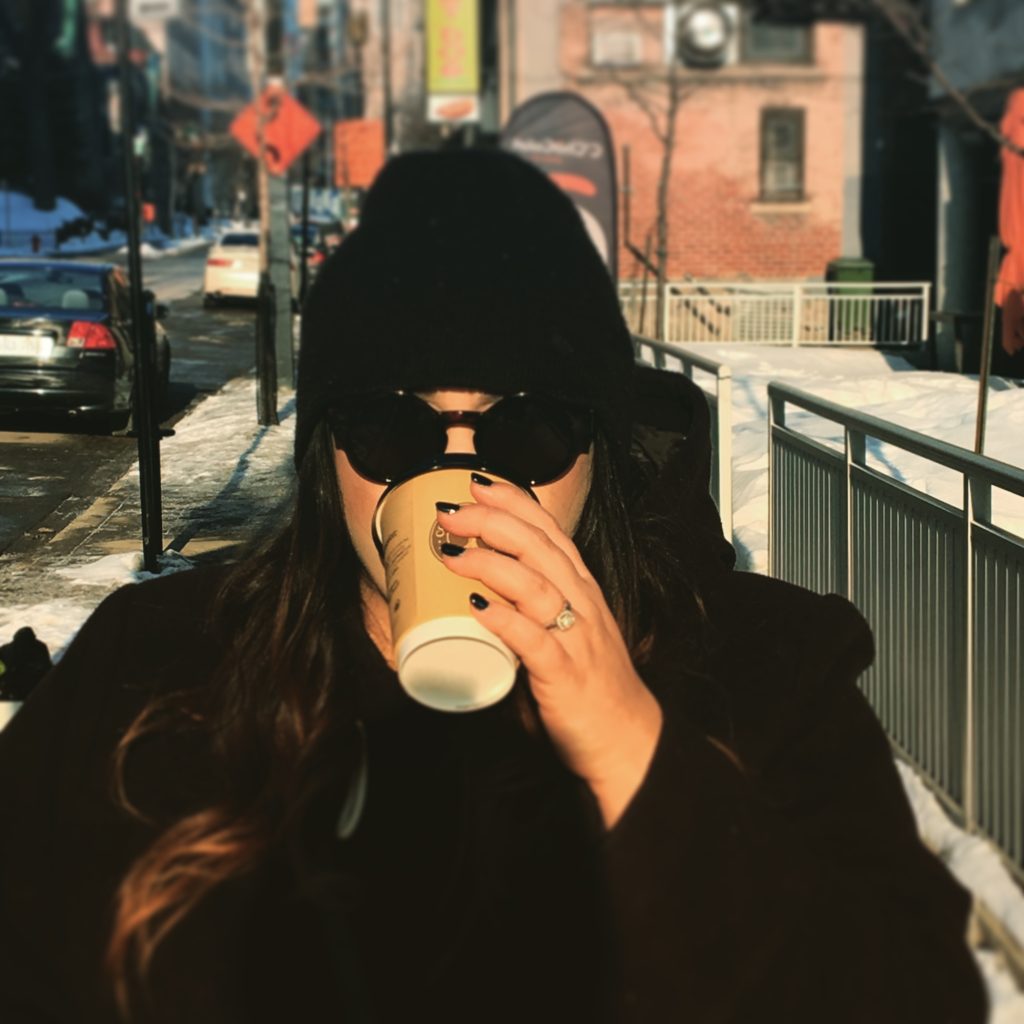 Until next time, Au Revoir, Montreal!