We all know the torture of watching the Food Network – seeing skilled chefs create delectable looking dishes and not being able to get so much as whiff let alone a taste of their beautiful creations. It's every foodie's dream to jump head first into their favorite cooking show. The Slider and Beer Pairing Demo at the New School of Cooking + Cafe in Culver City made this dream a reality for this foodie on Friday night.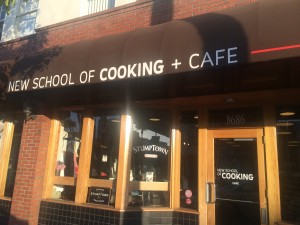 New School of Cooking
8690 Washington Blvd.
Culver City, Ca, 90232
(310) 842-9702
www.newschoolofcooking.com
New School of Cooking has offered hands-on classes in Culver City for 15 years. From its Pro-Series to its recreational classes that any novice can navigate, New School of Cooking offers a wide array of themed classes and a wealth of knowledge for anyone. Anyone, from beginners to more experienced cooks, can attend these classes to brush up on their skills. Before attending, one of my friends suggested that I visited https://www.preparedcooks.com to try and learn some cooking tips that would help me through these classes. That food blog was useful.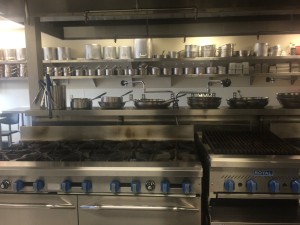 Walking in and seeing the top-notch facilities, I knew I was in for some serious cooking! I could hardly wait to see these stoves fired up and ready to grill some mouthwatering burgers! I most definitely was not disappointed.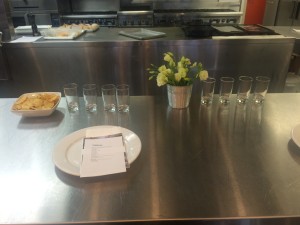 On the menu for the night were four delicious sliders to be expertly paired with five different ales. Without too much frill, the classroom was set up so that a perfect view of the grilling magic could be clearly seen by each student.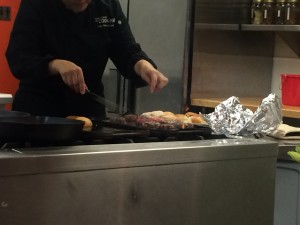 The first round was a classic All American burger. Our expert instructor, May Hennemann, Senior Chef Instructor at the New School, advised using a less lean type of beef, such as chuck, for the best flavor. Simply seasoned with salt and pepper on a bun dressed with a spicy Dijon-Mayo mix, pickle and cheddar cheese, this burger hit the spot!
This classic was served with El Segundo IPA (India Pale Ale). The bitterness of this hoppy brew went nicely with the kick of the Dijon-Mayo blend.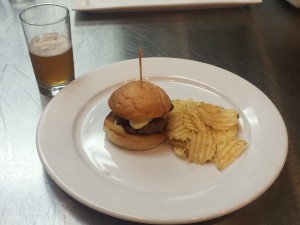 Next we went a bit south of the border with the "Spice of Life" slider, aptly named for the fiery chipotle mayo that dresses a beef patty with ooey-gooey Queso Fresco mixed right in.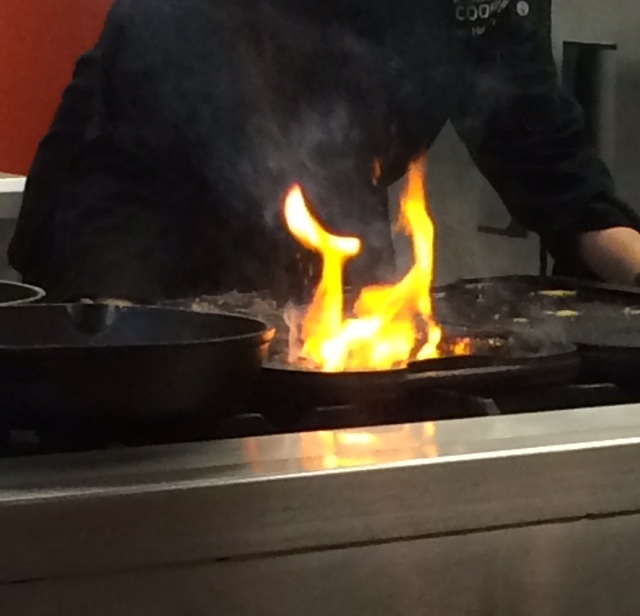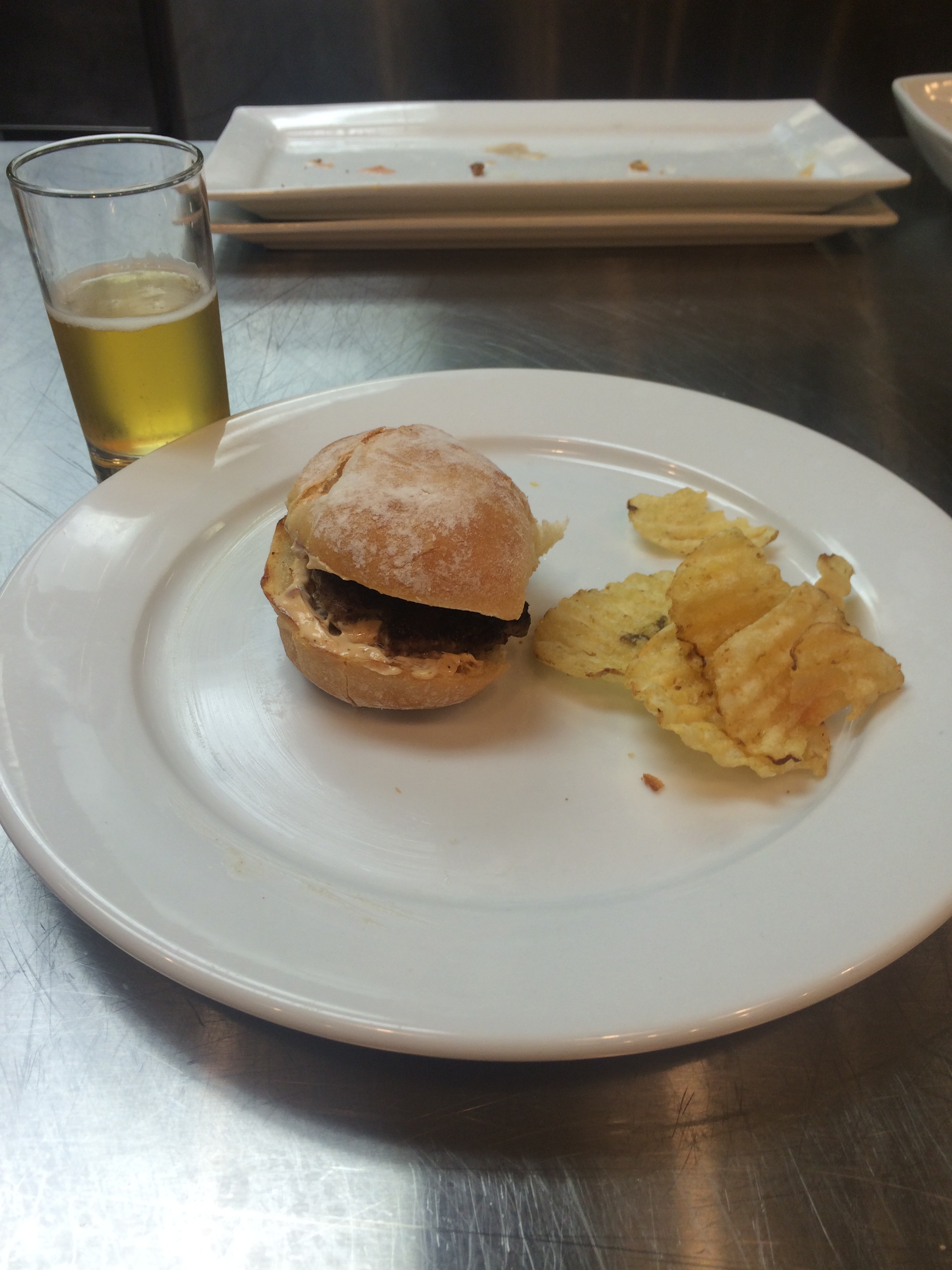 And this is when things got really out of the box. The next slider up was the Quacking Pig – 50% ground duck, 50% ground pork and 100% tasty! Instructor May made sure to advise that when doing this at home, you get duck that has been ground with the skin on, sealing in an extremely rich flavor.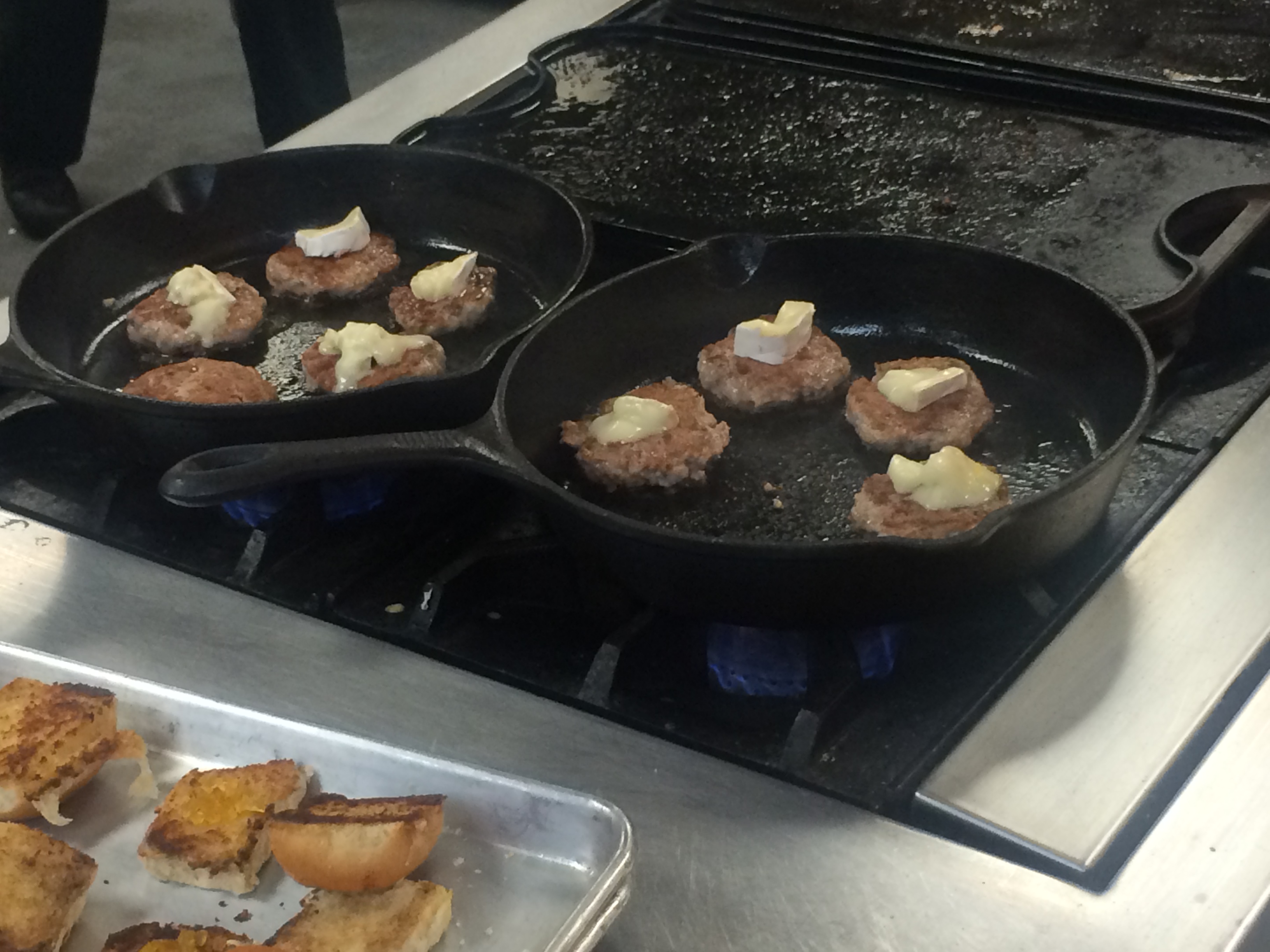 Dressed with Mostarda di Frutta, a sweet Italian condiment made with candied fruit, with Brie cheese on a Hawaiian roll, this unconventional burger was reminiscent of thanksgiving – akin to a turkey burger with cranberry sauce. Totally decadent and scrumptuous to the last bite. This slider was paired with an almost sweet Samuel Adams Summer Ale.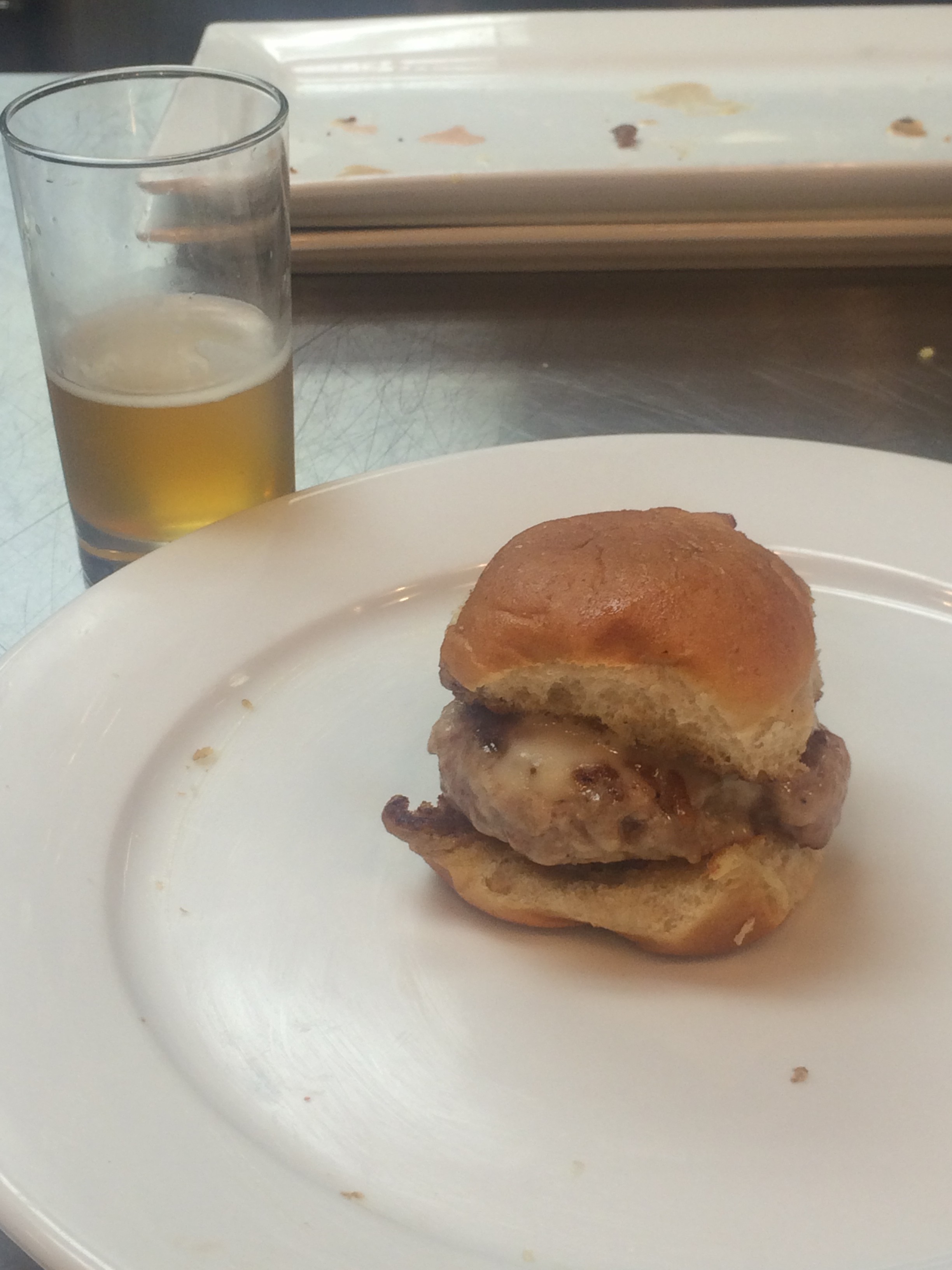 Last but certainly not least we came reluctantly to the last slider of the night – the "Lambinator". This patty was made, as the name might suggest, from ground lamb leg and shoulder with feta cheese and scallions mixed in. The bun was dressed in hummus spread and a slice of Persian cucumber giving this slider the real Mediterranean treatment.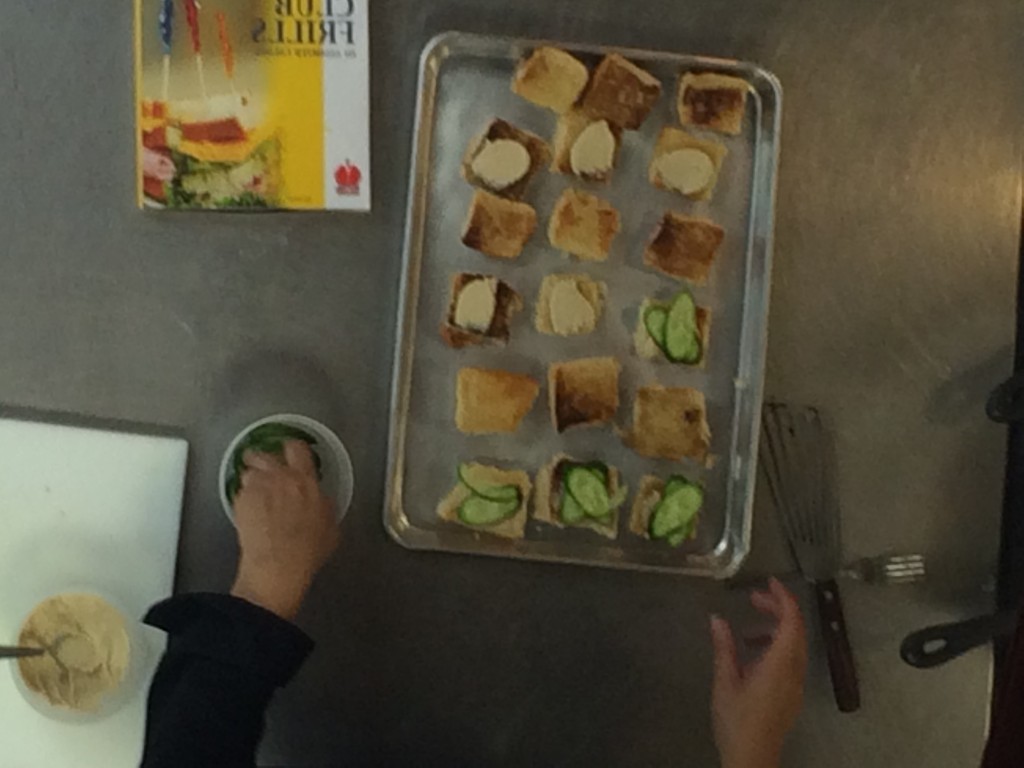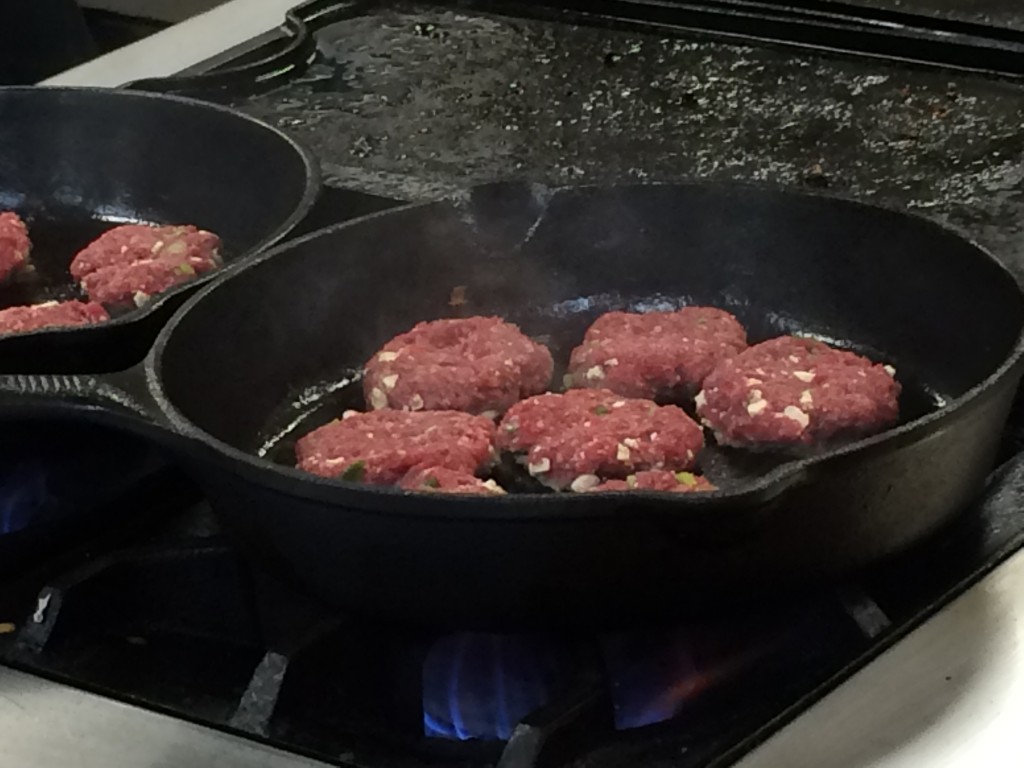 The robust flavor of the lamb paired nicely with the richness of two Red Amber Ales that were served – Coronado Brewing Company's Mermaid's Red and Petrus' Aged Red, which had a delightful cherry sweetness to it.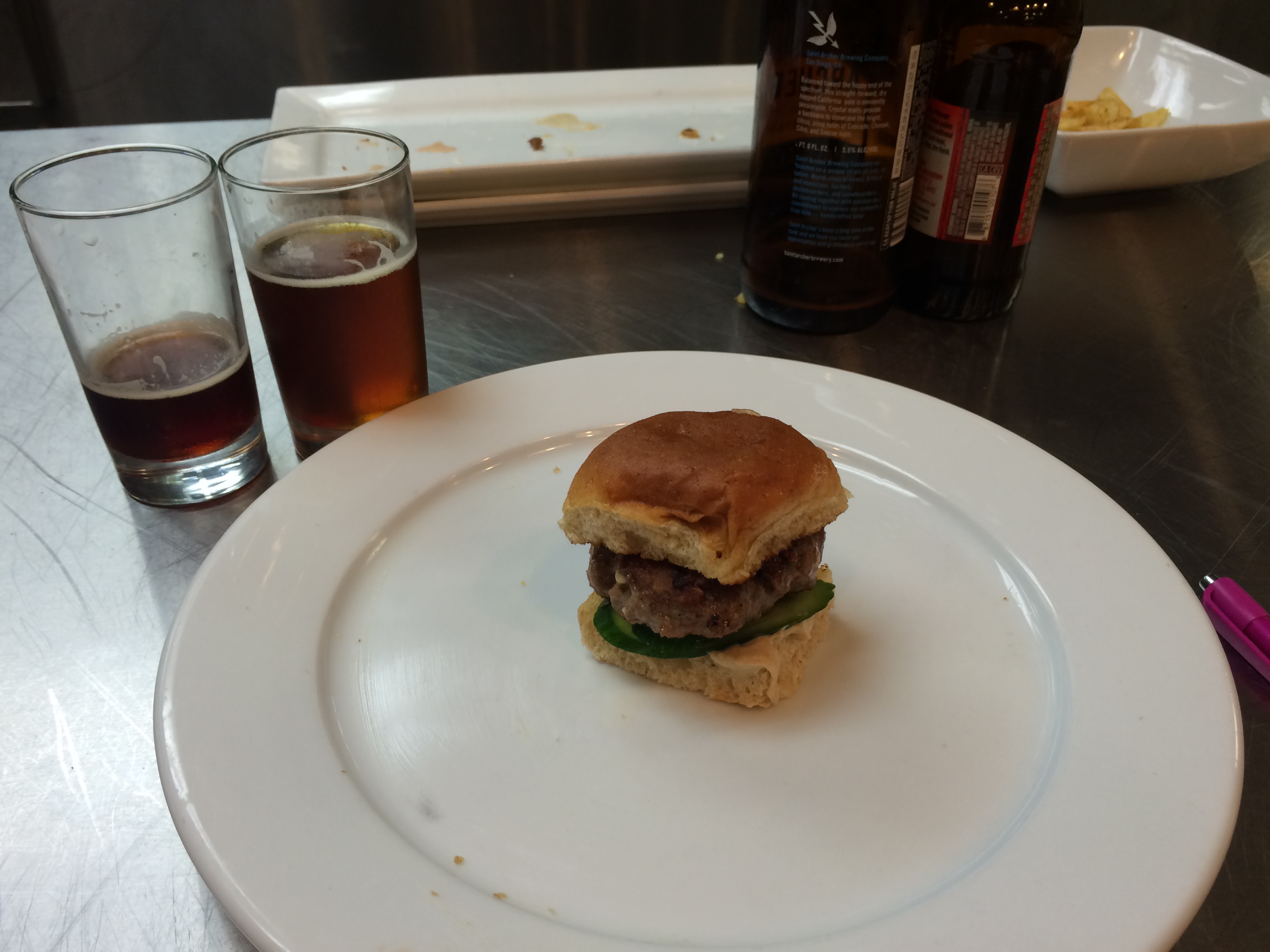 This pairing was the unanimous class favorite.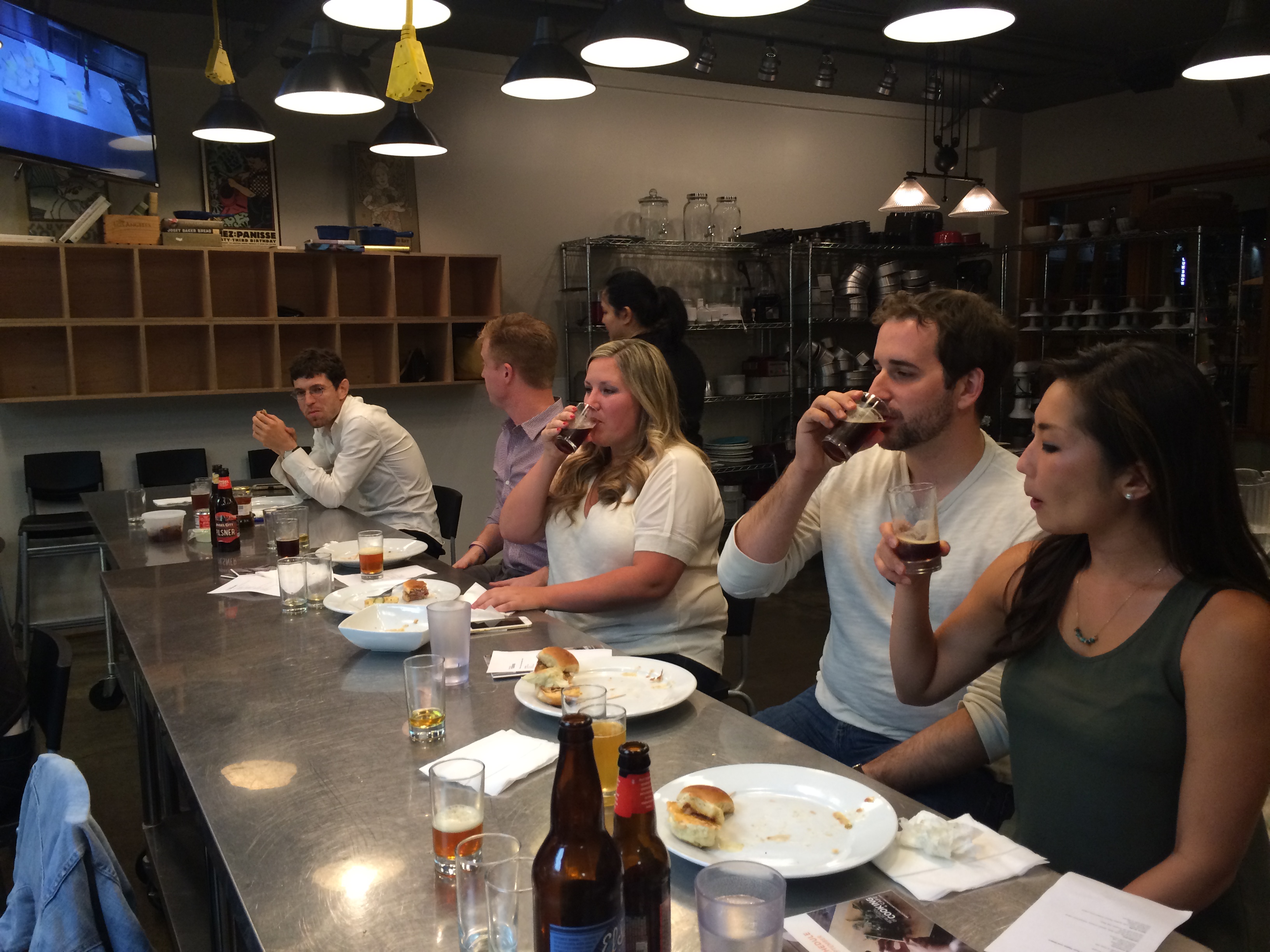 I, personally, loved them ALL.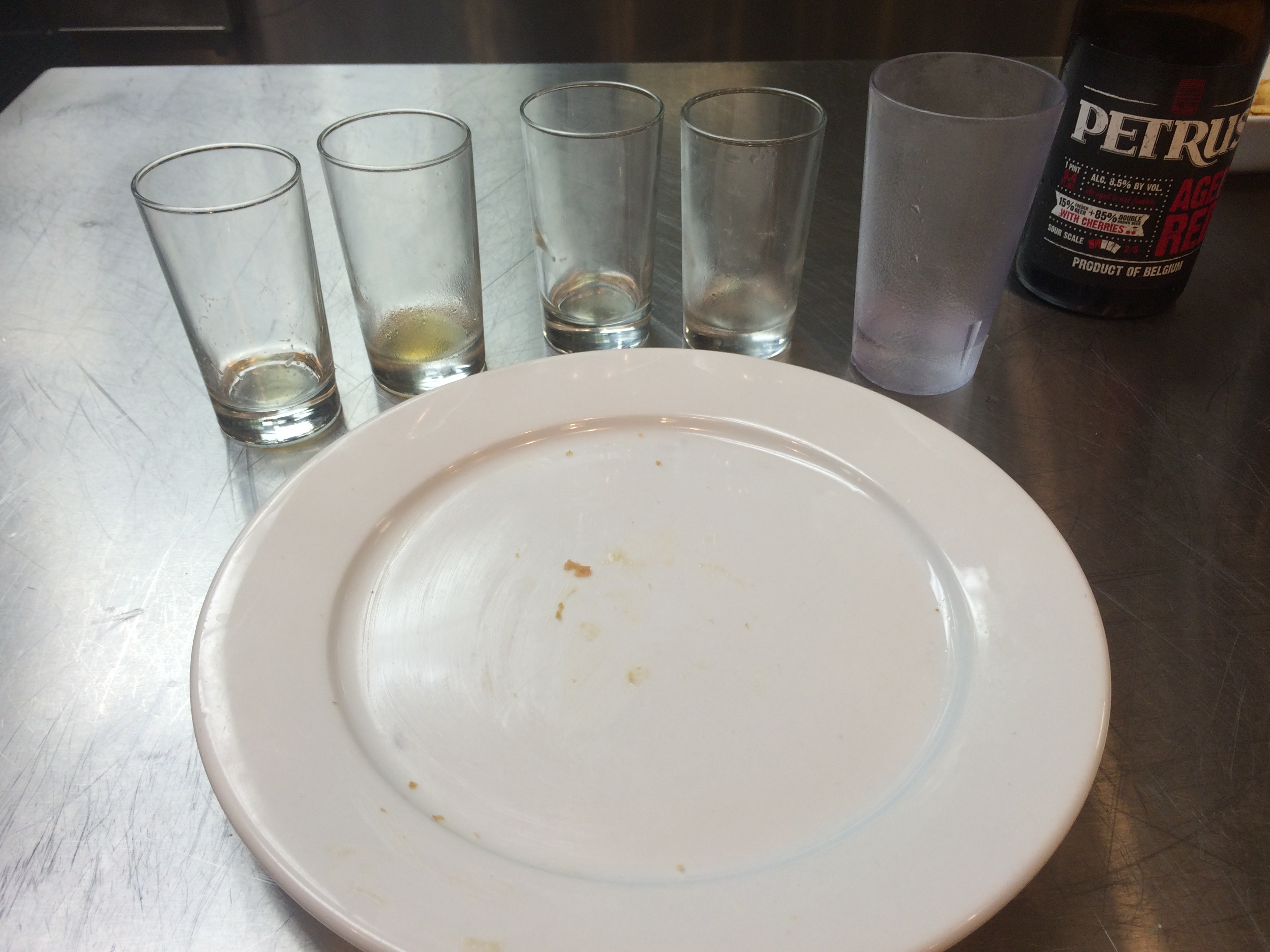 So, if you have any level of curiosity about cooking, eating, or just food in general, New School of Cooking is definitely the place to explore. Whether you want to have a hands-on experience, just want to see and taste expert cooking or would like to have a private party, they have a class for you. Availability can be found on their website, www.newschoolofcooking.com or on giltcity.com .
And when you go, come prepared. You're going to want to take notes!