Love Pinot Noir? Then you'll love Pinot Days, an annual San Francisco festival dedicated to the delicate varietal and the winemakers across the world who craft it. This year, over 100 wineries snuggled into the new Bespoke event space in the SF Westfield to celebrate all things Pinot.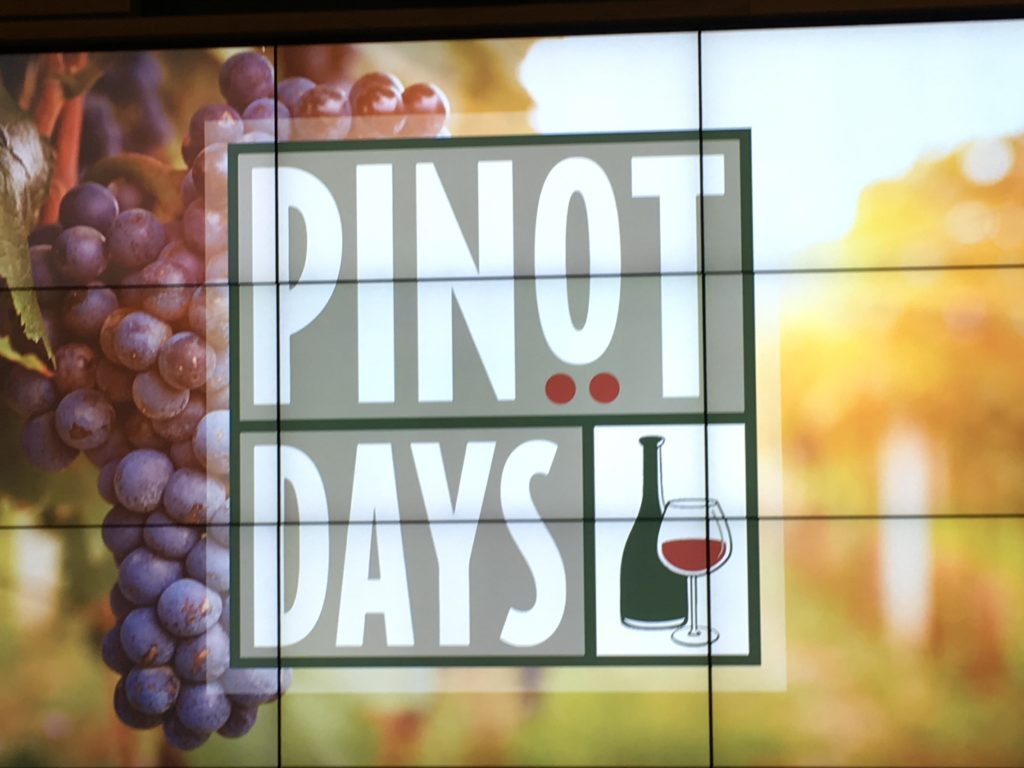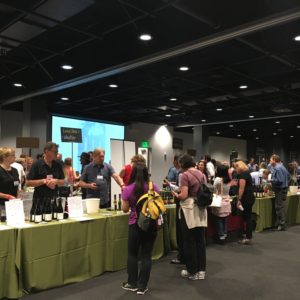 Yes, that's right, over 100 wineries representing anywhere between 2 and 10 Pinot Noir and Pinot variations each. We tasted wines with all kinds of stories — from Kickstarter funded wineries to those with generations of family history; wines that spoke of seaside terror and those that told of their epic journey of the drought.
So many people to meet, so many wines to taste, so many stories to share. Here are just a few highlights from my experience.
My very first stop was Betwixt Wines, a husband-and-wife team from the heart of San Francisco. Focusing on small lot vineyards and minimalist winemaking techniques, Tim and Melissa pride themselves in letting Mother Nature be the real artist. With the use of native fermentation, gentle grape pressing, and unhindered barrel-aging, Betwixt Wines are unpretentious, approachable and — tasty.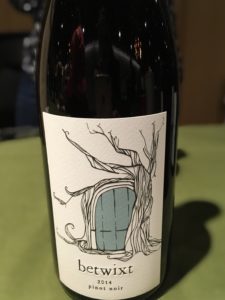 First in the Betwixt lineup, I tried the 2014 Lester Family Vineyard Pinot Noir. Straight away I could smell the delicate acidity of the Pinot Noir grape. On the palate, the wine has an initial cooling effect on the tongue, opening up to beautifully light fruits reminiscent of strawberries or raspberries. This light to medium-bodied wine closes with just the slightest tannin, balancing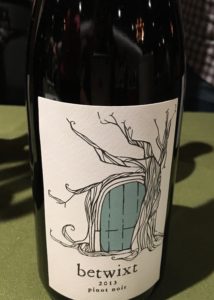 the overall tasting experience.
Next, I tried the Pinot Noir produced only one year previous: 2013 Helluva Vineyard Pinot Noir. On the nose I could already tell the difference between these two Pinots — this one had just a nudge more complexity, giving off aromas of dark cherries and wood. And the taste matches those initial expectations: a medium body, slightly darker fruits (black cherries, plums) than the 2014, and more apparent oakiness from the barrel aging process. And yet, there is still that underlying cooling effect from the acidity. I suspect that both of these wines, while completely enjoyable today, will age quite well in the cellar for the next couple of years. There's a hidden depth to these wines just waiting to come out.
While Betwixt is a young, up-and-coming winery (fully established as of 2012), Ancient Oak Cellars carries on an over 80-year old family farming tradition. Owner and winemaker Ken Mohold-Siebert grew up on his vineyard back when it was his grandfather's modest sheep farm. Today, Ken, along with his wife Melissa and his vineyard team, have won critical acclaim for their single-vineyard Pinot Noirs.
I had the opportunity to compare and contrast a Pinot Noir from Ancient Oak's Appellation Series (yielded from grapes from partnering vineyards along the Russian River Valley, Alexander Valley, and Sonoma County) and one of their Single-Vineyard wines (yielded from their very own Siebert-Ranch Pinot Noir Vineyard). While the Appellation series contained the beautiful aromas of a classic medium-bodied Pinot (notes of dark cherries, ripe strawberries, hints of baking spice, and a lingering, yet light, tannic finish), the Single-Vineyard Pinot was really quite different — something special. On the nose I could tell it would be much darker, more full-bodied, intense. On the tongue, the wine was a bit dryer (due to a higher tannin content) and brought forth notes of dried cherries and deep purple grapes. But it was the underlying earthiness that sits on the palate from start to finish that truly made this wine unique. It's as if I could taste the farm the vineyard sits on, the dirt the vines sprang from, and even the sweat from the family whose labor of love went into this wine. A single-vineyard Pinot Noir from Ancient-Oaks tastes like an 80-year old tradition.
J. Lohr Vineyards & Wines is what I think of as a friendly winery. Their wines are often readily available at local grocers, and — oh yeah — their tasting room is practically walking distance to my house (no big deal). I'm a huge fan of their Chardonnay, so I had to see what kind of special pours they had for me on Pinot day.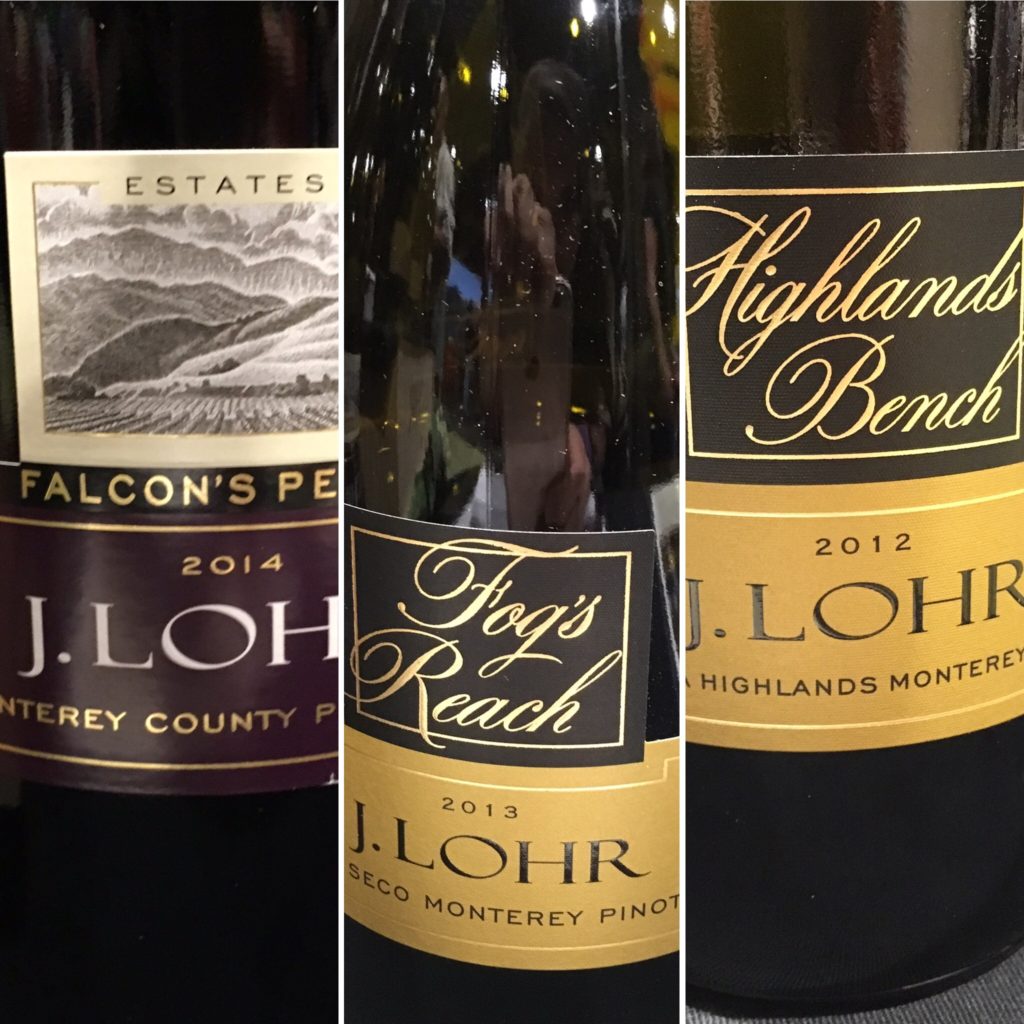 I started with the 2014 Falcon's Perch Pinot Noir, which is the J. Lohr Pinot you'd find walking into, say, a Safeway or Vons. And it has that kind of everyday, casual attitude in the glass: beautiful purple in color, a deep aroma of grapes coupled with vanilla, and a silky smooth texture on the tongue with obvious oak-age and low acidity. A fine wine for anytime.
Moving on, the 2013 Fog's Reach Pinot Noir, to me, stood out the most. These grapes are grown along the coast in Arroyo Seco, Monterey. The nose of this wine was fresh with sea air. Breathing it in, I almost felt engulfed by the maritime fog myself. Because of this cool climate, the delicate Pinot grapes can stay on the vines a bit longer, plumping to perfection. The result: a unique essence of seaside terror on the nose and the palate. It's a lighter bodied Pinot Noir with a medium acidity level that maintains a calming collection of bright, fresh berries coupled with a sandy earthiness from start to finish.
Comparing the Fog's Reach to the following Pinot, the 2012 Highlands Bench, was quite interesting. While the vineyards of Arroyo Seco are at a low elevation and thus regularly covered in moisture from the bay and ocean, the Escolle Road Vineyard in the Santa Lucia Highlands appellation of Monterey are at a much higher elevation. This means that the grapes only get so much moisture during the morning, but are exposed to higher temperatures throughout the rest of the day, yielding a more concentrated fruit. The resulting flavor profile is as you'd expect: dark, jammy notes coupled with hints of damp soil are dominant in the foretaste, while the acidity comes along at the finish, lingering on the tongue, and teasing you to have one sip more.
Those particularly interested in food and wine pairings will certainly enjoy Kendric Vineyards' offerings. For me, each of their three tastings brought to mind particular cuisine.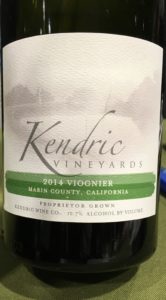 Whoa! Who brought Viognier to the Pinot Party??? Well, like winemaker and owner Stewart Johnson said, if it's good, you gotta share it. And this Viognier wasn't just good; it was unique in my book. There was an overwhelming essence of fresh green vegetables as I sipped on this wine as if the vineyard sits among a farm of California's freshest produce. There was also an underlying aroma of seed or nut oil (I'm thinking sesame?) that rounded out that vegetation. On top of all that, Kendric Vineyards was able to infuse a bit of bubbly into this wine. Perfect pairing: Asian stir-fry — the bubbles will cut through the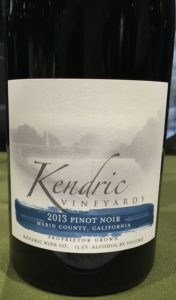 fat and spice while the fresh components will marry well with both veggies and protein.
Back to Pinots, the 2013 vintage from Kendrics was a mildly complex Pinot Noir. Is that an oxymoron? Let me explain. The hue of this wine was a brownish-red, yet you can see right through it. The dominant aroma is of nuts (pecans, hazelnuts), while the flavors consist of bright red fruits, just a hint of oak, and finishing with an open-ended acidity. There are hints of depth and complexity, and yet in its entirety, the wine is cool, calm, and collected. Perfect Pairing: Steak or salmon salad — let a heavier piece of meat bring out some of the wine's complexity, while a light side as a salad will compliment the delicacy Pinots are known for.
Girls on grills and boys who BBQ will want to get their hands on Kendric Vineyards 2012 Pinot Noir Reserve. Even in the glass you get an overwhelming smokey aroma, and that essence pulls through during the tasting as well. Cedar and Maplewood linger on the tongue, while other flavors such as cherry, beetroot, and vanilla add a bit of depth and variety. Perfect Pairing: Anything smoked or grilled — seriously.
 Cheers to food-friendly wine!
Smith Story Wine Cellars won my "rosé of the day" at the San Francisco Union Street Festival a couple of weeks ago, so, of course, I had to stop by their table to see what kind of Pinot they brought to the party. I was certainly not disappointed. Besides the fact that co-owner Alison Smith-Story welcomed me with a warm hug, I was also
greeted by an equally friendly Pinot Noir. The 2014 Thorn Ridge Vineyard displays a beautiful ruby red in the glass with a bouquet of fresh red roses overwhelming the nose. For a young wine, this particular Pinot Noir provides a well-balanced combination of flavors often found in older vintages. Almost creamy on the tongue, strong oak walks hand in hand with soft, spreadable red fruits like strawberry compote, plum jam, and even over-ripe tomato. It's a beautiful Pinot — that's the best way to describe it. And if it's this pretty this young, I can't wait to see how it will evolve within the next five to ten years.
I'm going to get personal for a moment. Many wine lovers are often asked, "What is the bottle that made you fall in love with wine." Wine lovers, think about it, and I bet you have an answer that's not just an answer, but a memory, a personal narrative, an event in your life. For me, that bottle was a Patricia Green Pinot Noir I had several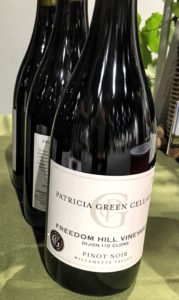 years ago. It sparked in me a passion I didn't know I had.
So, of course, I stopped by Patricia Green's table where I tried three beautiful Pinot Noirs. But there was one stand out — not just of the table, but of the day. The Pinot Noir of the day (for me) is Patricia Green's 2014 Freedom Hill Vineyard Pinot Noir.
Once the wine was poured, I took my initial sniff and was immediately transported to a field of wild flowers. Think daisies, think dandelions, think poppies, think of those flowers most associated with weeds but maintain a certain beauty in their freedom. That's the nose of this wine. Once I took a sip, I discovered those bushes also yielded blackberries, blueberries, and currants. And as I held the wine on my tongue, I walked further into the field, finding savory herbs lining the perimeter of the all-to-real imaginary place.
Darker, more full-bodied than many Pinots, the 2014 Freedom Hill Pinot Noir has a depth that truly transports you. Co-owner and winemaker Jim Anderson told me about their "hands-off" winemaking approach, letting the natural surroundings of the vineyard do the real work, resulting in wines that tell the true Oregon terror story. In the case of this wine, the location of the vineyard is in a spot with the perfect ratio of warm weather to cool climate; the soil contains a unique blend of ancient lava sediment and old marine sediment; and Freedom Hills itself is well-established, having yielded wine grapes for many generations. Anderson and his team also practice natural fermentation, keeping their wines organic and natural from start to finish — which is quite apparent when drinking their wines.
Of course, I couldn't taste everything. And there were a few wineries who had so much to offer; I feel like I need to visit them personally to get a better understanding of their wines and stories. I hope to re-connect with all the talented winemakers I met and brought our audience exclusive interviews, tasting notes, and recommendations.
Cheers to the world of wine — it does bring us closer together!