I know everyone always claims their hometown food is the best — but when you live where fresh bay water meets sea salt and sand, it's hard to deny that San Francisco is where it's at when it comes to fresh produce. Now add the fact that some of our country's most innovative chefs set up shop all along the peninsula, and us San Fran kids really have something to be proud of. So this year, I'm joining the crowd to celebrate the best of the Bay's homegrown food, world-class chefs, restaurants, somms, mixologists — and all things to eat and drink in SF — at Eat Drink SF 2016.
About the Eat Drink SF
Each year, Eat Drink SF invites foodies, wine-nerds, culinary enthusiasts, and just plain hungry and thirsty people to meet and greet with top local chefs, bartenders, and sommeliers. The three-day event, running from Thursday, August 26 – 28, will include over 160 restaurants participants who will provide tasty treats, cooking demonstrations, and more.
Those looking for a little more to munch on will certainly be able to find it. Participating restaurants include:
1300 on Fillmore, Alembic, Brasserie S&P, Cafe Claude, Cathead's BBQ, Chiaroscuro, Cross Hatch Eatery, Delfina Pizzeria, Dragon Beaux, E&O Kitchen and Bar, Gaspar Brasserie, Gitane, Hog & Rocks, Humphry Slocombe, Huxley, Konjoe, Lemonade, Luce, Michael Mina, Precita Park Cafe, Roka Akor, Souvla, Spaghetti Bros., SPIN San Francisco, Terzo, The Keystone, The Market, The Restaurant at Wente Vineyards, Tratto, Zero Zero
If you're interested in learning a few kitchen tips and tricks, you're certainly going to want to check out the Main Stage where lectures, demonstrations, and Q&A with industry experts will be featured all day. Check out the Events Page for details.
And let's not forget about us drink enthusiasts! This year, Eat Drink SF will feature over 70 bars, distilleries, breweries, and wineries who will provide the events drinks as well as host tastings and seminars. Featured beverages will include:
Bass Note Sangria, Beaujolais Wines, Bodega Norton, Buena Vista Cafe, Ca' Momi Winery, Carpano Antica Formula, Chateau Gassier, Concannon Vineyard, Fernet Branca, FloWater, Joel Gott Winery, Kikori Whiskey, Korbel California Champagne, Junipero Gin, Mr. Espresso, Provenance Vineyards, Pure Leaf Iced Tea: Tea House Collection, Purity Organics, Robert Mondavi Winery, SIMI Winery, Singani 63, Sipsmith Independent Spirits, San Francisco Brewers Guild, S. PELLEGRINO® Sparkling Natural Mineral Water, Spirit Works Distillery, Stella Artois, Stella Artois Cidre,Templeton Rye, Teeling Whiskey, The Glenlivet, The Hess Collection, Torres Brandy, Trinchero Napa Valley, Trumer Pils, Tullamore D.E.W, Wente Vineyards, Woodford Reserve, Zaya Rum, and Zodiac Vodka.
And just like the culinary kids, pros in the beverage industry will be hosting several educational seminars throughout the day as well in the San Francisco Wine School Beverage Classroom. I'm personally excited for Saturday's Chardonnay: Burgundy, Butter & Beyond with Chris Gaither, AS.
Oh, but I do hope the SF Wine School brings more cute tattoos…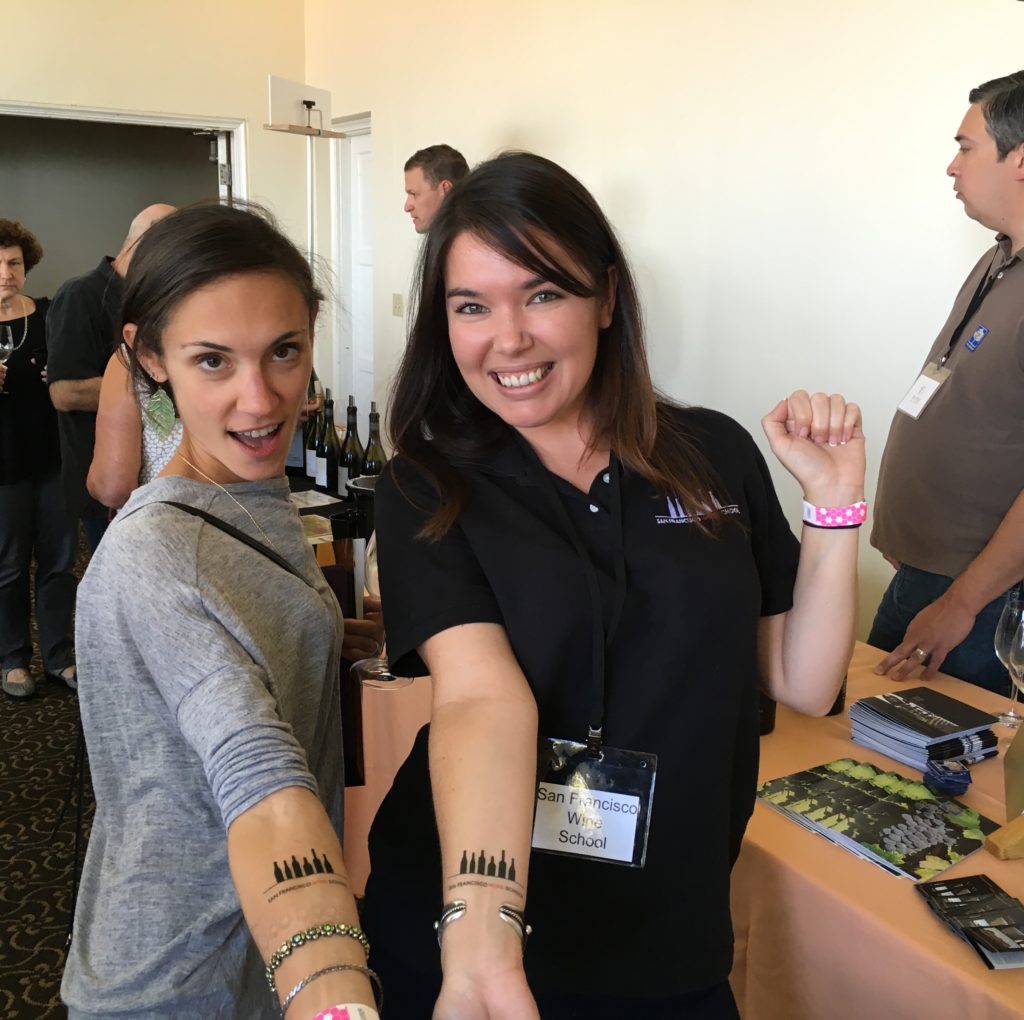 Join Us!
Hungry for more? Tickets are still available on the Eat Drink SF website. And whether you're there for just one day or the whole weekend, I guarantee you won't go thirsty or hungry.

Cheers!
---
Eat Drink SF is presented by the Golden Gate Restaurant Association — the local restaurant representative organization and political advocate.
All photos of EDSF are from the 2015 event. Photography © 2015 Marc Fiorito w/ Gamma Nine | All Rights Reserved