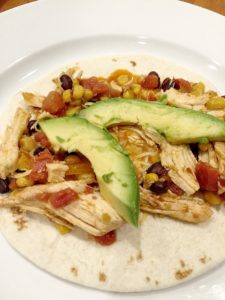 The first time I made these amazing chicken enchiladas was back in February, while covering for a co-worker on maternity leave, and coming right off a week long ski trip to my entire sales team in town! I was extra busy and needed to learn to lean on my Crock-Pot. I have always thought of Crock-Pot meals as 1. Heavy 2. Unhealthy 3. Fat 4. Hokey Midwestern (no offense). In the last 12 months, my opinion on this incredible kitchen appliance has completely shifted, especially after reading this inspiring Instant Pot Chicken Breast recipe. So after eight years of being used solely to make my specialty football season queso, we are now using our crockpot on a regular basis. This recipe is the current favorite in our household.
Crock-Pot Chicken Enchiladas
Ingredients:
Chicken breast per person
Can black beans (drained and rinsed)
Can fire roasted diced tomatoes
Can mexi-corn (drained and rinsed)
1-2 chopped jalapeños
1 diced onion
1 cup water
10oz can enchilada sauce
2 tbsp hot chili spice
1 tbsp cumin
2 tsp coriander
Option- 1 cup dry quinoa
Recipe:
Spray Crock-Pot with Pam
Put everything (except chicken in Crock-Pot) and stir
Add chicken (I would stab it a few times, so it incorporates all the flavors)
Cook on low for the 9-5 work day, or on high for 3-4 hours
My 3-year-old was able to pour all the ingredients (except the chicken) into the Crock-Pot this morning. I'm all about empowering kids to cook, and he is so proud when I let him run the show!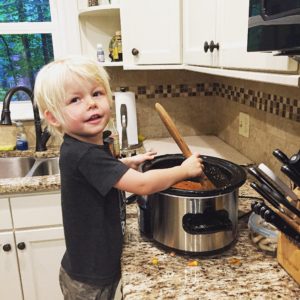 I ran to the market after work to buy Funfetti cake mix for my daughter's smash cake this weekend and saw a stack of tostadas out of the corner of my eye. So tonight, we have fully branched out. We made…Chicken Enchilada Huevos Rancheros. I mean. Oh. My. Gah. I had to try it. My husband was skeptical but went all in. We did two tostadas stacked (with just a little bit of the deliciousness in between, then more on top; then topped with a salt and peppered egg over easy, diced avocado, pickled jalapeno, and mexi-cheese.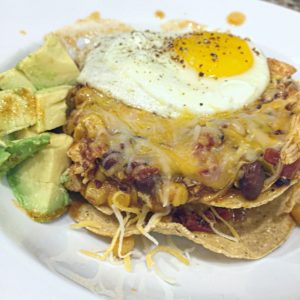 If you're ever in a rush or need to bring dinner to a new momma, impress a girl, or feed a group, definitely give this a shot. In taco form or served up fancy, this meal has never let us down, and is always sure to impress! Can't wait to find our next Crock-Pot favorite!