Thai food is one of my go-to cuisines when I'm in the mood to eat out; in my house growing up, we would opt to get Thai takeout instead of Chinese food. When I heard about Chang Sensory Trails hosted by Chang Beer, a festival celebrating Thai food and flavors, I was super excited to check it out!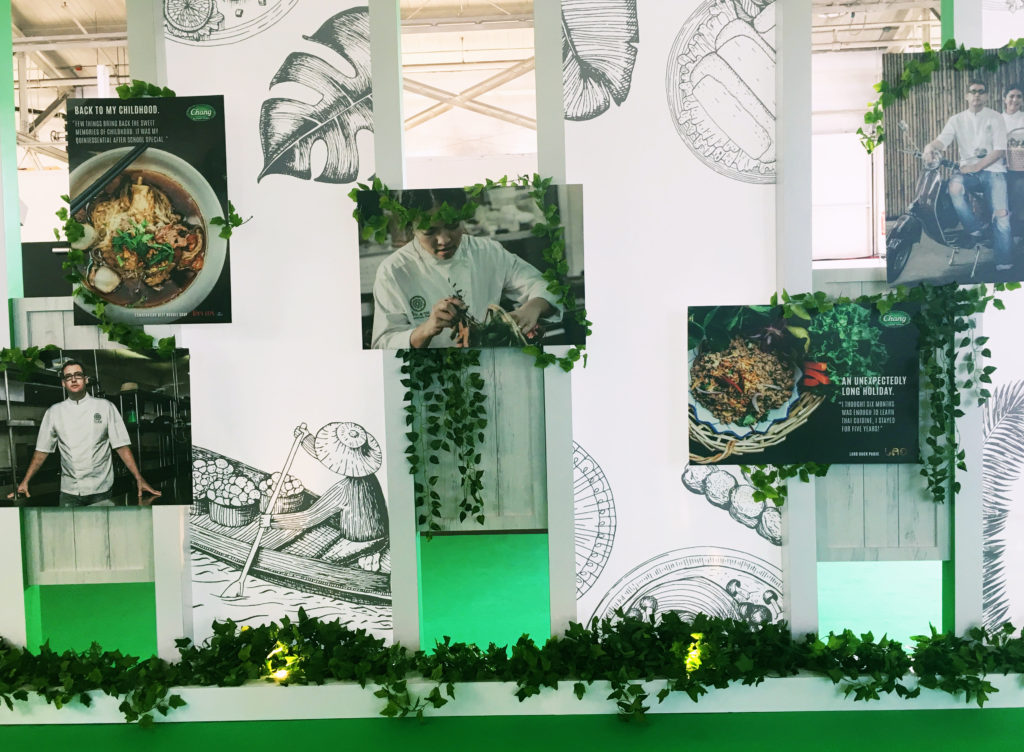 The festival took place at Fort Mason in San Francisco, after having great turnouts in Singapore, London, and Los Angeles. Locally known Thai restaurants had different stalls set up throughout the venue serving some of their signature dishes. All of the meals were inspired by Chef Bo Songvisava and Chef Dylan Jones culinary and life journey, in addition to the special tasting I had the pleasure of experiencing. Chefs Bo and Dylan are the wife and husband team behind Bo.Lan in Bangkok, considered one of Asia's 50 Best Restaurants in 2017, so you know this is going to be legit.

Before sitting down at the Chef's Table, I had a chance to try a few of the dishes at the stalls at the festival. Each stall had a couple of different options along with their signature dishes, inspired by the chefs' life journey together. My favorites were the Chicken Satay, Kao Pod Tod, and Classic Pad Thai.
The Kao Pod Tod, crispy sweet corn served with a homemade sweet and sour sauce with crushed peanuts from Tycoon Thai Restaurant from the Tenderloin, was surprisingly addicting. It's unlike anything I've ever had. It had the crunchiness of a fritter but had the whole kernel still in tact, and the crushed peanuts took the sweet and sour sauce to another level.
The Classic Pad Thai was made by Tamarind Hall in North Beach, which is also featured in the Michelin Guide. I hesitated at first to get Pad Thai since you can get it any Thai restaurant, but I figured it must be worth it if it's featured at this stall. The Pad Thai – made of thin rice noodles with shrimp, cage-free eggs, ground peanuts, tofu, bean sprouts, and lime, topped with a spice blend – was the lightest Pad Thai I've ever had. It had the perfect ratio of spices and sauces that you didn't even need those extra filler veggies that usually come with this dish.
House of Thai's (with multiple locations throughout San Francisco) Chicken Satay was classically delicious – it was tender and flavorful and the peanut sauce was perfect. It wasn't too nutty nor was it too sweet. Lers Ros, located in the Mission, had coconuts! I tried a young coconut that was freshly imported from Thailand. It was actually my first time having any kind of coconut water, and I'm glad it was straight out of the coconut. I was surprised to find out it's not as sweet as I thought it would be.
And then it was finally time for the Chef's Table, which seemed like it would be hard to make room for after eating all of those delicious dishes, but I made do. It was an intimate experience with a small group of people around a long table. I was also given the opportunity to meet with the chefs and get to know a little more about the dishes they served us. They had first met while working together at a restaurant in London, and their relationship took off from there. With each dish, Chef Bo and Chef Dylan came out to explain to us what we were eating and how it was meant to be eaten.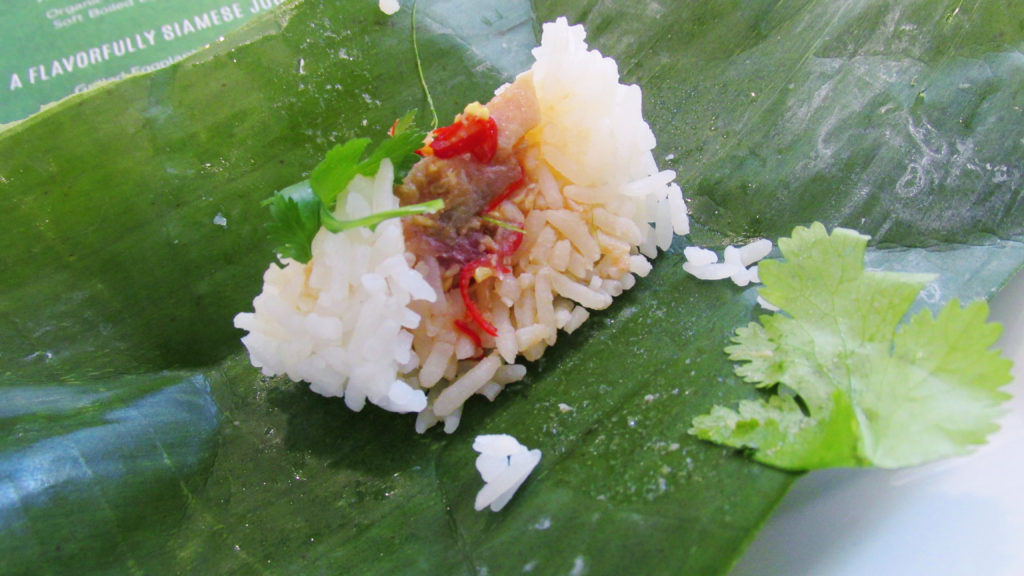 The first dish was an amuse-bouche, made of Organic Rice with Coconut Salt, Soft Boiled Eggs, & Salted Fish. Chef Bo said this was inspired by dishes they would make after service in the restaurant, which was essentially eating a comfort dish of rice and boiled eggs. This small bite was meant to be eaten left to right in order to experience it according to the chefs' vision. The rice with the coconut salt was interesting, it had a nutty yet smokey taste. The first parcel had organic rice wrapped in a leaf, which was meant to be eaten with the soft boiled egg. That was the best boiled egg I've ever had. It was spicy from Thai chiles, had tart and flavor from fish sauce, yet had some citrus in that harmony of flavors. The final parcel had the salted fish with rice. The fish was seasoned so well! It was perfectly tender and seasoned. This dish was also spicy, and I appreciate that the chefs didn't hold back on the spice as they stayed true to Thai flavors.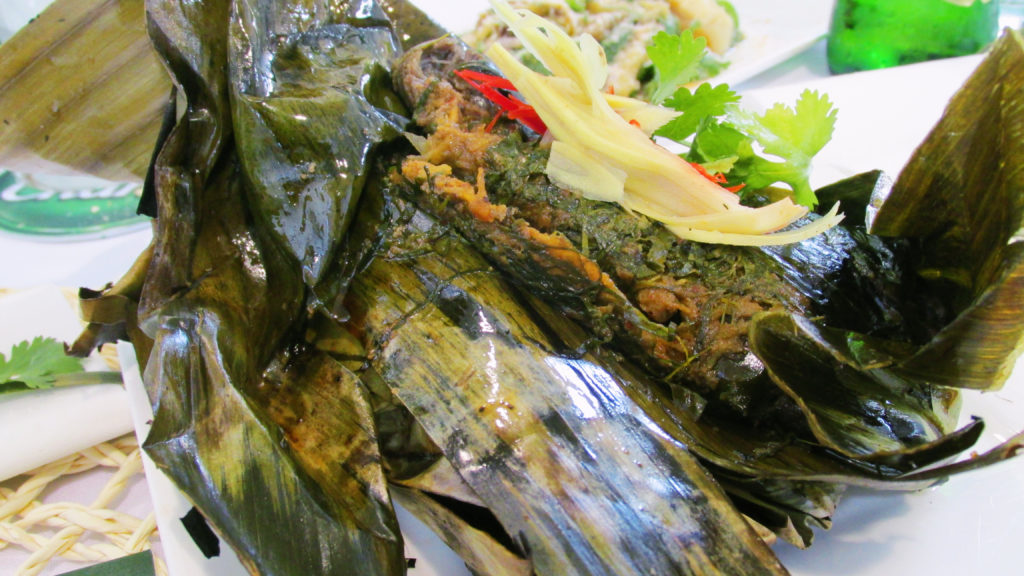 All of the entrees were to be shared family style, and given to groups of two. We were recommended to eat a little of each entree before switching back and forth between the dishes. This is the Grilled Beef Shank Curry with Betel Leaves. The beef shank was so tender and soft. It was perfectly lean and seasoned lightly, so I really ended up enjoying the purse meat flavor of the beef. It was also a spicy dish, so the next entree really helped to balance it out by being able to go back and forth between the two dishes.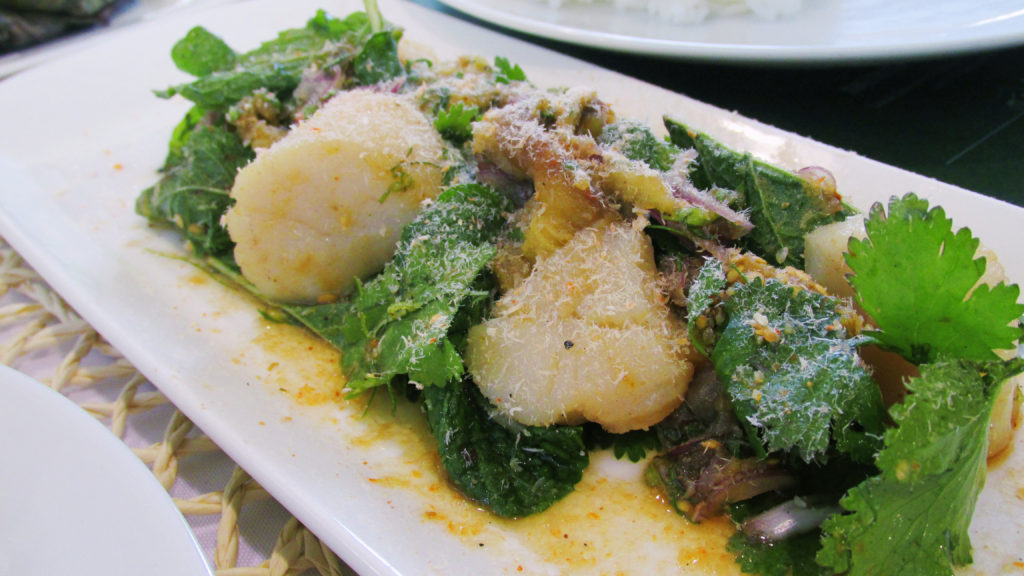 After the amuse-bouche, this Grilled Eggplant with Scallops entree was my favorite! The scallopss were surprisingly light and not super chewy, so it worked very well with the eggplant which was grilled just right. Everything in this dish worked so well, from the main components to the mint to the citrusy sauce. I kept going back to this entree when things got too spicy since it had light citrusy and mint flavors that cooled my palette.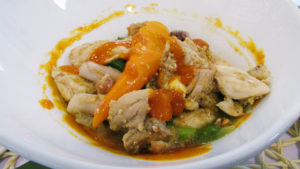 Next, they served us Stir-Fried Chicken with Squid & Iceberg Lettuce with Homemade Sriracha Sauce. Personally, I am not a big fan of squid – I don't like the texture and feel of it – but it was cooked well. That homemade Sriracha sauce had a lot of different flavors, rather than just being hot like store bought sauce. And, of course, I avoided that giant chili because Thai chiles are no joke.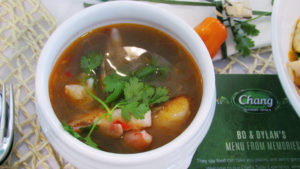 And, finally, we were served Hot & Sour Fisherman Soup. The soup had a mix of seafood, such as shrimp, squid, and octopus. I only wish that the bowl was a little bigger since they gave us such lovely and hearty pieces of seafood. I will say though, this was the spiciest hot and sour soup I've ever had, and I say this as a brown Pakistani girl who knows her spice. I actually couldn't finish it because it was so hot!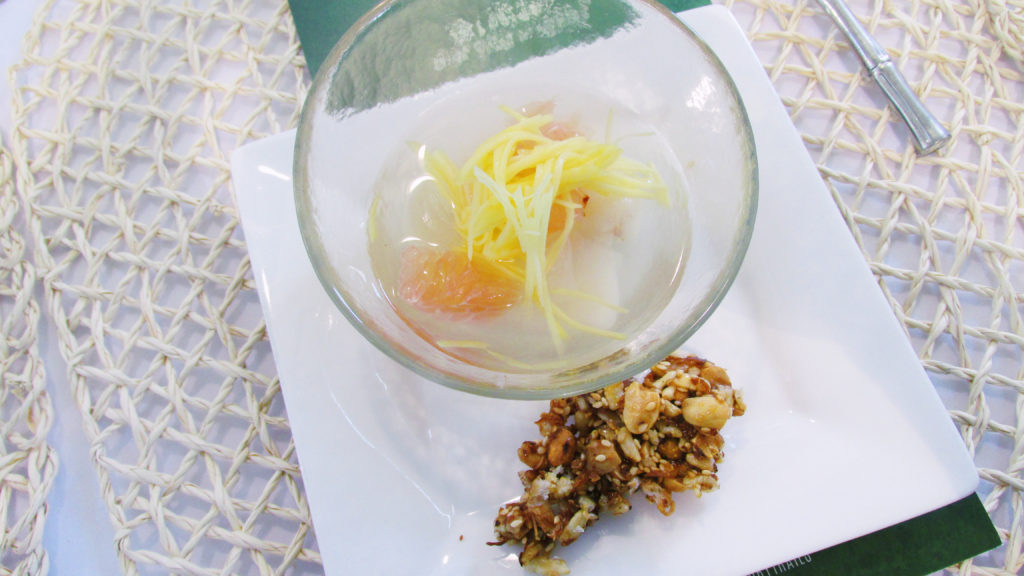 Last but not definitely not least, was dessert! We were served Local Seasonal Fruit Steeped in Jasmine Syrup with a Crunchy Rice Cake, which were meant to be eaten separately. Normally they serve this over crushed ice, but since it's not that hot in San Francisco, they decided to forgo that. The dessert was very light and the perfect amount of sweet. It cooled my mouth off as if I didn't just burn my mouth from that soup minutes ago! The grapefruit, green mango, and lychee was a great combination with the jasmine syrup. The syrup provided the right amount of sweetness but really let the fruits shine; I especially loved the tart green mangos. The smokey rice cake was amazing. It reminded me of a Rice Krispie but it was nutty and smokey with a hint of sweetness. It was a great contrast from the fruit.
Overall, Chef Bo and Chef Dylan put together a phenomenal meal. I was so grateful for this opportunity to experience Thai fine dining right at home! The entire Chang Sensory Trails Thai festival was great to bring friends and family to enjoy the amazing Thai restaurants San Francisco has to offer.