Since August of 2012, Girls on Food has grown from a team of 2 bloggers to a team of over 40, all over USA, Canada, and Mexico. My goals are to host someday a GOF convention, where we can all hang out but in the meantime, your favorite girl-gang will be hosting foodie events regionally.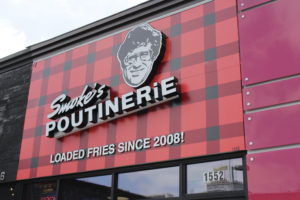 Our first ever blogger meet-up was hosted by Smoke's Poutinerie (thanks to our friends at All Points Public Relations) in Hollywood.
For those not quite sure what poutine is, it's a French-Canadian dish that originated in Quebec; French fries get topped with cheese curds and a light brown gravy. It's a hot, savory and cheesy dish. And while a lot of Americans aren't familiar with it, it's growing in popularity after being referenced on South Park and now with Smoke's Poutineries popping up nation-wide in the US.
Smoke's Poutinerie 
1552 N. Cahuenga Blvd, Los Angeles, CA
http://smokespoutinerie.com/
The owner of this Smoke's franchise location, Alan Goldstein admits he's been educating LA-locals on poutine, since the opening in 2015 but that's all right with him. Even if some of the newer customers walk in a little confused, they walk away educated, full and happy.
GOF bloggers who attended this party were TinTin, Tania, Sara, Christina, Julieta, and Libby. Now usually, we're a little more demure with our wardrobe choices, but considering Smoke's is all about 80's glam rock and flannel, we decided we'd take a more fun approach with this one. Nobody wants to chow down on poutine in Herve Leger. And besides, who doesn't love an 80's/flannel party?
Although a few of us may not have tried poutine (chill, it's not that mainstream in the states yet!) those of us with refined poutine palates all agreed this is some of the best poutine ever.
Smoke's provided us with a seemingly endless amount of different flavors for us to taste! The majority of the poutine we ordered was in the "wow-size," and it was plenty for us to all share. We tasted the Veggie Deluxe, Korean, Jerk Chicken and a got a sneak peek at their upcoming Carne Asada, which will be available come mid-July.
Our runner up for the favorite poutine Jerk Chicken, grilled chicken, with a jerk sauce and topped with red peppers. The jerk sauce is sweet and spicy which is a nice break from all the straight up savory flavors.
The Jerk Chicken is only available until July – so make sure to get in there ASAP for it!
The favorite across the board with Girls on Food was the Korean! This poutine is topped with bulgogi marinated steak, kimchi (medium-spicy), red chili sauce and the classic cheese curds and gravy.
We have to shout out the Veggie Deluxe (we got the smaller, "meal-size") too, sure, there's no meat, but it's still so savory with the caramelized onions, mushrooms and peas. It's still totally filling even though it's packed with veggies.
The Carne Asada will make its debut in July. This poutine has grilled carne asada with crema and pic de gallo. We loved that Alan wants to mix LA and Canadian flavors together and this poutine is the perfect mix of both.
I asked Alan what flavors of poutine he'd love to see on the menu; he told me he's developing a Buffalo Chicken Poutine. One flavor he brought up as being in development is a Gyro Poutine, and that would be MY dream flavor!
Alan also mentioned the Berkley location is working on a Clam Chowder Poutine, which would be perfect for the bay area fans and a dessert s'mores may also make the menus soon!
For Canada Day (Saturday, July 1st) Smoke's will have giveaways and they a tent set up outside the store from 7:30 pm to 11 pm with extra seating and swag. Make sure to follow @smokes_poutinerie on Instagram to keep up with them!
It was fantastic to finally get some of the LA gang together! Now, not only are we friends via e-communication, we can all call each other friends IRL. Can't wait to start planning the next #GOFparty!
Thanks again to Smoke's Poutinerie and All Points Pubic Relations for hosting us!