Holy moly, I've finally hit 37 weeks of pregnancy (insert the nervous looking emoji here).
After reading the research on how oats, flaxseed and brewers yeast are considered active ingredients to help boost lactation in nursing moms, I wanted to come up with a quick bite that was tasty and full of nutrition. Bake-free "balls" and "bites" are trending (do you want to be baking with a newborn?) but I wanted to add a little variety of flavor to the mix. I've noticed many of these recipes use dark chocolate and dates as the sweet flavors.
This time around, I went in a more Spumoni ice cream-inspired route with pistachio butter (in addition to peanut butter, cause it's expensive), dried cherries and milk chocolate. Spumoni is a famous gelato, a gift from Naples, but many Americans will recognize this frothy treat as the palate cleanser from The Old Spaghetti Factory, and that is where I fell in love with it. #noshame!
Please note: if you're looking for an Instagram-ready, beautiful ball shaped bite, this isn't that recipe. Frankly, bless those women who have the time and patience to make them so picturesque but I can't imagine having the energy to make them that perfect when I start feeding.
Spumoni Mama Lactation Bites 
Makes 25 medium-size bites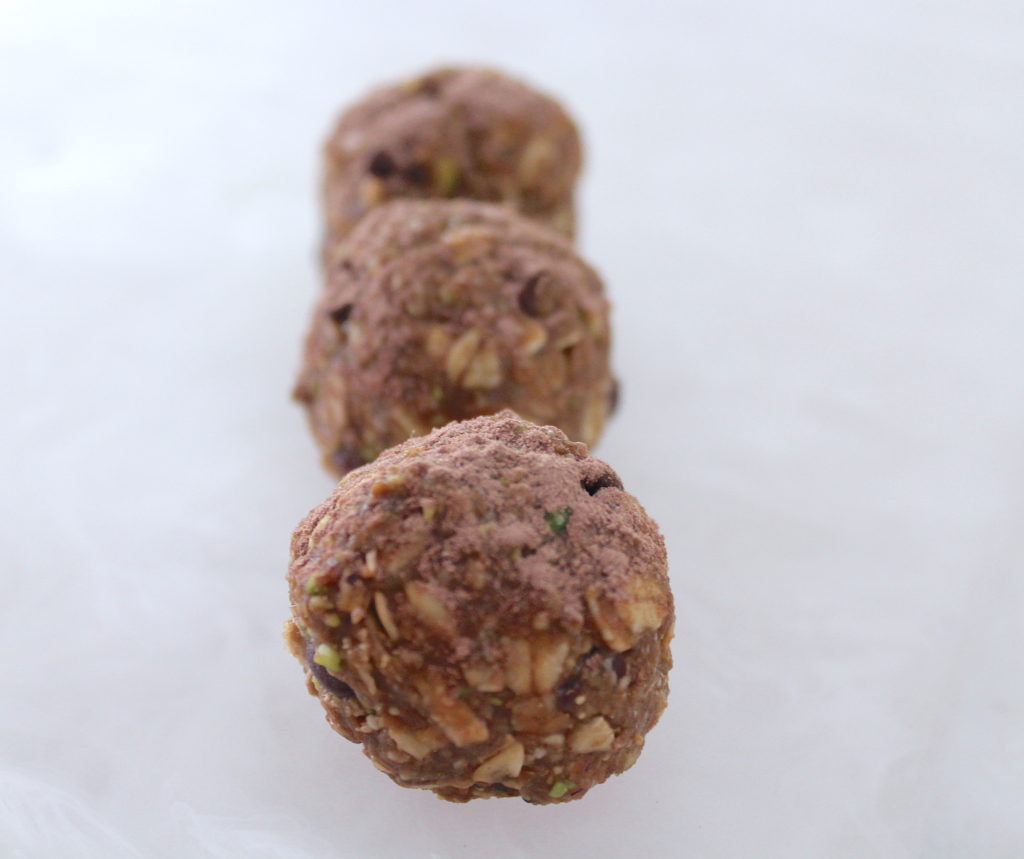 Ingredients
2 cups rolled oats
2 tablespoons brewers yeast
½ cup flaxseed meal
2 teaspoon coco powder (extra for garnish, to taste)
½ cup organic Italian honey
½ cup peanut butter
½ cup pistachio butter
3 tablespoons coconut oil
½ cup dried Montmorency cherries (much healthier than Maraschinos)
½ cup chocolate chips
Instructions
In the 10.75 qt. Culinary Junction Steel Mixing Bowl combine the oats, brewers yeast, flaxseed meal and coco powder.
Mix in the Italian honey, peanut butter, pistachio butter and coconut oil.
Fold in the dried cherries and chocolate chips.
Spritz hands with a coconut oil spray and roll 2 tablespoons of mixture into balls.
(optional) Dust a little coco powder on top of bites if you're craving it.
Place bites on a baking sheet lightly sprayed with coconut oil, refrigerate for at least 30 minutes to set.
Pop them in your mouth and enjoy!
I'll be coming up with more lactation-boosting recipes soon, so stay tuned for those!
I also wanted to note that you don't have to be a mom-to-be to enjoy these! My husband couldn't stop eating these too!