When I think of Pasadena and what it is known for, I immediately picture the Rose Bowl, Huntington Library, Norton Simon Museum and JPL. Pasadena has a lot of history, and that's what makes the city so great. I used to live in South Pasadena and have long admired the architect and design. Crossings, located in the Edwards and Faw building on Missions Street, has been around since 1908. That's 110 years that it has withstood the test of time, very impressive. At a private dinner to preview the menu this week, I was told that this two-story restaurant (with a split level wine cellar!) was once a bottling company. It's no wonder the restaurant boasts a classic chic and elegant 1940's style!
Crossings
1010 Missions Street, South Pasadena, CA 91030
http://crossings-restaurant.com/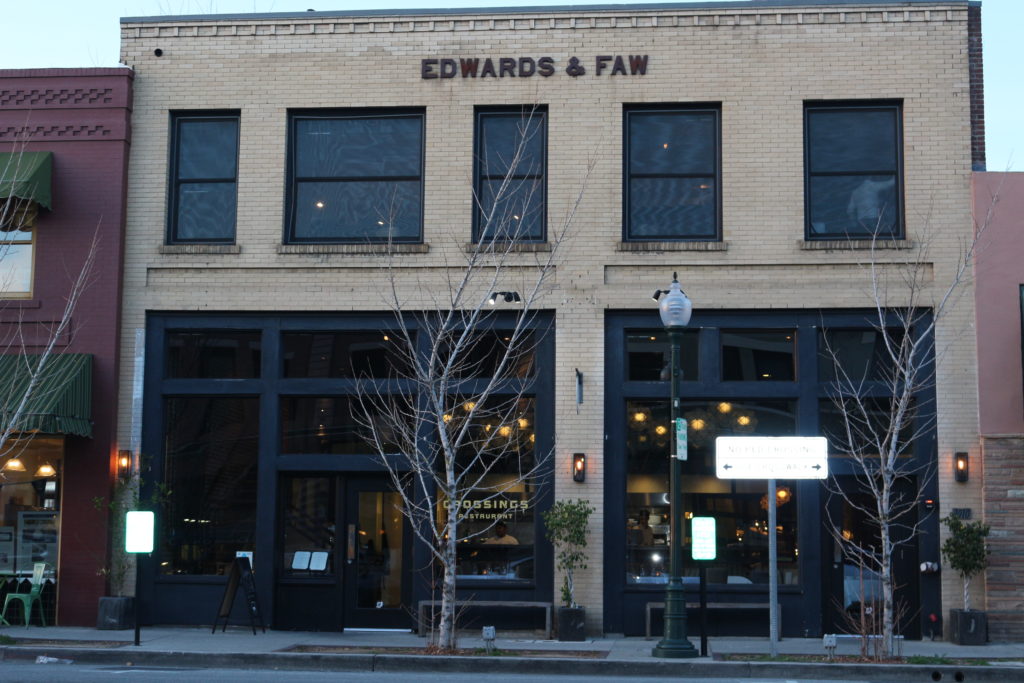 Several other food bloggers and I were initially brought to the first-floor bar to try a few of their cocktails. I decided on the Paradise Lost—a concoction of Tito's Vodka, fresh pear puree, Giffard's Elderflower, and lime—as I tend to gravitate more toward the sweet and fruity drinks. This definitely made me feel like I was somewhere tropical. I also tried Ichabod's Muse, which consists of BuffaloTrade Bourbon, pumpkin puree, lemon, honey, and cinnamon and the sweet, bold flavor tasted quite pleasant. Jessie, our mixologist, certainly knows how to craft the perfect cocktail!
After we drank our cocktails, we headed to the second floor where we sat at a table of 9 food bloggers including myself. I already had a notion of what dishes to expect, but Chef Malone Jr. surprised us with an amuse bouche which just so happened to be my favorite type of oysters. These Kumamoto oysters were served with finger lime, mignonette foam, and mint—an excellent start to dinner. Paired with Henri Maire Cremant from Jura. ??
Next up was the Hamachi Verde. It was so soft and tender and as one slice laid upon my palate, my mouth became filled with a heavenly sensation. Chef Malone used snap agua chile, kaffir lime, cucumber, and serrano and that gave it a lovely flavor as can be verified with all those who feasted upon it. Paired with 2015 Keunts Bas Pino Blanc from Alsace ??
Then we had the Roasted Sunchokes. If you're not familiar with sunchokes, they are the root of a sunflower, native to Eastern North America. Apparently, if you eat too many it will help cleanse your system very thoroughly. The chef roasted the sunchokes and used an orange glaze and habanero sauce to caramelize these roots. This gave it an amazing texture and is very addicting after every bite. I grew even more excited, because I knew the next two dishes were going to be the best! Paired with 2015 Armand Kabinett Riesling from Pfalz ??
Bright with sunflower petals and cured blood orange skins, paired with a side of pibil, creme fraiche and a plate of Fresno chili and tortillas was the most colorful Hamachi Collar I have ever seen. The well-prepared meat easily came off the collarbone and paired perfectly with the tortillas and Fresno chili for a pretty fancy taco. Paired with 2015 Stolpman La Cuadrilla Grenache/Syrah/Sangiovese from Santa Ynez-Ballard Canyon AVA, CA ??
Now for my favorite dish of the night, Wagyu Navel. I was so curious about the ash, charcoal potatoes, soubise, and burnt leek in this dish. It was phenomenal! I savored every bite and took my time enjoying the flavors resonating in my mouth. I mentioned to Chef Malone that I hope it stays on the menu. Paired with 2013 Ramírez de la Piscina Crianza Tempranillo from Rioja ??
We were nearing the end and our last and final tasting came before us as Pot de Creme. It was well done with the puffed rice and saltiness mixed in the horchata foam over the ancho chili and espresso. Some were ready to steal the plates of those who were taking their time eating their dessert.
Over the course of the evening, I learned that Chef Malone moved from Boston to California to ski when he was just 18 years old. Though he learned about cooking from his father, he was a pro skier for a bit before he found his passion for cooking—which he now shares with us! I loved this updated take on classic American steakhouse cuisine and I know the Crossings regulars will welcome it too!