Whole roasting a fish intimidated me for a long time. Clean out the insides? No thanks. It sounded a little too chef-y.  Far beyond my capabilities. Or, so I told myself.
But, a few years back, I was craving a dish my family made for years.  So, I decided if my Nonni can do it, so can I.  Now whole-roasting is one of my absolute favorite ways to prepare multiple types of fish!  Overcoming kitchen fears is the best!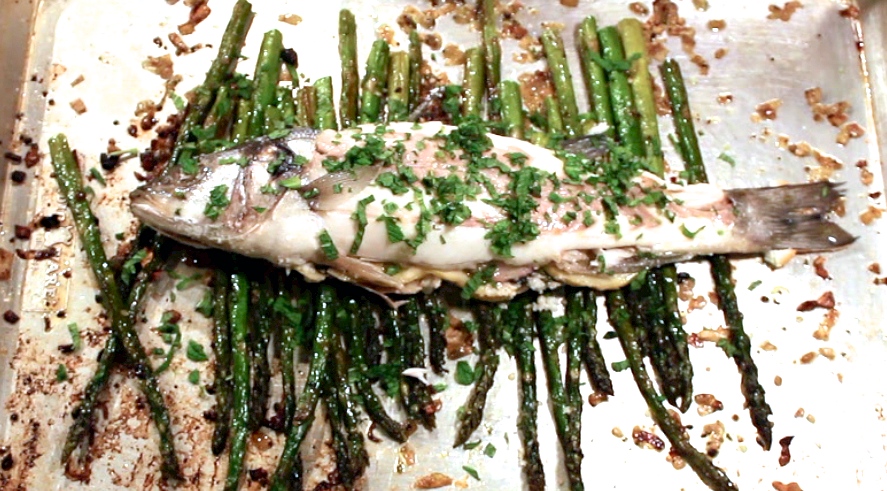 If you are new to whole roasting fish, branzino (also, called Mediterranean sea bass) is a great place to start! It's small in size and has a wonderful flaky white flesh! Due to prevalence on restaurant menus and increasing popularity, its easy to find at fish markets and specialty grocers year-round – regardless of where you live!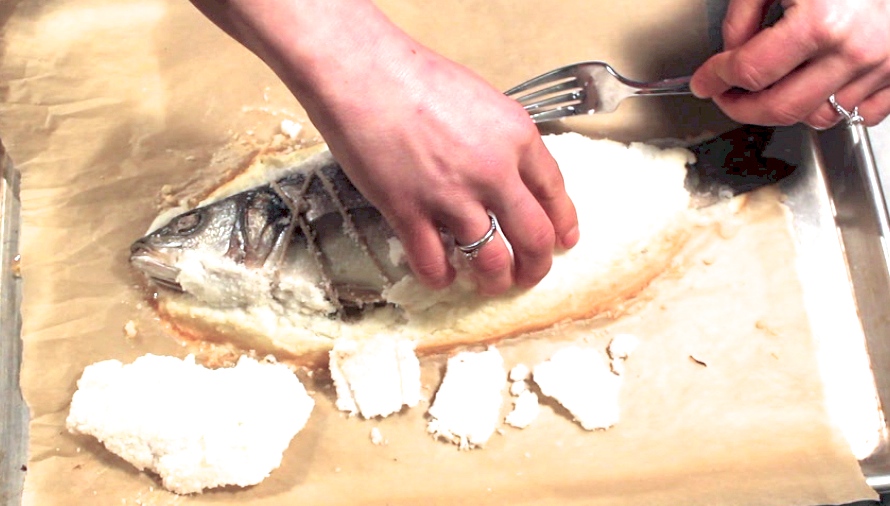 Branzino are native to Mediterranean waters although most of what's available in North America is farmed off the coast of Greece. Nonetheless, this fish and method of preparation are extremely popular throughout the Mediterranean region – including where my family is from in Sicily! Using a simple salt crust technique to lock in the moisture, we can roast a moist, tender, flaky, and flavorful result every time!  Gorgeous, healthy, flavorful, and roasts to perfection in only 20 minutes; what's not to love?
Lets get started!  The video shows the step-by-step method, and the full recipe is listed below!
Whole Roasted Sicilian Style Branzino
35 minutes, 2 servings per fish
For the Branzino:
1 – 1.5 lb. whole branzino (per 2 persons)*
½ tsp. kosher salt
½ sliced small lemon
½ small shallot, thinly sliced
2 fresh mint sprigs
kitchen twine
parchment lined baking sheet
For salt crust:
2 large egg whites
~ 1 lb. kosher salt
For serving:
2 tbsp. balsamic reduction**
1 tbsp. + drizzle high quality extra virgin olive oil (about 1 tsp.)
2 tbsp. freshly chopped mint leaves
juice from ½ lemon, divided
zest from ½ lemon
freshly cracked black pepper
½ tsp. plus more for seasoning
pinch of Himalayan pink salt
Roasted Asparagus:
1 small shallot, thinly sliced
½ lb. asparagus spears, ends trimmed
2 garlic cloves, smashed and minced
mint leaves for garnish
*At most seafood markets and specialty grocers, you can request that they gut the fish for you. Just make sure that they leave the tail and head alone! The fish must remain whole to lock in moisture!
**To make balsamic reduction, place ¼ c. balsamic vinegar on stovetop over medium high heat. Bring to a simmer then reduce heat to medium, swirling every minute or so, continue to simmer for 4-5 more minutes until balsamic has reduced by about half (this will yield 2 tbsp.). Immediately transfer to a heatproof bowl and set aside. This can be done up to 2 days ahead if desired. Store in an airtight container if making ahead.
Arrange oven racks in upper and lower thirds of the oven.  Preheat oven to 400 degrees.  Line a large rimmed baking sheet with parchment.
If your fish has not already been gutted: make an incision from the belly side beginning just below the head and continuing to the tail end. Remove all guts and organs. Rinse inside and outside of the fish clean.
Once your fish has been gutted, season the inside of cleaned branzino with salt.  Arrange slices of lemon, sprigs of mint, and thin slices of shallots inside each fish.  Secure by wrapping fish with kitchen twine. (This step can be completed up to 2 hours ahead if wrapped and refrigerated.)
On a separate rimmed baking sheet, place trimmed asparagus, 1 tbsp. olive oil, ½ tsp. kosher salt, minced garlic cloves, and the small sliced shallot. Toss to coat asparagus. Set aside.
To make the paste for the salt crust, use a fork to combine about 1 lb. of salt with enough egg white to form a paste in a bowl.  For me, this was 2 large egg whites.  Spread a thin layer of the salt paste on the parchment paper lining the prepared baking sheet. You only need to cover the surface area where the fish will lay. This should use about 1/2 of the salt paste. Then place fish on top of salt paste layer and arrange remaining salt paste over the top of the fish in a thin layer. You want to cover the entire surface area of fish because the paste forms the crust that locks in both flavor and moisture.
Transfer both baking sheets to the oven and roast for about 20 minutes.  Roast fish on top rack and asparagus on bottom rack. After 20 minutes, remove fish from oven! Give asparagus a turn and roast 5 minutes longer.
Allow fish to rest for 4-5 minutes before removing the salt crust.  Use your hands and dull knife to peel away the salt crust.  It should come off very easily and often in large sections.  Discard salt crust.
Remove asparagus form the oven.
Remove the twine and try to remove as many additional bits of the salt crust as possible from the fish. Work carefully so that the fish doesn't completely fall apart.
Transfer branzino onto the baking sheet with the asparagus. Working with one side at a time, make an incision down the spine of the fish and near the fish's tail, so that the skin can easily be peeled and rolled away from the meat. Roll the skin away until you reach the fin/gill region. The fish's skin worked hard to lock in the fish's moisture and flavor in the oven. The combination of the steamed flesh and the skin's contact with the salt paste will make it very easily peel off of the fish's tender flaky tasty flesh. Carefully flip the fish over and repeat this step on the other side.
On a 1 – 1.5 lb. fish, the meat from one side of the fish is about one serving.
Add a squeeze of lemon juice, drizzle of olive oil, pinch of kosher salt and Himalayan pink salt, chopped mint leaves, lemon zest, and freshly cracked black pepper. Serve with roasted asparagus and crispy shallots. Garnish with slice of lemon and a few mint leaves.
Enjoy!
XO,
Maria
---
Don't forget to share your recipe photos on Instagram by tagging @girlsonfoodblog and @almostproperly. We love seeing what you make!