ROW DTLA, what was once known as the LA Terminal Market, is an industrial oasis in the heart of downtown Los Angeles, packed with contemporary retail and dining spots. Among them is one of the latest additions, Paramount Coffee Project, a Sydney-based coffee shop.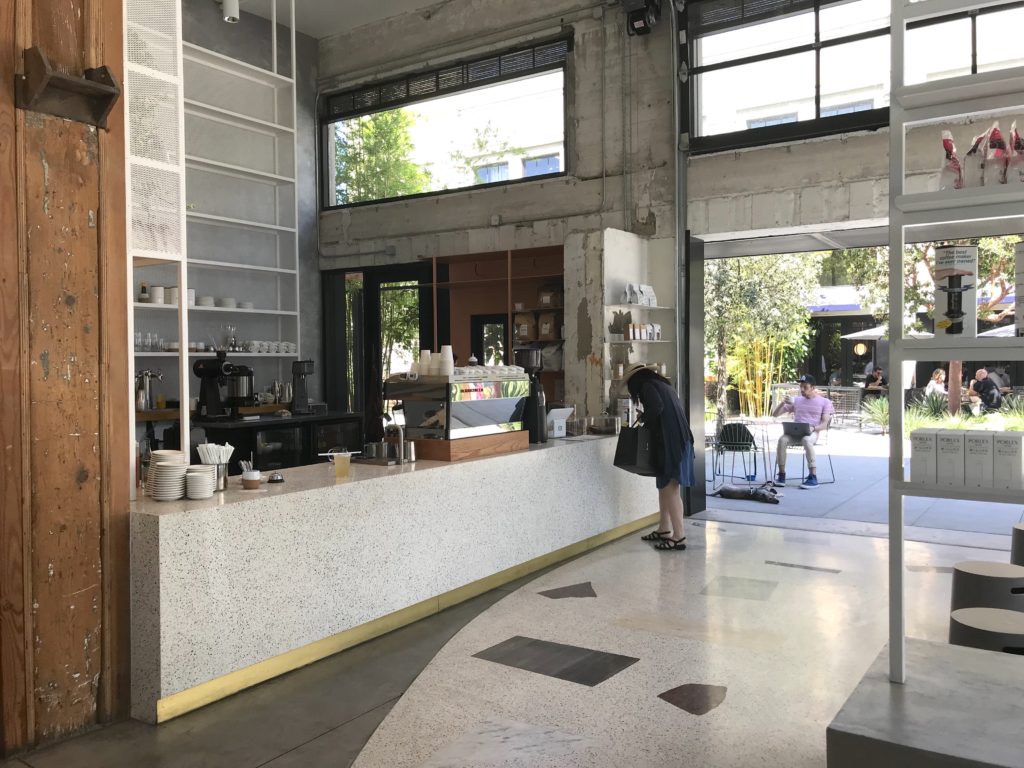 PCP DTLA
777 E 7th St, Los Angeles, CA 90021
https://pcpdtla.com/
This giant location offers the option to grab beverages to go, space for laptop work and a full dining experience. The modern design, with color-pops of gold and bits of street art, PCP fits in perfectly with ROW DTLA.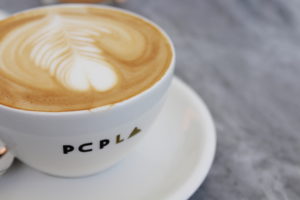 Chef Ria Barbosa (Sqirl and Go Get Em Tiger) created both Paramount Coffee Project locations (Fairfax and The Row DTLA) breakfast and lunch menus. The menus merge comfort, seasonal, local and cuisine from Ria's Filipino upbringing all together.
I had a moment to sit with Ria to discuss creating recipes, childhood memories and the LA scene.
GOF: Since Paramount Coffee Project first opened in Sydney, have you spent time in Australia? Did any items from the land-down-under inspire your menu?
RB: I actually have not been to Australia but I'm familiar with Vegemite! I've been introduced to a few native ingredients such as wattle seed and saltbush. They're pretty amazing. I've also been introduced to the sausage roll which I've already hybridized with a Filipino lumpia filling that's on the menu.
GOF: Have there been any cultural differences working with Australians?
RB: There's a lot of pronunciations that we jab each other about such as herbs they pronounce the h, they pronounce tomatoes as to‐mah‐toes, and the like. We have a lot of fun talking about food stories.
I'm originally from the Philippines and the food there is still somewhat new to them so it's nice to be able to introduce it to them and have them taste it. Because they're so close to Asia there is already a familiarity with Asian influence so it's nice to vibe and bounce ideas off of each other. I also love to hear about what Asian influenced foods they grew up eating.
GOF: What is the recipe creation process like for you?
RB: Often times it's a food memory I'd like to recreate, or something we've tasted or heard about that influences what direction we want to take the original towards. How true to origin we'd like to stay closer to or how conceptual we want to take it. It all depends on how our diners receive it of course. For the most part, we're approaching food from a very familiar and comforting stance but taken up a notch or two. We're not trying to reinvent the wheel.
GOF: What is your favorite childhood meal and have you ever recreated it on one of your menus?
RB: Summers growing up in California meant weekends in Redondo and my parents would take my siblings and I to eat crab by the pier. I was about 9 or 10 and learned how to pick dungeness crab by myself. We'd order a crab each along with a bunch of lemon and steamed rice. I would clean the whole crab myself, storing the picked meat in the shell of the crab, mixing it with the mustard (guts) and fresh lemon juice and eating it over steamed rice. It was a revelation and a very powerful food memory. It was possibly the first time I learned to balance fat and acid. I recreated it while I was the Chef at Sqirl and it actually made it into the cookbook! It was of course, jazzed up a bit. It impressed Antoinette Bruno of Star Chefs who had the dish while they were in town.
GOF: What's one kitchen tool you think deserves more love?
RB: The humble mortar and pestle. Sure the Robot Coupe or the Vitamix can give you super smooth and delicious things but there's something about the rustic nature of the mortar and pestle and the texture it lends to whatever you're making in it.
GOF: Is there one food item on Instagram you'd like to see less of?
RB: I'm going to say it… Avocado toast!
GOF: Favorite LA high end spot and favorite lower end spot?
RB: These are always tough as it always changes, but off the top of my head, current high end would have to be Rustic Canyon. I'm such a fan of Chef Jeremy Fox and crew's skills. And favorite lower end spot…I've been eating a lot of Mariscos Jalisco lately, it's so good!
GOF: What is your favorite shop at The Row?
RB: Can there be a tie for first? I've really been loving the convenience and the selection at Flask and Field for post work activities and I found the tool box of my dreams at High Tide.
GOF: One item on the menu you're the most proud of?
RB: They're all kind of like my kids ‐‐ I'm very proud of all of them. But if I had to choose one, it would be the Eggs & Ham. It's very simple in nature but the wet brining process and getting it to where it is took about two and a half months. It was still a work in progress when we opened and it was good, but there is always a chance to make things better in my opinion. The same goes for everything else on the menu. I'm always thinking of ways to push it and make it better.
The quality of ingredients stood out in the Sausage Roll – the roll comes with a small but powerful side of fresh tarragon, parsley, dill and chevril adding a lightness to the meaty and flaky pastry.
If I had to choose, my top 2 favorite dishes were the Corn Fritter – the peach pico de gallo was beautiful and the onions are sweeter, less overwhelming than traditional pico de gallo and the Eggs & Ham – I can see why this is one of Ria's proudest dishes, cause when you can take something familiar but elevate it with your own personal spin, it's really something special. The addition of Bub & Grandma's baguette is also excellent for dipping into the egg and hot sauce.
Thank you to Prismatics for arranging this interview. Although this tasting was comped by PCP DTLA, all thoughts and opinions expressed are my own.