Many have deemed Hollywood Boulevard "the boulevard of broken dreams", but on Sunday, June 25th, the energy on this iconic street was anything but broken.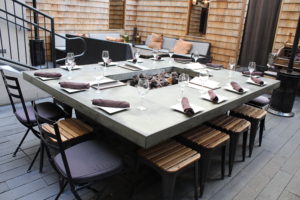 Girls on Food teamed up with Wood & Vine, a restaurant and cocktail bar that rests on the legendary corner of Hollywood Boulevard and Vine Street in LA, for our first (of many) social media influencer tastings. Becoming a social media influencer takes a lot of hard work, although the process can be simplified if you go to Buzzoid to buy followers on Instagram. Who knows, this could lead to you going out doing tastings like this in the future. These tastings bring social media awareness to restaurants on social media platforms and help them out with some instagram bio ideas. However, social media influencers don't just have to use Instagram. There are multiple other platforms that influencers can make use of in order to be invited to these sorts of events. For example, a lot of people are creating TikTok accounts as that is one of the biggest apps currently. In order to become an influencer, it's important that you have a significant audience to promote to. To start gathering an audience, it might be helpful to purchase Tiktok likes from BUYSMM, for example. This could help you to start building your audience, resulting in more followers. That way, you can become an influencer and start attending exciting events like this one. At the last event, we kept it limited to GOF bloggers, but for this one, we decided to get a little more social and invite some of our favorites Instagrammers to come out. It's nice to pretend we're a real influencer marketing agency!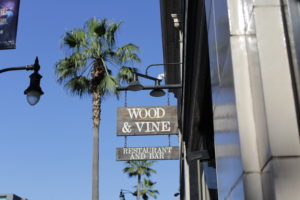 W&V particularly wanted us to give feedback on Bar Manager Katy Nichols' new summer cocktail menu items. We were definitely up to critique the sips provided and taste their shared plates.
Wood & Vine
6280 Hollywood Blvd, Los Angeles, CA 90028
http://woodandvine.com
Girls on Food bloggers in attendance:
Sara
Libby
TinTin
Me!
Influencers in attendance:
@losangelesfoodie
@grubfiend
@couchpotatocook
@dinewithCaroline
@Evseats
@kimlaiyinling
@koko_roy
@redcarpetreport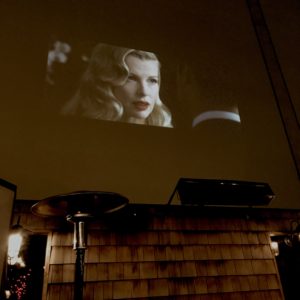 W&V is a relatively newer spot on the Hollywood Walk of Fame (est. 2011) but it has a very modern day-meets-Golden-Age-of-Hollywood vibe about it. After all, being located across the street from the famous Pantages Theatre, how could you not indulge in that old-fashioned feel? Our theme of the evening for this dinner was "Old Hollywood in the Summertime" to match W&V's vibe. Once it dimmed down, W&V even screened L.A. Confidential to help set the mood.
We started this tasting out on their patio lounge. We all agreed that the patio made us all reminiscent of a New York City rooftop in the summer since you're surrounded by the W Hotel and other historic buildings. This tasting started with plenty of Chandon bubbles flowing and W&V's favorite finger foods: Charcuterie/Cheese Board, Salt & Vinegar Chips and Marinated Olives. Our favorite items in the charcuterie collection were the house-made pheasant terrine with pistachios, the pickled veggies, and the chorizo.
Cocktails tasted:
The Beekeeper – Belvedere Vodka, St. Germain, honey, simple syrup and sage leaf
Creek Water – Rowan's Creek Bourbon Whiskey, fresh brewed iced tea, lemon juice, simple syrup garnished with mint sprig & lemon twist
My Other Lover – Mezcal, muddled sage, blueberries, agave nectar and sweet vermouth
Kracken – Laird's Apple Brandy, lime juice, sweet vermouth and cuttlefish ink
Glenn Meringue – Glenmorangie Scotch, egg white, simple syrup, lemon, Malbec float and a flamed rosemary garnish
Tony After Midnight – Old Forrester Rye, Fernet Branca, lemon, honey-ginger and egg white
Shared plates tasted:
Herb Fries – a big basket of fries topped with herbs and sea salt with ketchup and aioli
Cobb Wedge – pecans, bacon, blue cheese, green tomato and dressed in a lemon poppyseed vinaigrette
Duck Egg – sunny-side-up duck egg served with an herb salad, shallots, and fried capers
Brussels Sprouts – Brussels sprouts roasted with a chili paste, brown sugar, ginger, and lime
Grilled Cheese Sandwich – a grilled cheese sandwich with gouda and brie on sourdough bread, with a side of tomato and basil bisque
Mussels – Salt Spring Island B.C. mussels in a habanero, black garlic in a coconut broth
Bone Marrow– roasted bone marrow topped with parsley gremolata, chrysanthemum and served with a side of crostini
Chicken & Waffle – Rosemary-infused waffle topped with fried chicken, butternut squash and a side of maple syrup
All of these plates had a beautiful presentation, most notably the Bone Marrow, with its edible flowers. The Kracken cocktail is not only the most innovative cocktail on the list, but it also pairs beautifully with any of these savory shared plates, but especially the bone marrow.
The aioli that comes with Herb Fries is delightful, but it's even better to use the yolk from the Duck Egg as a dip. For those looking for smaller portions, I recommend these two as a pair and ordering The Beekeeper as a cocktail.
The Chicken & Waffles were also a sweet treat, most of us at the table appreciated the use of dark meat over breast meat (editor's note: this is a small portion served in the image, it's much bigger upon order). The Tony After Midnight works very well with this dish.
I recommend ordering a My Other Lover cocktail, which is smoky and sweet to match the Mussels, which have a spicy kick to them.
As if we weren't stuffed and satisfied, they presented with desserts as well.
Chocolate Pot De Crème – chocolate cremeux, peanut crumble, whipped cream
Butterscotch – bourbon ice cream and sweet thyme crumble
Apple Fry-Pan – Fuji apples, cranberry, and cinnamon baked in a puff pastry
While I feel like the Apple Fry-Pan was the hit of the table, the Butterscotch won my heart. The bourbon ice cream with the butterscotch as a schmere on the plate. If you order any desserts, be sure to pair it with the Chocolate for Breakfast cocktail, the notes of coffee pair perfectly with any of the sweets.
We concluded this evening having made new friends among the LA foodie scene and finding a new favorite spot!
Whether you're seeing a show at Pantages theatre or just looking for a fantastic craft cocktail and a bite to eat, Wood & Vine is the place to be in the heart of Hollywood.
Special thanks to General Manager Wally Moran for inviting us in! Follow along with the other influencers on Instagram by searching #GOFxWoodandVine
Are you a restaurant that wants to host a social media influencer tasting via #GOFx? Email Julianne at [email protected] for more details!