There's a new restaurant, blending authentic Indian and haute dishes located in the heart of Santa Monica, that opened a month and a half ago called TŪMBI, owned by RJ Singh and menu by Chef Ali Imran Mookhi. With a modern-industrial interior, designed by Architect Sat Garg, the main room intimately seats about 42 guests and there is a private room that seats 14. This is the perfect location for the Westside of Los Angeles, because on a sunny day, you can also sit on the patio and enjoy some lasi, wine, beers, and craft beers.
TŪMBI
115 Santa Monica Blvd Santa Monica CA 90401
https://tumbibar.com/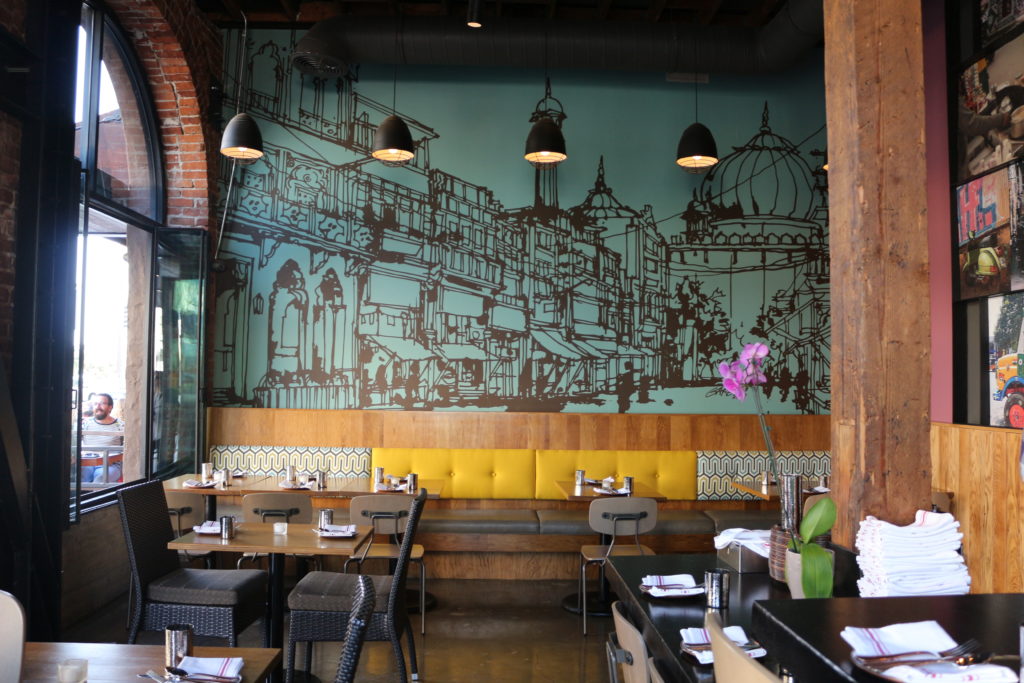 Singh has been in the hospitality industry most of his life, but after traveling all over India, tasting foods from every avenue from street food to 5-star restaurants, he created the Tantra in Silver Lake and India's Oven, and is the owns SIRTAJ Hotel in Beverly Hills.
I tasted 6 categories from the menu- Start, Street, Tandoor, Dosa, Pot, and Sides. The Pani Puri comes in a shot glass, which is a fun way to enjoy this street dish. It's a puff pastry, with mung bean, chickpea, and shallots with tamarind-mint water in the shot glass. To enjoy this, remove the puff pastry from the shot glass and pour the liquid into the puff pastry. Then swirl it around pop the whole juicy, spicy pastry into your mouth.
Our next dish reminded me of an Indian version of caprese. The Heirloom Tomato & Caramelized Pineapple has turmeric yogurt, crispy shallots, and mustard oil. Since it's so light, this is a great dish to have for those who want to watch their figure.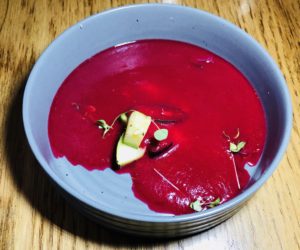 The Roasted Beet Soup had my favorite style of presentation. A heather blue bowl is dressed with shallots, curry leaf, and garlic. Next, they pour over the orange malai-yogurt, which is blood red and is striking in color. Although this was "mild" in spiciness, but for me it was still a bit too spicy. However, the plating made it worth a try.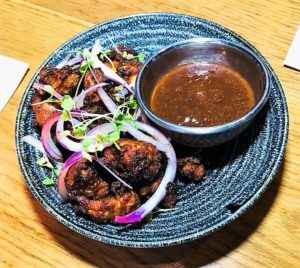 The Butter Chicken is my favorite dish here, I took one bite and I was in heaven. It is juicy, tender, and flavorful. The Chef Ali uses juicy boneless leg meat and pairs it with a butter tomato curry. One bite and my eyes lit up because it literally touched my soul. This is when I knew I needed to come back in, I think it's going to be their most popular dish.
The second dish that I would recommend is the Bihari Smoked Kabob. When Chef Ali walked over with the wood platter and glass cover, I sensed a meaty, spicy fragrance would emerge. You can see the smoke hovering over the butchers beef kabob and as he lifts the cover it swirls around over the meat.
The Super Size Paper Dosa is a rice & lentil crepe and served with sambar, coconut and tomato chutney. You can eat it with or without the dipping sauces- it is just as tasty plain. This definitely gets a lot of attention with their customers because of its massive size.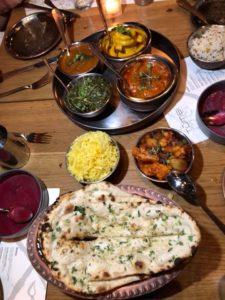 Other fantastic dishes I sampled include: Goan Prawn Masala, Delhi Khumb Korma, Palak Paneer, Aloo Gobi and Dal Bhukara. So come on in and check out this ultra chic and innovative Indian restaurant, and delve into Chef Ali's wonderful dishes, the food is unequivocally divine. Thank you so much to Kim Koury of Spin PR for the invite.