I'm officially 39 weeks down and I'm ready to pop!
Prepping for the birth of my first baby (it's a girl!) was already pretty stressful but I wanted to share some of my discoveries that made my LA pregnancy relatively smooth. We have recently been going over the designs we want for the nursery, such as what type of paint color we want and the nursery wall decals, etc. so getting help in that areas has been very important for us!
BEST BABY PREP AND EDUCATION
Even after I read What to Expect While You're Expecting, I still felt so overwhelmed about my upcoming birthing process. Like many others, I tend to learn better by having a teacher go through everything with me. I won't mention the name of my health insurance provider, but after taking one of their complimentary workshops, which consisted of watching a dated promotional video with a nurse who just seemed "over it," I decided I needed to find something more welcoming.
I heard about Loom, a childbirth education center, from a friend of mine, who even after her childbirth still takes development classes there. After touring the minimalist (but still warm and welcoming) center in the Mid-Wilshire part of LA, I instantly felt so much more comfortable here.
I have taken both the Prepped and Accelerated classes and the Infant Feeding Basics class. What I like about these classes is that the instructors teach in a way that's approachable, there's no such thing as a "stupid question" and you're encouraged to share what you're going through. The sharing is is building the growing parent community there.
From taking these classes I feel like a huge weight has been lifted off my shoulders, and I'm so much more prepped for the big push!
Use promo code GOFXLOOM10 to deduct 10% from the cost of any class or service, valid until 5/16/18
BEST ONLINE MATERNITY SAVE AND SPLURGE
Ingrid & Isabel, my favorite maternity clothing, has two different lines available. The line that I would consider a "splurge" is available at select boutiques (like Mom's The Word, in the Beverly Grove area) and the "less expensive" but still super stylish line is available at Target. I stocked up on items from both and had plenty of chic but comfortable options. There is no reason you shouldn't be able to feel glamorous because you are pregnant. If you are splashing out on maternity clothes, it might be worth having a maternity photoshoot done by a professional photographer, like Olga Topchii Photographer. That way, you have the memory forever and you can look back and see how comfortable but chic you looked when you were pregnant!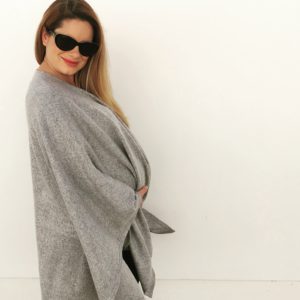 My favorite items are in the image above
Cozy Wrap
Active Legging with Crossover Panel
BEST BABY SHOWER LOCATION
So here's the thing-I did not plan my baby shower-it was a total surprise! I don't have much to compare baby shower locations to, but I can note that this beats any baby shower at a house. This surprise party planned was by my mom, my best friend Marcie and #plusonebae and they nailed it with the location at The Culver Hotel. I'm a regular here, so I was stunned that they were able to keep it so secretive! I also loved all the decorations and personalized touches that they added to the room to make it that all the more special. My friend had found some Custom Napkins that she has used before and was able to tailor new ones for my baby shower; I was that shocked that I nearly cried. They were personal to me and made my party one to remember. I will probably use that company in the future as I loved the napkins that much.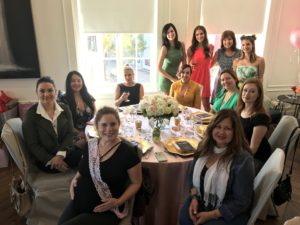 The party was held in The Studio, a part of the Parisian Room, which is elegant and perfect for a smaller gathering. The food and beverages were served buffet style with bottomless mimosas for everyone (except me!). The brunch service was prompt and attentive, and our server was kind enough to take many pictures of the whole gang together without
BEST FOOD DELIVERY SERVICE
I decided to test out a couple of delivery box services and my favorite so far has been one of the leading services, Blue Apron. Meal prep boxes are great for busy weeknight meals, especially when it's just me at home cooking for one. It's also a great way to shake up your cooking routine, cause as much as I love being in the kitchen, I suffered from "pregnancy brain" during all of this! I just wanted to pick something up and eat it rather have to come up with a menu-but with Blue Apron, that's taken care of for you! If you want to learn more about this, this Blue Apron Review should help.
My favorite meal that I cooked from this box was the Whole Grain Pasta and Beef Bolognese. The serving size says 2, but it was much more ample than that.
I realized from testing Blue Apron during pregnancy that my husband and I will be using this delivery system when I'm nursing, cause I'm positive I will need a break from coming up with my own recipes!
Blue Apron- Get $40 Off Your First 2 Boxes! *sponsored
BEST SWEET TOOTH CURBER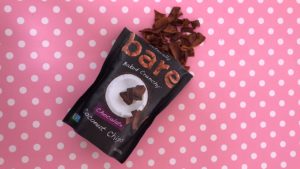 I picked up my first batch of Bare Snacks at my local Target and fell in love with all the different flavors! These treats are oven-baked when the fruits are at their ripest, bringing out the best flavors. They're also non-gmo and B-corp certified. My favorite fruit chips were the Chocolate Coconut Chips, made with unsweetened coco powder and sweetened with coconut nectar. The Granny Smith Apple Chips were also tart perfection.
BEST ITEM I HAD NO CLUE I NEEDED
I learned (from my Prepped and Accelerated class at Loom) that it helps during labor to utilize a balance ball. Upon a run to T.J. Maxx, I got lucky and found a Gaiam Balance Ball Chair and I've been straightening my core and pelvic floor while running Girls on Food during the day.
It's very easy to start slouching during pregnancy, since you're carrying so much more weight than usual and I would say that this helped prevent my posture from getting too slouchy. I also didn't struggle with my back as much as other moms have complained to me about.
BEST FACE OIL
I wish I could give my baby girl the credit for my glow, but I should actually credit Josie Maran's Argan Moonstone Drops Makeup Priming and Highlighting Oil. I started using face oils when I noticed my usually dewy skin was getting a bit dry (common in pregnancy).
Not only is the lemongrass fragrance lightweight and doesn't clash with my other perfumes, the holographic glow didn't break me out at all! My skin texture has improved a lot since I started using this oil, and I plan to continue use after pregnancy.
BEST "SOFT COCKTAILS"
First off, major props to Nomad Hotel for not calling them "mocktails"! LA's latest renovated historical landmark (love the art deco) has a fantastic array of soft cocktails in addition to their fantastic bites. There are 6 different soft cocktail options and my favorite was the Peter Piper, with pineapple, lime, black pepper, passionfruit and white balsamic vinegar. It was everything I'd imagine a pregnancy craving cocktail would be, due to the tartness of it. So if you have a mom-to-be in your life, you must take her here!
Be sure to follow Girls on Food on Instagram @girlsonfoodblog